Fresno
Accuweather Forecast: Warm And Smoky Weekend – Fresno, California
Fresno, California 2020-10-02 10:04:23 –
This afternoon we will continue to see above average temperatures as high pressure continues to strengthen. We will be in the upper 80s by noon and reach a high of 97 for Fresno today. Air quality this afternoon will be unhealthy for sensitive groups for most of the valley and the north valley under unhealthy for everyone. This weekend we will stick to the mid 90s and low 90s to start off next week. By the end of the next week we will finally see a nice cool down in to the low 80s.
Meteorologist Madeline Evans will have your full forecast on Action News.
Get the free AccuWeather app for iOS
Get the free AccuWeather app for Android
(click or tap the images below for a larger version)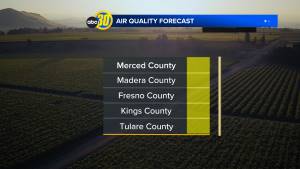 Copyright © 2020 KFSN-TV. All Rights Reserved.