Business
Davos day two: Global tax deal delayed; Von der Leyen on Russian food 'blackmail' – live updates | Business
AFP have a good piece on how the pandemic and the Ukraine war are putting globalisation at risk: here's a flavour:
Globalisation is "temporarily pausing", Loic Tassel, president for Europe at the consumer goods giant Procter & Gamble said during an event at Davos.

"The price to pay or the time to wait is not compatible anymore with our industry," Tassel said, giving the example of Shanghai, which is the world's busiest container port.
"We are now bringing into the equation the cost and resilience of the supply chain, it was not in our mind three years ago."
But rather than talk about "deglobalisation", Pamela Coke-Hamilton, director of the Geneva-based agency International Trade Centre, preferred to speak about diversification and relocalisation – where supply chains are closer and in areas where conflict is far away.
"The change will come by the shifting to near sourcing value chains,"
Sceptics said companies sought the cheapest options despite being aware of the risk of huge dependence on certain regions.
"We never imported so much from China as when we said we should rely on it less," noted Gilles Moec, chief economist at French insurance giant Axa, on the sidelines of Davos.
"One of the reasons why people are so nervous right now is that if China was unable to meet global demand because of the pandemic, that would be a catastrophe."
The delay to implementing the OECD's international tax deal is another blow to the multilateral world order, points out the FT's Chris Giles:
YouTube CEO Susan Wojcicki on slowdown, Russia, and Roe v Wade
Susan Wojcicki, CEO of YouTube, says there are some worrying economic signs – but she isn't planning to slash investment.
In a session at Davos now, Wojcicki says there are a lot of concerning macro economic trends, such as the Ukraine war and inflation in the US.
But YouTube, and parent company Google, is taking a long-term view and still sees lots of growth.
When you go through a downturn, it's important to keep that long-term view, says Wojcicki, a veteran of two recessions at Google (she was the 16th employee).
We may delay some projects, Wojcicki suggests, but YouTube is still an important business so there'll still be investment.
Having been through a couple of recessions at Google, Wojcicki says a downturn can sharpen a business, as it's easy to say everything is good when your numbers are going up all the time.
YouTube is still operating in Russia, but suspended advertising back in March. Wojcicki says YouTube has made some 'incredibly tough' decisions, as it was aware that information can be weaponised, so wanted the right policies and enforcement in place.
It decided to suspend Russian state-owned media globally, and any post that denies or trivialises war in Ukraine now violates its rules.
By staying in Russia, it is able to deliver independent news into the country — the average user in Russia can access, for free, the same information as you can in Davos, Wojcicki says.
[The Guardian reported yesterday that YouTube has taken down 70,000 videos and 9,000 channels related to the war in Ukraine]
Wojcicki also reveals that she sets screen time limits for her children, as you want to have a balance.
She's also asked about the leaked draft Supreme Court ruling overturning Roe v Wade, the 1973 case that guaranteed the right to abortion.
Wojcicki says she believes women should have a choice when they become a mother, and that reproductive rights are human rights.
Speaking personally, she explains that:
To take away a law and a right that we've had for almost 50 years would be a big setback for women, but that's my personal view.
But as a business leader running a company that supports free speech, there should be a broad range of opinions on YouTube. Everyone should be able to express their point of view (within community guidelines).
Historic OECD international tax deal pushed back to 2024
The historic deal to force the world's biggest companies to pay a fair share of tax has been delayed until 2024.
Mathias Cormann, the OECD secretary-general, told the World Economic Forum that the deal, which was originally set for implementation in 2023, had fallen behind schedule.
He said there were "difficult discussions" over plans to reshape the global tax system, to let countries levy more tax on the world's largest firms based on the sales generated within their borders.
The deal – which Cormann called "historic and very important" – has two parts.
Pillar 1 covered the reallocation of some profits from major multinationals such as US tech companies to countries where they made their sales, while Pillar 2 brings in a global minimum corporation tax rate of 15%.
Cormann explained that there are "still some difficult discussions underway with relation to the technical aspects" of Pillar 1.
We deliberately set a very ambitious timeline for implementation to keep the pressure on and we think that has helped keep the momentum going.

But I suspect it is probably most likely that we will end up with a practical implementation from 2024 onwards."
Pillar 1 is facing opposition in the US Congress from Republican senators, and analysts have suggested the deal could fall if the Democrats lost control of the House of Representatives in November's mid-term elections.
Pillar 1 required an international treaty to be agreed, while Pillar 2 is implemented through domestic legislation.
Cormann wouldn't comment on political issues, but argues that the OECD deal would be better for US multinational companies than a proliferation of different tax regimes overseas if countries tried to individually make them pay a fair share.
He was also "very encouraged by the progress" on Pillar 2, and hopeful that EU members will agree to back it.
Cormann argues that once you have a critical mass of countries imposing a minimum level of corporate tax on profits generated in their juristictions, it's very hard for other countries not to follow.
He explained:
"Essentially you leave money on the table for other countries to collect, if you don't align yourself to that global standard."
Poland has been holding back suport for the EU's directive, but French finance minister Bruno Le Maire said today he is confident agreement will be reached.
Le Maire told reporters before an Economic and Financial Affairs Council in Brussels.
"I'm confident this minimal tax rate project will be adopted unanimously on June 17, that is the goal."
Kerry: Ukraine crisis can't be excuse for backtracking on climate goals
Across the Davos congress centre, US climate envoy John Kerry has insisted that the energy crisis caused by the Ukraine war must not make the world more reliant on fossil fuels.
He told a panel session that Europe needs to be resupplied with gas, to make up for what was lost from Russia.
But, the Ukraine crisis isn't an excuse to build more of the old energy infrastructure, Kerry insists:
We have to be much smarter than that given the stakes."
Fatih Birol, executive director of the International Energy Agency, also appeared on the panel, and said Russia's invasion of Ukraine had led to a major energy crisis.
Birol said:
In my view this is the first global energy crisis.
Birol compared it to the oil crisis in 1970s, saying this time we have major problems in terms of oil, and also natural gas and coal.
Kerry argues that the world must make rapid investment in renewable energy technologies, to help the world hit the Paris Agreement goal of limiting global warming to 1.5 degrees.
Kerry says it's possible to achieve climate goals while still also meeting the challenge of the Ukraine war:
"If we make the right choices here we can win all of these battles: we can do what we need to do with respect to Ukraine, we can do what we need to do with respect to the climate crisis.

"We cannot be seduced into believing that this suddenly is an open door to going back and doing what we were doing which created the crisis in the first place".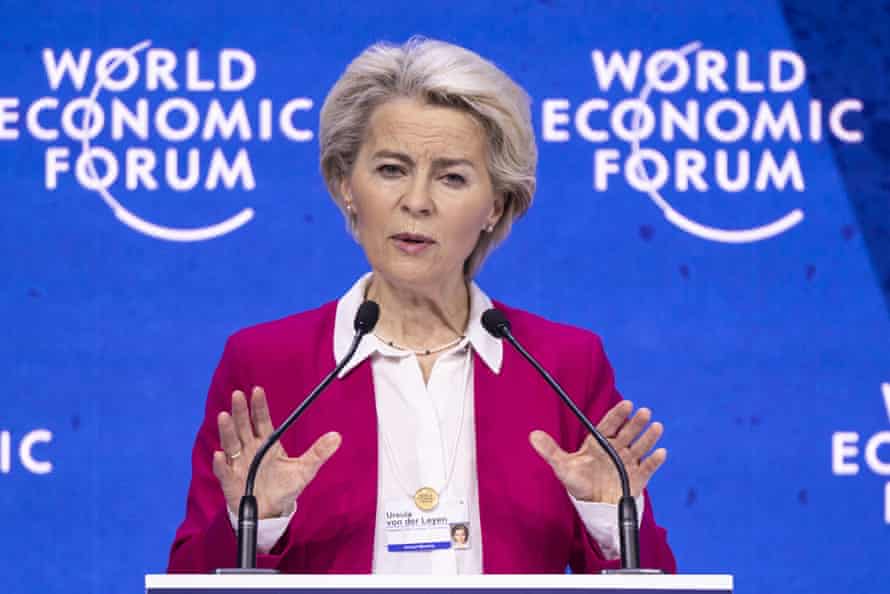 Full details: von der Leyen says Russia using hunger and grain to blackmail
European Commission Ursula von der Leyen told the World Economic Forum that Russia was "using hunger and grain to wield power" and blackmail other countries.
Von der Leyen said that there were obvious signs of a global food crisis, with Russia's weaponisation of its energy supplies now being repeated in food security.
In a special address, she told Davos:
"In Russian-occupied Ukraine, the Kremlin's army is confiscating grain stocks and machinery. For some, this has brought back memories from a dark past – the times of the Soviet crop seizures and the devastating famine of the 1930s,"

"Today, Russia's artillery is bombarding grain warehouses across Ukraine – deliberately. And Russian warships in the Black Sea are blockading Ukrainian ships full of wheat and sunflower seeds."
She explained there are now 20 million tonnes of wheat stuck in Ukraine. That has created a shortage that has sent global wheat prices rocketing, and meant food shipments from Odessa could not reach Somalia.
She explained that Europe was opening solidarity lanes, linking Ukraine's borders to its ports, stepping up its own production, and working with the World Food Programme to get supplies to vulnerable countries.
"Global cooperation is the antidote to Russia's blackmail."
Here are video clips of Jens Stoltenberg's speech here at Davos, via FRANCE 24:
Nato's Stoltenberg: Freedom is more important than free trade
Jens Stoltenberg, secretary general of Nato, has warned leaders at Davos of the security risks of dealing with China, as well as Russia – in a stern reminder that protecting values is more important than profits.
In a special address, Stoltenberg says countries should not trade long-term security needs for short-term economic interests.
The war in Ukraine demonstrates how economic relationships with authoratarian regimes can create vulnerabilities, he explains.
It creates over-reliance on key commodities such as energy
Sharing of technology such as artificial intelligence, which are crucial to modern weaponry, can undermine miilitary strength
It can create weakened resiliance from foreign control of infrastructure such as 5G mobile networks.
This is not just about Russia, it is also about China, Stoltenberg says.
International trade has undoubtedly brought great prosperity, Stoltenberg continues. But we must recognise that our economic choices have consequences for our security.
Freedom is more important than free trade.

The protection of our values is more important than profit.
He adds that he is not arguing against trade with China, but the control of 5G networks is a crucial security issue.
Stoltenberg also explains that President Putin wanted less NATO at his border. He now has more troops in Eastern Europe, and an enlarging NATO, Stoltenberg points out.
He says he's confident that NATO will be able to welcome Finland and Sweden to the alliance.
Von der Leyen is then asked whether Russia can return to the international community.
She says it can:
Yes, if Russia finds its way back to democracy, the rule of law, the respect for the international rules-based order, then it's a clear yes.
Russia is Europe's neighbour, it will stay there. We have shared history and culture, she explains, adding:
It is the Russian people who decide about the future of their country. They have it in their hands.
Von der Leyen: Russia using hunder and grain to wield power
On the food crisis, Von der Leyen says Russia is using hunger and grain to wield power.
On the blockages that are causing shortages and risking famines, she says:
"In Russian-occupied Ukraine, the Kremlin's army is confiscating grain stocks and machinery.

And Russian warships in the Black Sea are blockading Ukrainian ships full of wheat and sunflower seeds."
Global cooperation is the antidote to this blackmail, she says, with Europe working hard to get grain to global markets.
The US is equally concerned:
Von der Leyen tells Davos that Europe is too reliant on a handful of producers for key materials, such as lithium or silicon metal.
Strong global partnerships are needed, so that Europe has more resilient supply chains, and 'balanced interdependencies', she says.
Von der Leyen: Could use frozen Russian assets to fund Ukraine reconstruction
Ursula von der Leyen, head of the Europen Commission, says Ukraine's war is putting the international order into question, as she addresses the World Economic Forum's Congress Hall.
She says Davos should be talking about making the world better together, but instead they must talk about Putin's invasion, where Russia's playbook for the war "comes out of another century".
It is not just a question of Ukraine's survival, or European security. It is putting the entire international order into question, says von der Leyen.
Ukraine must win this war. And Putin's aggession must be a strategic failure.
Von der Leyen says Ukraine needs direct budget support now, which is why the EC proposed a $10bn package of financial assistance, its biggest ever package for a third country.
The same resolve will help Ukraine rise from the ashes, von der Leyen insists, which is the idea behind the reconstruction plan proposed to president Zelenskiy.
The work is colossal, but "together we can and will, master the challenge".
Any country that cares about Ukraine, multinational institutions, companies. everyone, should contribute.
And Von der Leyen says that Russian assets frozen overseas could be used to fund reconstruction too:
We should leave no stone unturned, including if possible the Russian assets that we have frozen.
That massive investment should be accompanied with reforms, von der Leyen adds.
That means supporting the rule of law, and the independence of judiciary, fighting corruption, getting rid of the oligarchs, she says.
Plus, firmly supporting Ukraine in pursuing its European path.
Von der Leyen says Ukraine belongs in the European family, having stood tall in the face of brutal violance.
This is a defining moment for democracies across the globe.


Davos day two: Global tax deal delayed; Von der Leyen on Russian food 'blackmail' – live updates | Business Source link Davos day two: Global tax deal delayed; Von der Leyen on Russian food 'blackmail' – live updates | Business