Life Style
DOMOTEX 2023 will be launched in Germany with many new features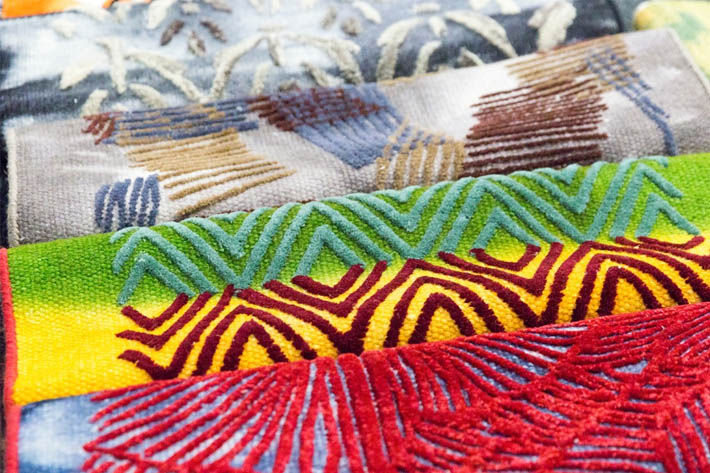 With many new features,
DOMOTEX
It will be launched at the Hanover Exhibition Center from January 12th to 15th, 2023.Already revealed
33rd edition of the world's most important trade fairs
Carpets and floor coverings will be a powerful and innovative event. DOMOTEX will be held as a hybrid show in January 2023.
Deutsche Messe has taken advantage of the pandemic break to adapt the world's leading trade fairs for carpets and floor coverings to changing market needs and further strategic development. DOMOTEX shows some new features. The modern and optimized placement of the two newly introduced DOMOTEX labels "Rugs" and "Flooring" and the adapted hall structure facilitates orientation. In addition, DOMOTEX will offer more application-oriented and more special formats tailored to specific target groups for more atmosphere and relevance, the organizers said in a press release.
"At the next DOMOTEX, there are many new discoveries. Last year, we focused on developing new opportunities for companies to participate and providing trade fair guests with a new brand experience. Very valuable to us. Sustainability and circular economy topics have played a major role, especially in the last two years, with more and more difficult supply chains as well as topics such as resource efficiency, eco-friendly products and production processes. DOMOTEX is a special showcase, "THE GREEN COLLECTION," that focuses on sustainability issues and lets exhibitors and visitors experience the theme of the keynote. The "new" DOMOTEX provides ample scope for everyone involved. Experience, orientation, innovation and inspiration, as well as access to new customers, partners and suppliers, of course. Introducing the trend, Innova. Life and lifestyle are dispersed in each exhibition area. Exhibitors and trade fair guests are looking forward to many innovative ideas. They can discover the trends and innovations that will shape tomorrow's business. " Sonia Wedell-Castellano, Global Director DOMOTEX, Deutsche Messe AG..
DOMOTEX with many new features will be available at the Hannover Exhibition Center from January 12th to 15th, 2023. It has already become clear that the 33rd edition of the world's most important trade fair for carpets and floor coverings will be a powerful and innovative event. DOMOTEX will be held as a hybrid show in January 2023.
"Many exhibitors have already confirmed their participation in DOMOTEX even before registration officially began," adds Wedell-Castellano. "This reiterates the importance of DOMOTEX as a global market and a source of inspiration for the industry as a whole, and shows how important face-to-face meetings are to the industry. Famous and long-time exhibitors such as ABCItalia. IPEK-A. Ipektchi, Jaipur Rugs Company, Jambros Modern Flooring, Javi Home, Lila Valadan / Naziri, Surya (Handmade Carpet Division), Empera, McThree, Merinos Oriental Weavers, Royal Hali, Solomon, Tisca (Machine)-The Made Carpet Division has already confirmed its participation, as well as CFL Flooring, Design Parquet, Falkon, Ramet, Li & Co, NOX, Swisskrono in the Parquet, LVT and Laminate segments. The effort is also very encouraging. In addition, the Infloor-Girloon and Oneflor sectors of Aspect, Balta, Vetap, Condor, Textile and Elastic and the Applications and Installation Technology sectors Eugen Lägler, Neuhofer, SELIT and Välinge have already been registered. I am. "
DOMOTEX 2023 introduces two new powerful labels, "lag" and "flooring", to optimize the orientation of participants. The layout of the new hall covers the north side of the exhibition hall, just behind the front door NORTH 1, and brings together the product groups of the two labels. Therefore, trade fair participants from the wholesale and retail trade, architecture, interior design, handicrafts, furniture and furniture trade can find their way more easily. The world's largest range of handmade carpets will be on display in Halls 2-4. .. Machined carpets can be seen in Halls 5 and 6. Therefore, holes 2-6 form a "lug" label.
The application and installation technology products and practical solutions will be in Hall 22's home in the future, directly adjacent to Hall 23's hard and elastic floors. The textile floor covering is directly opposite Hall 19/20. Therefore, holes 19-23 form a "flooring" label.
Future DOMOTEX will offer new formats and contacts in all product areas. This includes the new MOOD SPACES designed by interior designers who represent current trends and represent floors and carpets as an integrated solution. Spaces is a source of inspiration for the furniture industry and interior designers, showing in the spirit of a concept store style which products can be combined to form a themed world. MOOD SPACES will be located in Hall 6.
Similarly, in the new special exhibition area "THE GREEN COLLECTION", the theme of sustainability will be presented in an exciting atmosphere, focusing on the central area of ​​Hall 23. In line with the keynote theme, FLOORED BY NATURE, the special area THE GREEN COLLECTION outlines the products and manufacturing processes of the carpet and flooring manufacturers that symbolize sustainability. The contributions of these carefully selected exhibitors provide orientation and inspiration to those seeking information on sustainable products, and thanks to the qualifications of the corresponding manufacturers, make it easier to find products at DOMOTEX. THE GREEN COLLECTION covers topics such as eco-friendly products, healthy products, sustainable production and social responsibility. A glimpse into the future of current research projects, and thus carpets and flooring, is also provided here. In addition, the certifier has the opportunity to present himself here. The area concludes with a conference program that addresses current topics, presentation corners for universities and research institutes, and a catering area.
DOMOTEX asia / CHINAFLOOR is an international trade fair for carpets and flooring in the Asia-Pacific region, which will be held in Shenzhen from August 31st to September 2nd, 2022. DOMOTEX Turkey, the leading trade fair for carpets and flooring in Turkey and the Middle East, will be held in Gaziantep in May 2023.
Fiber2Fashion News Desk (RR)


DOMOTEX 2023 will be launched in Germany with many new features
Source link DOMOTEX 2023 will be launched in Germany with many new features