Bakersfield
Gathering commemorates 68th anniversary of the end of the Korean War | News – Bakersfield, California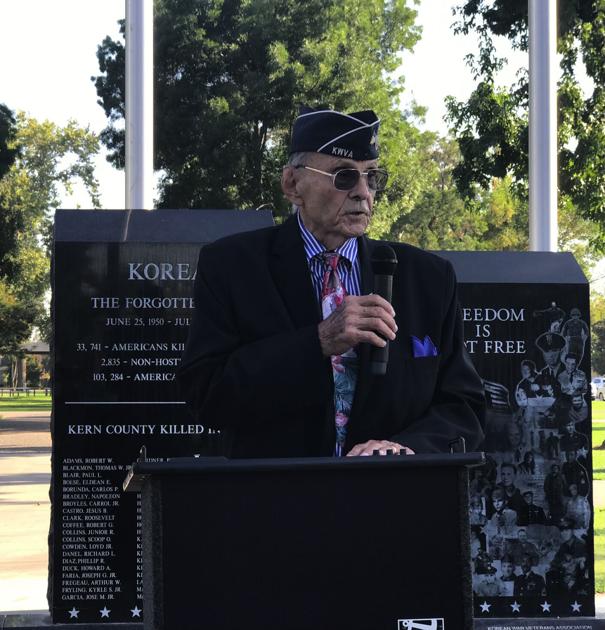 Bakersfield, California 2021-07-27 22:00:00 –
The Korean War is often referred to as the "Oblivion War," and as its history fades in the country's rear-view mirror, local veterans and veterans advocates strive to remind Americans that oblivion is not an option. It is doubling.
Approximately 30 veterans, public figures, and veterans defenders at the Korean War Memorial in Justro Park to commemorate the 68th anniversary of the ceasefire, which virtually ended the conflict on July 27, 1953, on Tuesday morning. collected.
"The Korean War is not a forgotten war," claimed Marine Corps veterans Michael Sabol, chairman of the regional branch of the Korean War Veterans Association, which helped host the event on Tuesday.
"We never forget our people," he said.
On the contrary, Bakersfield and Kern County have strong records of supporting veterans, celebrating those who served during the war, and remembering those who gave their lives, Sabol said.
He said that if we forget what happened in South Korea as a community or as a nation, our young people will no longer understand the importance of what was sacrificed for them.
Sabol is joined by Marine Corps Veterans and Veterans Defender Dick Taylor and Kern County Veterans Services Director Joshua Dhanens to name Kern County residents who have never served in South Korea and returned home. read.
For many veterans of the war, those who did not go home were really heroes.
Later in the program, Taylor remembered visiting Bakersfield's sister city, Bucheon, South Korea, in 2019.
Taylor said many of Bucheon's sacrifices were made by American soldiers, sailors, marines, and airmen to expel North Korean invaders who flowed across the 38th parallel to occupy and conquer. The Democratic People s Republic of Korea said it was surprised and impressed by the deep gratitude expressed by many.
"I can't imagine. Koreans are grateful to Americans," Taylor said.
He said we live in an era when respect for those who work in the army is no longer given.
"That's certainly not the case," he said. "No matter where we went, they were very grateful for what the Americans did and the sacrifices that Americans and their families made to continue and extend their freedom."
At the rally on Tuesday, Bakersfield Mayor Karen Goh, Bakersfield City Councilor Patty Gray, and Bakersfield National Cemetery Director Cindy Van -Included Biver, Cheryl Taylor, representative of the office of county director Mike McCarthy.
US Navy veteran Ted Whitfield, 86, was one of more than 12 local veterans who attended an event at Justro Park on Tuesday. Whitfield wasn't exposed to combat, but he attended to honor all the people who served on Tuesday.
"It's very important to remember," he said.
90-year-old Paul Schmidel was also there on Tuesday. Originally from Pittsburgh, he said he served during the war at the US Air Force Hospital near Anchorage, Alaska. Many of the injured were treated at the hospital.
"I lost a lot of good friends in Korea," he recalled.
For a friend who was killed in a plane crash, Schmidel took on the responsibility of escorting the body of his friend to his hometown of Illinois. He remembered it as one of the most difficult tasks ever.
US Navy veteran Bob Silly embarked on two destroyers at several hotspots in South Korea during the war.
After years of leaving home and serving in the war zone, he found it strange to return home to people living a normal life who seemed to have little knowledge of what the countrymen were sacrificing. Said.
"When I got home, I met people who didn't even know I was gone," Silly recalled.
Reporter Stephen Mayer can be reached at 661-395-7353. Follow him on Facebook and Twitter: @semayerTBC.
Gathering commemorates 68th anniversary of the end of the Korean War | News Source link Gathering commemorates 68th anniversary of the end of the Korean War | News