Bakersfield
He was born in Shafter and died in Shafter, but in between he lived a life of service, community and family | News – Bakersfield, California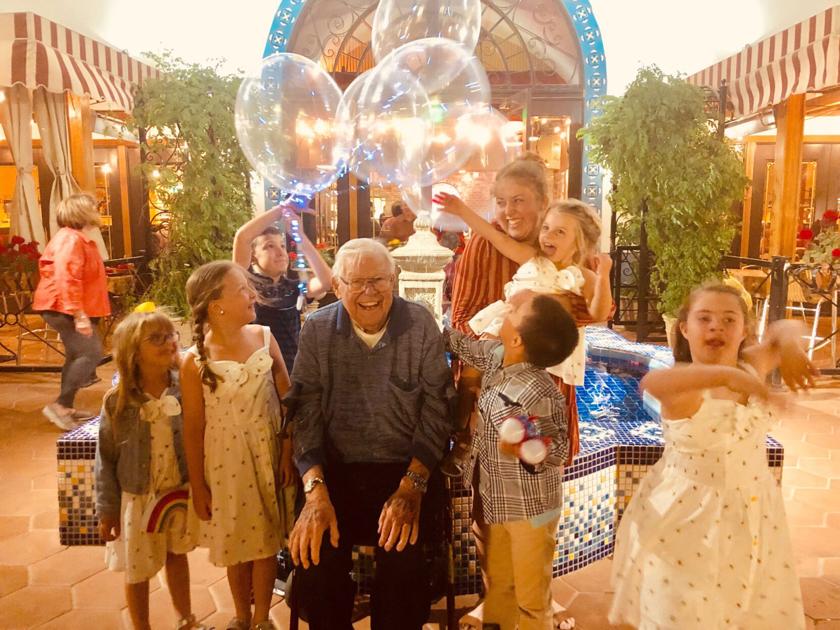 Bakersfield, California 2021-10-22 19:30:00 –
Merton Weedman, a shuffter-born pharmacist who jumped into a typhoon in the Pacific Ocean as a meteorological researcher in the US Navy during World War II and became a beloved pharmacist in his hometown after the war, died on Tuesday at his beloved shuffter. He was 97 years old.
Weedman was receiving hospice care when he died, said Lynne Taylor, one of three daughters. But he left this world on his own terms.
"He wanted to stay home," Taylor said. "He didn't want to be sent to a (nursing) home or go to the hospital."
Looking back at Taylor's youth when he grew up in the small town of Shuffter, it looks like the ideal Norman Rockwell painting right next to the cover of the Saturday Evening Post.
"It was an idyllic life," recalled Lynne Taylor. "Our parents worked hard and they played hard. My dad really loved people and loved helping them."
If you've ever wondered if a pharmacist called home, at least one person seems to have called. And it's not just about replenishing prescriptions.
Taylor remembered a difficult night in his teens. A plane crash occurred in San Luis Obispo County, and a family of a young man on board lived in Shuffter.
"I remember my family calling our house," she said. "My dad went to the store, opened the safe and withdrew enough money to take them where they needed to go.
"He touched many lives in so many different ways," Taylor said.
Merton Weedman (whose friends and family called him Mart) was born in Shuffter in 1924 and to pioneering parents who arrived in fertile farms northwest of Bakersfield around 1915. Stan Wilson, who heads the Shuffter Historical Society.
As a young man, Mart worked in farmland and agricultural packing sheds, as did many young people who grew up in Kern County at the time.
According to local writer and historian Arnold Martinez, published in the Shuffter Press in 2019, "Mart was a 17-year-old senior at Shuffter High School when he heard the news of the attack on Pearl Harbor. 1941 The Dainichi this empire on Sunday, December 7th. "
Weedman told Martinez that when then-President Franklin Delano Roosevelt announced that the United States was at war with Japan, the entire student's body was attending the General Assembly at the gymnasium and listening to the radio broadcast.
Weedman graduated the following year, and Martinez joined the Navy on December 7, 1942, just one year after the attack, stating that Roosevelt "lived a notorious life."
Weedman was sent by the Navy to the Midshipman's School at the University of Notre Dame for training in meteorology or aeronautics called by the Navy. This officer training was intended to be used to protect the Pacific Fleet and other US assets, including sailors and Marines.
According to the Navy Meteorological Services Association, a tropical cyclone struck the US Pacific Fleet in December 1944, killing hundreds of American sailors and sinking or damaging numerous military and military aircraft.
The need to predict the power and course of the Pacific typhoon was very important. As a result, Weedman and his fellow crew flew directly into the eyes of these hurricanes to collect data, Martinez wrote about the dangerous duty.
According to the Navy Meteorological and Ocean Command website, the Navy's meteorological and marine programs contributed significantly to the Allied victory in World War II. In addition, Navy forecasters have deciphered the Japanese weather code.
After the war, Weedman attended the University of Southern California. He married Patricia Stringham on October 22, 1944, and began studying pharmacology following his wife. Pat's father founded Stringham's Shuffter Drug in 1919, and both Wademan and his wife became pharmacists.
"The couple then owned and operated Stringham from the 1950s until it went on sale in 2005," Martinez said in a text message.
"He is loved by shuffters," the author said of Mart. "Wiedmanns have done a lot for the community.
"Mart called me late at night to deliver the medicine. He also gave the medicine to those in need," Martinez recalled.
"I'm just a nice and humble man."
Everyone in the community seemed to know him and reminded me of Wilson of the Historical Society.
"I couldn't get into the door of his store without saying hello," Wilson said. "He was a volunteer caregiver for the entire community."
In a sense, Weidmann's death may reflect the death of life. Wilson said he could feel the difference when Rite Aid moved in for Stringham in 2005.
"Their generosity in supporting community events and incidents was well known," he said of Wiedmanns.
According to Wilson, chain stores simply don't have the same local ties that are dedicated to improving the larger community.
"Dad always strongly believed in doing the right thing," said Diane Potter, another Weedman's daughter. "He loved helping people and was supportive and generous.
"He encouraged people," she said. "He had my brother's high school classmate write him some letters. They thanked him (later) and believed he had an impact on their lives."
With "adventurous travel and lots of laughter," Potter recalled that family time was also a priority. And her father responded to his spiritual needs as a member of the Shuffter Congregational Bible Church.
He and Pat were blessed with six grandchildren, one of whom died and seven great-grandchildren.
Patricia, his wife, a companion for nearly 64 years, died in 2008. A year later, Weedman got married for the second time.
Throughout his life, three of his children began to follow in his footsteps to practice pharmacists. The fourth became a doctor.
At least one descendant of a later generation also became a pharmacist.
During his long life, his daughter Taylor said, her father noticed that the rewards he returned to him doubled as much as he gave him.
"He didn't think from a give-and-take perspective," she said. "But he knew he had received more than he had given."
The service is scheduled for October 30th at 11:00 am at the Mennonite Brothers Church in Shuffter.
Reporter Stephen Mayer can be reached at 661-395-7353. Follow him on Facebook and Twitter: @semayerTBC.
He was born in Shafter and died in Shafter, but in between he lived a life of service, community and family | News Source link He was born in Shafter and died in Shafter, but in between he lived a life of service, community and family | News