Colorado Springs
Holocaust survivor in Kansas shares her story as reminder of horrors of hate – Colorado Springs, Colorado
Colorado Springs, Colorado 2021-06-15 14:09:34 –
Overland Park, Kansas — Judy Jacobs, Overland Park, Kansas Shared the story of her survival At the Bergen-Belsen concentration camp during World War II.
Jacobs says she was a happy girl.
"I had a great childhood," she said.
She was an only child and one grandchild. She remembers being loved and "spoiled and rotten."
Her family lived a privileged life, she said. Her father is a radiologist and her mother is an artist and decorator.
Jacobs was born in Budapest, Hungary in 1937. Only a year later, Hungary passed the first anti-Semitic law, which limits where Jews work, who can marry, and what they can do, following the Nuremberg Law of Germany.
Sitting at the counter in her kitchen, Jacobs went through her family's photo album. In one photo, she is smiling and her dark brown hair is curled with a white bow up. She was about 5 or 6 years old, which was a turning point not only in her life, but also in the lives of hundreds of thousands of Jews in Hungary.
"Hungary was very collusion when Hitler's star rose in Europe in the 1930s," Jacobs said. "They did everything Hitler wanted. Little by little, the terrible things that were happening in Germany happened in Hungary."
Since childhood, she knew what was happening around her. Her family was forbidden to run a business. Jews could only go out for a few hours a day. By the time they were able to enter the grocery market, there was almost nothing left. She attended Jewish Day School because Jewish children were not allowed to attend public or private schools.
"We went to school in the fall, after which the violent bombing of Budapest really started in late 1943, and I don't remember going to school after the winter vacation at all," Jacobs said.
The Nazis occupied Hungary in March 1944, when Jacobs was about to turn seven.
"It really was the beginning of the end," Jacobs said. "I used to think the situation was bad, but I can't stand it."
During this time, all communication was cut off. Their emails were censored and their phones were taken away. Jacobs' parents didn't know what was happening in a country where many of their relatives were scattered.
They began hearing rumors that people were being deported from Hungary.
"We knew our time was coming, we didn't know when," Jacobs said.
On June 30, 1944, the Nazis ordered Jacobs' family and thousands of others to go to the train station in Budapest. So they were put on a cow car with small belongings that they could carry in their suitcases.
"I didn't speak German at the time, but when these Nazi soldiers insult you one after another, you understand the point, even if you don't know exactly what they're saying. Let's get started, "said Jacobs. "'You are a filthy Jew, you have no reason to live.' This is terrible. They continued many times about how worthless we were."
Jacobs said they felt like they were on the train for a week. Dozens of people were stuffed into an ox cart in the standing room alone. Jacobs said there was no food, water, or bucket that everyone could rest assured.
When the train finally stopped, Jacobs remembers swarming in the woods like cows. She looked up at the signboard at the station.
"We arrived at the Bergen-Belsen concentration camp, the concentration camp," Jacobs said.
Bergen-Belsen was located north of Hanover, in northern Germany.
Again, they were forced to walk, and the Nazis threw insults on horseback and on motorcycles on either side.
Jacobs said the camp was surrounded by layers of thorny water with watchtowers everywhere and a kind of moat that made it impossible to escape.
Bergen-Belsen did not have a gas chamber like Auschwitz, but the conditions were inhumane.
Men and women were separated. The children were with the woman. Jacobs said he was stuffed into a poorly ventilated barracks and slept in a narrow bunk bed using dirty straw as a mattress. She said the barracks were infested with rats and other insects, carrying the disease.
"In the morning we got a cold brown liquid called coffee, which was either cold and not too much rice or old bread," Jacobs said. .. "And there was nothing until the end of the day. At that point, I think I had a cloth of soup and stew. It was an orange liquid, and there was always a film on top. And that was our supper. Needless to say, everyone was skin and bones. "
She said she estimates that her father eats 350 calories a day.
Every morning they had to get together for a roll call, but after that they had no other obligations.
Decades later, she still remembers the interaction she and her family had with the Nazi guards.
"They will pass by and say,'You are Vermin, you are less than human.' And after hearing this every day for about a month, I ask my mother, am I less than human? That is, it. Can you imagine how this affects a person's self-esteem? " Jacobs said.
At first, she says they were a healthy bunch. People who were interested in art and music gathered and discussed. There was no book, but the teachers taught the children lessons.
Her dad and other doctors held clinics to the best of their ability.
Jacobs remembers waking up one morning with his feet boiling. Her father brought a sulfur tablet, which was crushed into powder and mixed with petrolatum to make an ointment. The women "disinfected" Jacobs' feet with water and warmed the sewing needles. They repelled each boil while her father was applying the ointment.
Immediately, the boiling disappeared. According to Jacobs, it was this ingenuity that made them successful.
But after a while, Jacobs said everyone became ill and indifferent.
Autumn has turned into a cold winter. Many prisoners were seriously ill and debilitated. Thousands have died.
Jacobs and many others didn't have coats or shoes. Her parents exchanged old blankets to wrap her.
In a dire situation, Jacobs remembers a happy memory with his mother.
"One morning at a roll call she announced that she was going to teach children art classes. My mother had a stick and all the other kids had a stick. So she told the group butterflies and flowers. " "And for at least a while, it was a bit of hope and joy among the groups."
In December 1944, the prisoners marched on another train.
"And they had food for us-sardines and chocolate," Jacobs said. "It's a pretty combination. Don't ask me what to do. Frankly, I don't like either, but believe me. It tasted great at the time."
This train took them to Switzerland. Jewish organizations were paying the ransom for their release.
Now free, Jacobs soon learned of his grandparents and most of her extended family were killed in Auschwitz.
"I know they were gassed on June 30, 1944, which was exactly the day we left Budapest," Jacobs said.
Jacobs and her parents emigrated to the United States in 1946 and settled in the Washington, DC area.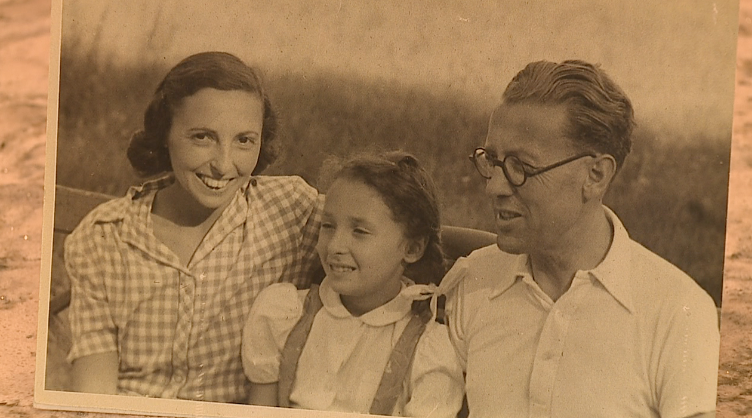 She got married, started a family, and has lived in the Kansas City area since 1963.
The Holocaust is with her in many ways. She said she doubted people's motives. She wonders if people hurt her.
"But that was years ago and I think it's conditioned. I realized that being emotional doesn't help anyone at this point. What you have to do is tell the facts. Focus on it and publish it there. To the extent possible. "
She has an MBA and a PhD. From UMKC. She received numerous awards and made countless speeches about her experience.
She believes that bullying, hatred and intolerance can be prevented and stopped early.
She talks about her survival for this reason.
"I think people need to understand that and hopefully know how deep humans can sink so that they can avoid it in the future," Jacobs said.
This story was originally published by Sarah Plaque of KSHB.


Holocaust survivor in Kansas shares her story as reminder of horrors of hate Source link Holocaust survivor in Kansas shares her story as reminder of horrors of hate