New Orleans
Inside the Baton Rouge company changing how major leaguers choose their bats | LSU – New Orleans, Louisiana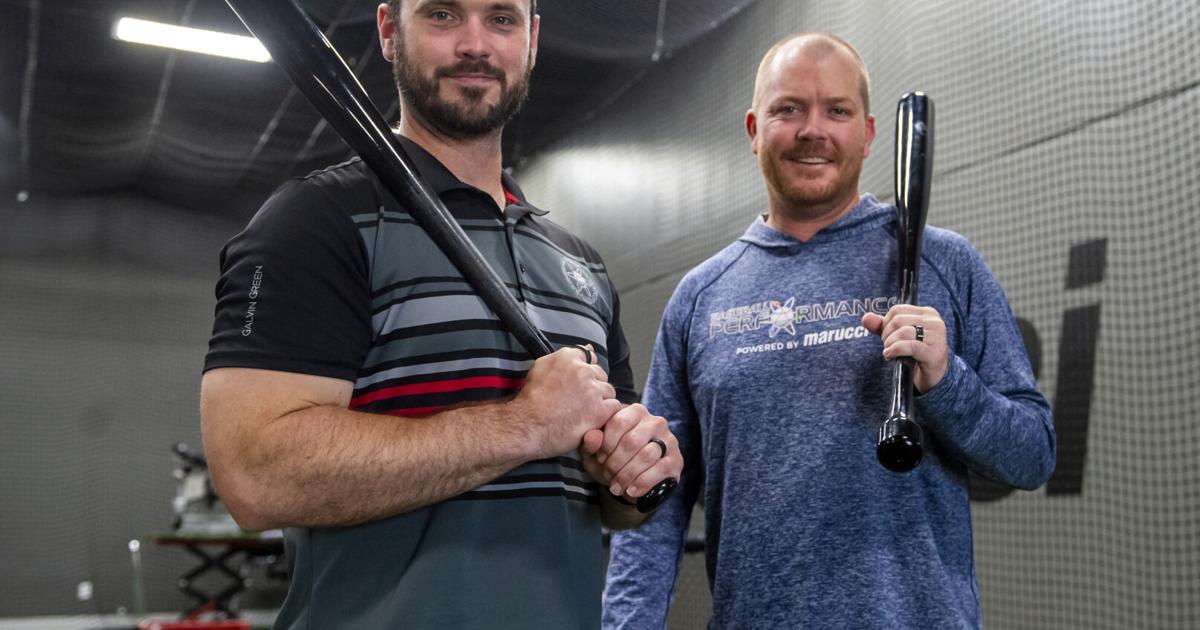 New Orleans, Louisiana 2022-06-17 05:00:00 –
Liam Mucklow drove through Arizona to spring training in 2019 with eight wooden baseball bats in the back of his car. Curious about the connection between baseball players' bodies and their bats, he wanted to find out how much the game's only piece of offensive equipment mattered.
Mucklow met up with Kyle Ourso, the vice president of sports marketing and professional sales at Marucci Sports, who had supplied the bats. They paid five independent league players $50 to try the models.
"Let's hit them and see what we get," Mucklow said.
Using a motion-capture system and launch monitor from Mucklow's golf company, they tested whether or not changing the bat affected performance through metrics such as exit velocity and distance. After the study, Mucklow asked the players which bat they preferred.
"Five for five, what they thought they liked and what they performed the best with was not the same bat," Ourso said.
The experiment demonstrated that equipment made a difference. In the past, baseball players picked a bat based on how it felt when they swung. They considered weight, length, balance and material. But technology introduced new data that potentially added more factors. Mucklow and Ourso believed they were onto something.
Less than a year later, Marucci Sports announced a partnership with the Baseball Performance Lab, a newly formed division of the golf company Mucklow founded in 2009. The operation now fills one of the many nondescript black buildings at Marucci's campus in Baton Rouge, making it the first bat supplier to offer an on-site fitting service.
Inside, Mucklow and director of player performance Micah Gibbs study how players and their bats interact. The process resembles getting fitted for golf clubs. Mucklow and Gibbs measure players' bodies and analyze their swings. They then tweak mechanics or identify the bat that should produce the best numbers.
"If we would have done this five, six years ago, people may not have ever switched," said Gibbs, a former LSU catcher and assistant coach. "The data hadn't been a big part of the game, and it's finally getting there. Guys are starting to understand that the data matters a lot more than what they feel."
Marucci's reputation as the leading bat supplier in the major leagues gave the Baseball Performance Lab credibility. Former San Francisco Giants catcher Buster Posey was the first player to come through, and after Joey Gallo used a custom bat during an All-Star season last year, more players came during the offseason. More than 40 major leaguers have now visited the lab.
One day in December, first baseman Paul Goldschmidt, third baseman Nolan Arenado and infielder Matt Carpenter all went through bat fittings. Goldschmidt, a six-time All-Star, had used the same Old Hickory model his entire career.
Goldschmidt left with a heavier, longer bat that has a hockey-puck style counterweight knob on the bottom. Goldschmidt still uses the bat. He was hitting a career-high .347 with 16 home runs entering Friday's games, putting him on pace for the best season of his 12-year career.
"Until this, there was never actually any research on the person swinging it, which kind of matters," Mucklow said, chuckling. "It kind of matters a lot."
•••
Mucklow suspected the connection made a difference because of his golf background. He spent almost a decade on the World Long Drive Tour while playing professional Asian circuits. In the long drive competitions, which he compared to a home run derby, he tried to maximize his equipment.
"I was the small guy," Mucklow said. "I didn't have the most speed, so for me, it was always about trying to squeeze a couple extra yards out of having the right driver for varying conditions. I would bring a digital level and put it in the landing area to find a little down slope."
In 2009, Mucklow founded The Golf Lab near his hometown in Toronto. The company studied the relationship between golfers and their clubs, putting it at the forefront of club fitting as the practice trickled down to amateurs. It also has worked with three-time major winner Padraig Harrington and 2012 U.S. Open champ Webb Simpson.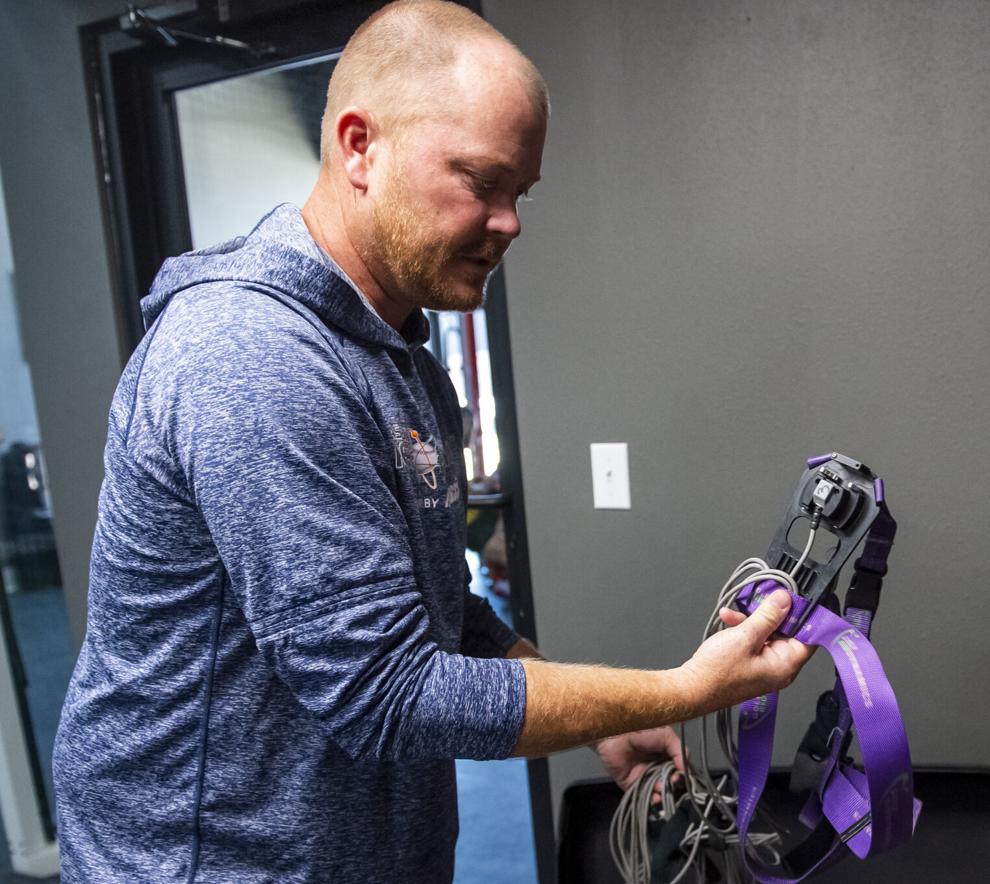 Baseball was further behind. While suppliers followed certain philosophies — Marucci believed in denser wood — they made bats to players' desired specifications and filled their orders. Before analytics seeped into the game, Ourso said the company never considered telling its clients, "Hey, here's what you need to be using."
That began to change when friends connected Mucklow and Ourso in January 2019. They spoke over the phone, and Ourso mailed him eight bats.
Mucklow then bought a Rapsodo launch monitor online. The tool tracks exit velocity, launch angle, distance and spin rate. Living in California at the time with limited access to baseball fields, Mucklow went to a Safeway parking lot with his 9-year-old son. He tested the machine as his son hit off a tee.
A couple of months after the experiment with the independent league players in spring training, Mucklow visited Marucci CEO Kurt Ainsworth and Ourso at a local driving range. While they hit balls, Mucklow balanced one of the clubs on his fingers.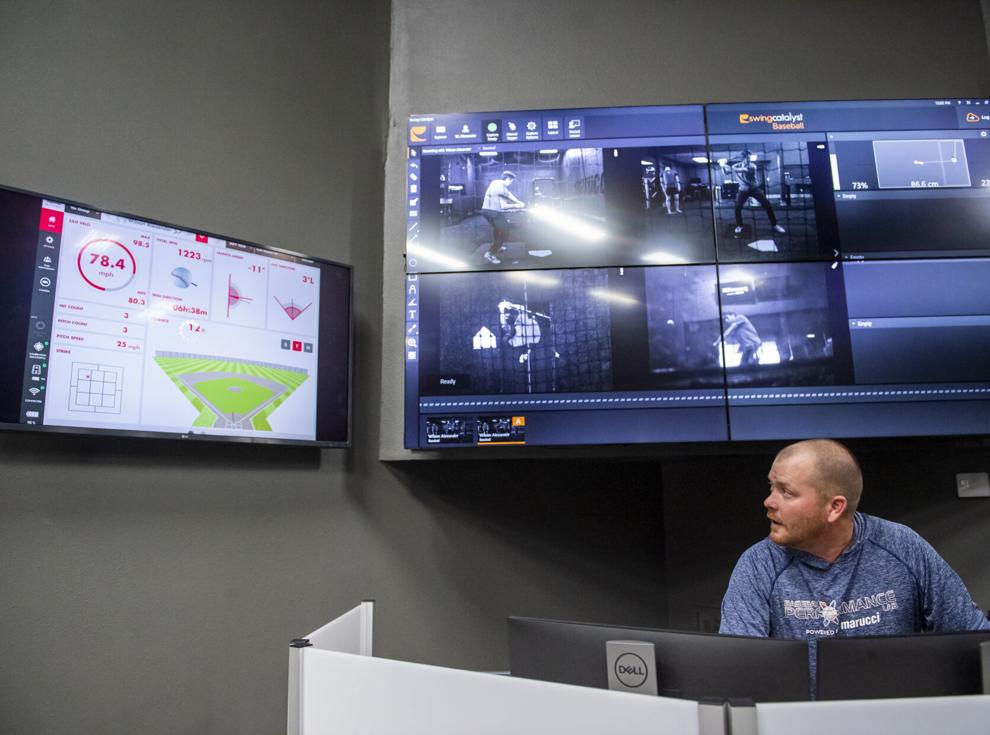 Mucklow explained that Ourso needed a different weight. He sensed the clubs had been cut short, which he said threw off Ourso's leverage because the weight wasn't then redistributed toward the head of the club.
Mucklow added 5 grams of lead tape to the club. Ourso immediately noticed the difference.
"It doesn't matter if you're swinging a jackhammer, baseball bat, tennis racquet, whatever," Ourso said. "There's a body and equipment connection that really matters."
•••
Over the next few months, Mucklow returned to Toronto. He repurposed equipment The Golf Lab used to measure the mass and physical properties of golf clubs and constructed a database about baseball bats.
The findings turned into a metric called BPI. Measured on a scale of 1-100, the number represented how much energy it took to move the bat. Every player would have a number unique to them. Mucklow could then change sizes and weights while preserving BPI, helping him decide which bat players needed based on their strength and technique.
"If it's built to BPI, you get the person to close their eyes and feel the bat, they're not going to feel the difference," Mucklow said. "When it comes to the way they move and their swing, there's going to be no change to their technique or timing."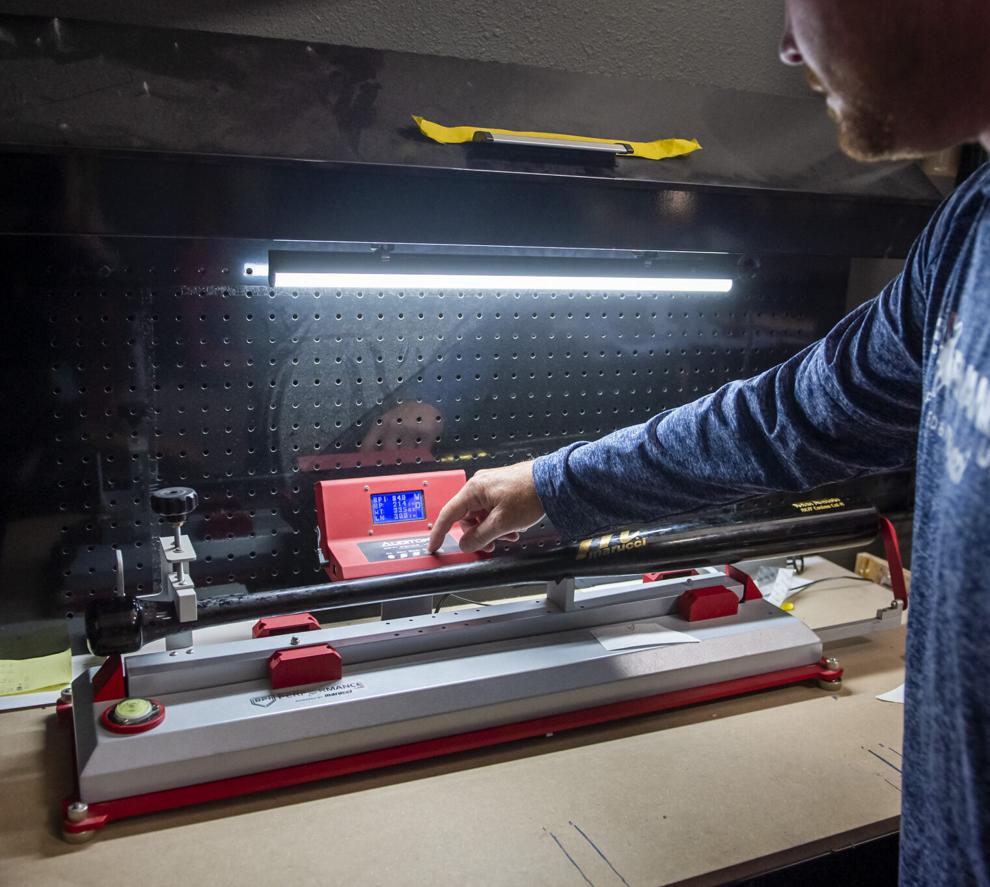 While Marucci built a research center with an indoor batting cage and computer system on campus, Mucklow flew to Baton Rouge once a month to talk to employees in the wood department. Ourso eventually introduced him to Gibbs, who had a longtime interest in analytics.
Gibbs made an ideal partner. The catcher on LSU's 2009 national championship team, he played six minor league seasons before returning to his alma mater. Gibbs might have stayed in coaching, but after he suffered a severe knee injury playing pick-up basketball, he had spent two years in an off-field role.
"I've got a job offer for you," Mucklow said over ramen one night, "and I hope it's not insulting."
"I've got to figure out how to sell this to my wife," Gibbs said.
Gibbs left LSU after the 2019 season and built the operation with Mucklow. They have since worked with some of the biggest names in the sport while partnering with the Los Angeles Dodgers, Texas Rangers, New York Mets, Arizona Diamondbacks and Seattle Mariners at varying levels of involvement.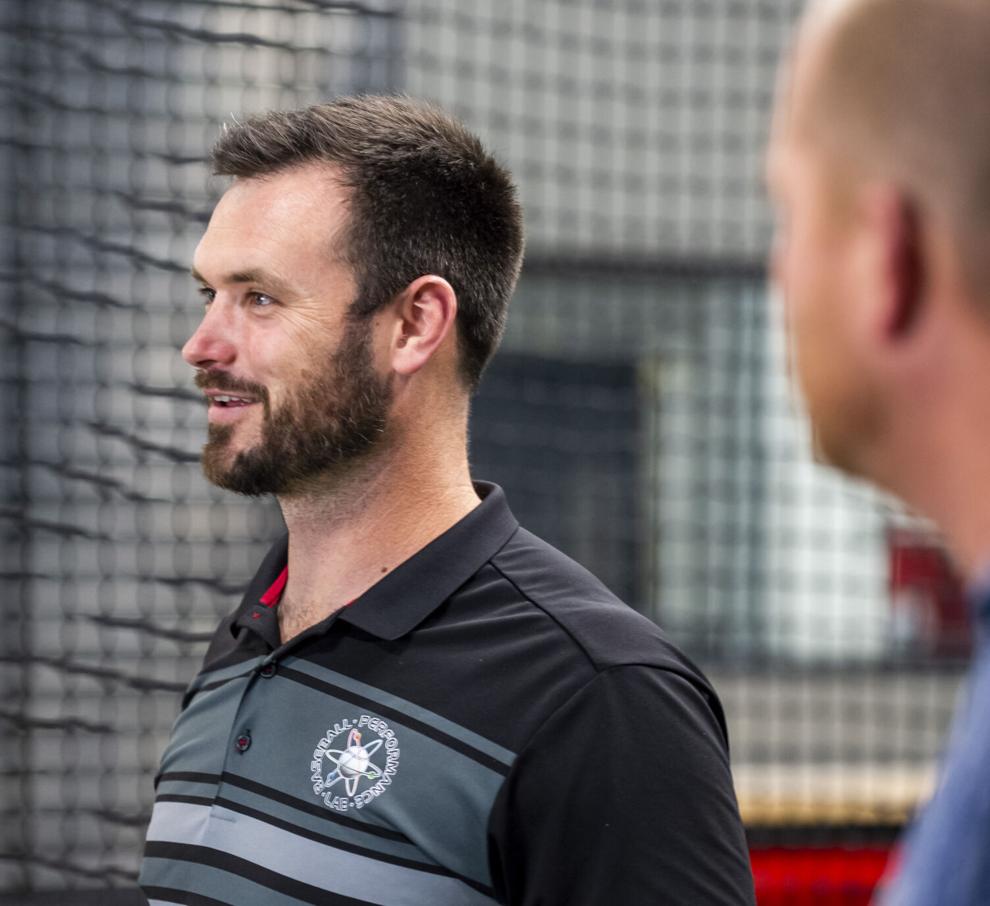 Players come for swing assessments and bat fittings. Not everyone sticks with their tailored piece of equipment — Cincinnati Reds first baseman Joey Votto discarded his after a slow start to the season — and the bats later need subtle adjustments depending on a player's preferences.
Arenado tweaks his model multiple times a month, Gibbs said, but players benefitted enough that the company's influence continues to grow.
"It's good to have somebody show you the technology and explain it to you in a way you can understand," said former LSU outfielder Mikie Mahtook, who played five years in the major leagues. "That's what they do. It makes it extremely valuable to baseball players."
•••
When a player visits the performance lab, a complete bat fitting starts with measurements of everything from wrist mobility to external hip rotation and arm length. Mucklow and Gibbs then calculate grip strength and the amount of horsepower a player creates through their lower body, core and upper body. The process narrows down the number of models a player will test. It takes 45 minutes before anyone swings.
Once inside the batting cage, a dual force plate on the ground collects vertical, horizontal and rotational force. A launch monitor calculates exit velocity and spin. Six high-speed cameras record every rep from different angles. For some players, Mucklow and Gibbs use a wire system that creates a 3-D rendering of their swing for deeper analysis, which produces 30,000 data points per second.
"We're dealing with people's careers," Mucklow said. "We don't want to make a bad decision."
While major league interest sparked the lab's growth, some of its most influential work happens with less experienced players who haven't spent decades tinkering with their swings. Before his freshman year, LSU outfielder Dylan Crews tested wood and metal bats at the lab to prepare for a higher level.
"I didn't have a feel of which bat was best for me," Crews said. "Going in there gave me some clarity."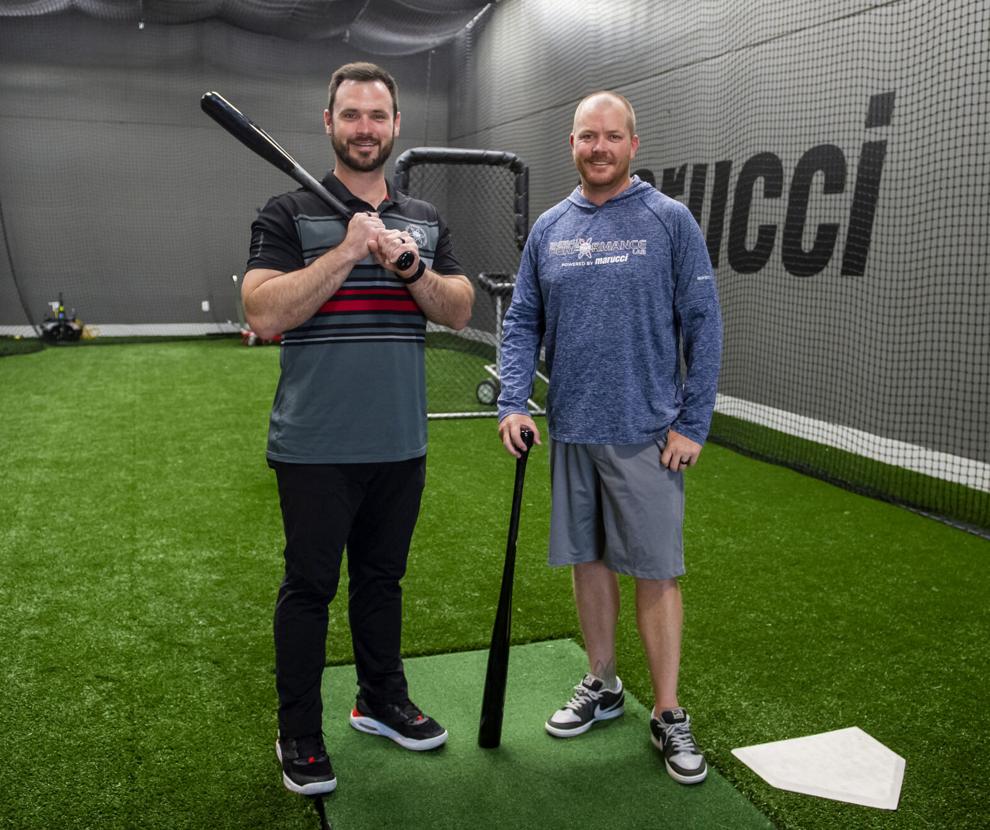 A year later, Crews used a Victus model at the beginning of his sophomore season. Midway through the spring, he returned to the lab wanting to see the metrics on something different. As he swung a 34-inch, 31-ounce Marucci CAT 9, Crews' mishits registered 98 mph exit velocities.
He immediately switched. Though advanced as a hitter and the player with the most horsepower to ever come through the lab, the bat helped Crews push groundouts through the infield and turn fly balls into home runs. Crews, the co-SEC Player of the Year, batted .349 with 22 homers in 2022.
"It helps tremendously, especially when you get jammed or you hit off the end of the bat," Crews said. "I've had a couple situations where I've gotten jammed this year, and the ball absolutely flies out the park."
Gibbs, a switch-hitter, never found the right bat during his career, which ended in Triple-A. He tinkered with various models every offseason, but he realized once he tested himself at the lab that he needed completely different bats depending on what side of the plate he fit from.
Able to help now, Gibbs doesn't want anyone to go through the same issue he did. In three years, he and Mucklow hope half the youth players out there will get fitted for a proper bat. Over time, their work may change the way hitters choose equipment, perhaps making a custom fitting as common as it is in golf.
"When guys come in here, you know if you help them a tiny bit or get them on the path to the right thing," Gibbs said, "it's going to change their career."


Inside the Baton Rouge company changing how major leaguers choose their bats | LSU Source link Inside the Baton Rouge company changing how major leaguers choose their bats | LSU