New Orleans
LSU's Cade York named to Lou Groza Award watch list for nation's top place-kicker | LSU – New Orleans, Louisiana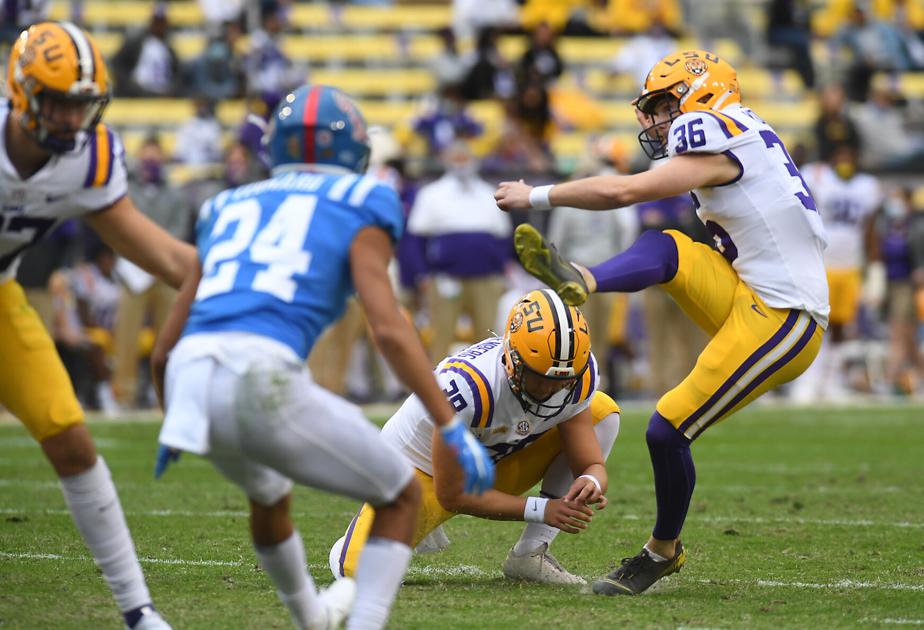 New Orleans, Louisiana 2021-07-28 12:58:00 –
LSU's Cade York was one of the most memorable field goals in the history of the program, kicking in the fog last year in Florida.
Currently, he is aiming for one of the top individual college football awards.
York was selected on Wednesday as a 30-person pre-season watch list released by the Palm Beach (Florida) County Sports Commission.
A 6-foot, 198-pound junior from McKinney, Texas, was a semi-finalist in Lugroza in 2020 and was an All-American for the second team. The field goal for 2019 is 21 out of 27 and PAT is 89 out of 93.
York had a moment of his signature against the Gators. After a penalty for unsportsmanship against Marco Wilson of Florida, who threw LSU tight-end Cole Taylor shoes after a tackle, York passed through the fog in Gainesville to score a 57-yard field goal in school records. Excavated. It proved to be the stunning 37-34 upset victory point for the Gators Tigers, who were sixth at the time.
Lugroza's watchlist also included Jacob Barnes of Louisiana Tech, a freshman in red shirts from Woodlawn. Burns had 12 out of 14 field goals in 2020 and tried all 33 PATs.
Seven other kickers from the Southeastern Conference have also been named on the list: Anders Karlsson, Auburn. Jace Christman, Florida; Chase McGrath, Tennessee; Harrison Mebis, Missouri; Jack Podolsney, Georgia; Richard, Alabama.Matt Rufaro, Kentucky
Also released on Thursday was a watchlist of the Reigai Awards given annually to the top Panthers across the country. The LSU Panther wasn't on the list, but Tulane's Ryan Wright and UL's Rhys Byrns were chosen. Junior Wright averaged 45.2 yards per kick with 65 punts. Similarly, Junior Burns averaged 43.5 yards per kick in 36 attempts.
I have a watch list for another 2 days. On Thursday, the Paul Hornung Award (the most versatile player) and Wuerffel Trophy (community service-oriented awards) watchlists will be released. On Friday, we'll have a watchlist for the Walter Camp Awards (best players). There is no Heisman Trophy watchlist.
Pre-season watchlist LSU player
Maxwell Award (Outstanding Player): WR Kayshon Boutte
Bednarik Award (Defensive Player of the Year): CB Derek Stingley Jr., CB Eli Ricks
Billetnikov Award (Excellence Award): Casion Butt
Limington Trophy (Center): Liam Shanahan
Butkus Award (Linebacker): Damone Clark
Jim Thorpe Award (Defensive Back): CB Derek Stingley Jr., CB Eli Ricks
Bronconaguru Ski Trophy (Defensive Player of the Year): CB Derek Stingley Jr., CB Elilix
Outland Trophy (Best Interior Lineman): G Ed Ingram
Lou Groza Award (Best Kicker): Cade York
Reigai Award (Best Panther): None
Remaining watchlist schedule
Thursday: Paul Hornung Award (Most Versatile Player), Wuerffel Trophy (Community Service)
Friday: Walter Camp Award (Best Player)


LSU's Cade York named to Lou Groza Award watch list for nation's top place-kicker | LSU Source link LSU's Cade York named to Lou Groza Award watch list for nation's top place-kicker | LSU