Omaha
Maverick Musician: Aida Soria | College of Communication, Fine Arts and Media – Omaha, Nebraska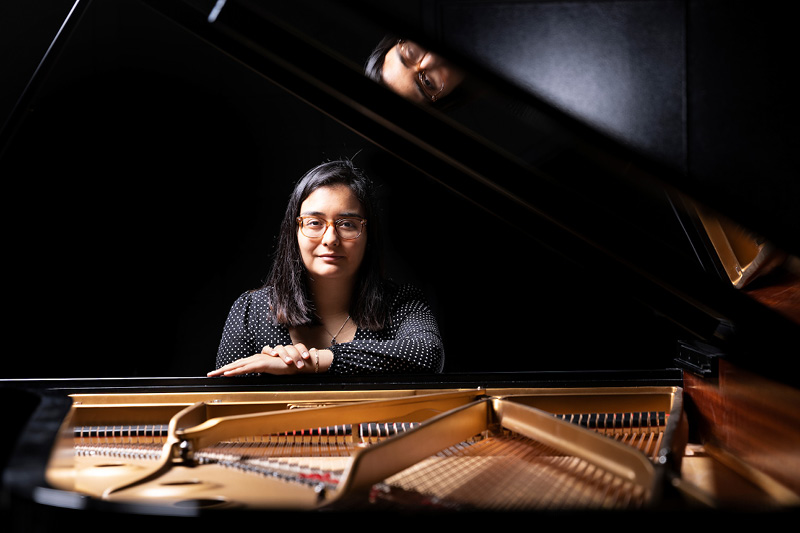 Omaha, Nebraska 2021-12-03 02:59:48 –
Senior Aida Soria wanted to start music after the third year of a high school marching band. "I didn't have a percussion instructor that year, so as a junior, I faced the choice of stepping up and leading or not at the forefront. [percussion] In a band. "
She stood up to the challenge.
"I taught everyone in this section. I myself, another junior, and a flock of freshman boys, some of whom couldn't read music. I grew up. I loved seeing everyone's progress. Seeing it'Oh! I finally got it! "The moment the concept I was teaching made sense was very rewarding! At that time, I wanted to be a band director. "
She was talented, ambitious and not afraid of hard work. Many music majors practiced their skills for years since childhood and enrolled in private lessons, but Soria got the piano as a high school student. Despite her late start, she was excited to enroll in UNO Music School and begin her journey as a music educator. But there was a problem.
Due to family issues, she did not receive financial assistance through FAFSA, a sophomore at UNO. Without that help, she couldn't live in the dormitory-and she didn't have a car to drive from her family's house. Public transportation was also not an option. "… In high school, the public bus I went to school was so unreliable that I was about to be sent to court because I had too many days in school. I can't afford to be absent from college. Many of my classes had a strict attendance policy and failed me even if absenteeism wasn't my fault. Faced with all this, I'm ready to drop out I felt that."
Still, she pushed.
"I decided to put the cost of the dormitory out of my pocket. This quickly became too burdensome. While working full time, I was loading an incredibly heavy course, And I still couldn't pay the rent. I confessed to one of my professors, Dr. Taylor, that I was ready to drop out for financial reasons. She was $ 500 per semester. I found a valuable music scholarship. "
It couldn't cover everything, but it was the beginning. She decided to stay for another month to see what happened. "The next month, a generous soul who heard my situation donated $ 400 and I was able to pay the rent again. Between work and community generosity, for a month at a time, I I was able to stay in school. That scholarship was the reason I stayed and the reason I'm still here. It was the lifeline I really needed. "
Soria is currently a student of UNO's Advanced Music Education and teaches the percussion section at Omaha South High School. She was the first to realize what she liked in a third grade marching band.
I faced the choice of stepping up and leading or not having the front line of the band at all.
-UNO Senior Aida Soria
Soria has a Bachelor of Music degree in Music Education and will graduate with a PhD in this field. "The plan changes, but that's what I'm aiming for now. I want to be a teacher that my students trust. Making music can be vulnerable, and students are completely self-sufficient. You need to be relieved to express it. "
In his spare time, Soria teaches piano lessons. When asked why an adult student is starting a piano lesson as an adult, she says she couldn't learn as a child because she usually mentions family financial difficulties. "We want to completely remove the financial barriers and make music economically accessible to everyone, regardless of age."
She believes that not only is she sympathetic to the student's situation, but having an understanding teacher who has actually experienced it can change her life. She knows because she had a teacher she didn't understand.
"They couldn't understand things like the lack of a washer / dryer to properly wash the uniforms. Some teachers never really understand the students. That's okay. We. Everyone has different backgrounds, but having a teacher who truly understands poverty gives students confidence in their students. "
Financial struggles for students can feel insurmountable-and represent more than just money. Soria said: I have lived most of my life below the poverty line. It feels like a miracle when I'm in college, especially when I'm majoring in music. The scholarship I received gave me hope and made me think, Maybe I can be here. Maybe I belong."
---
Can make a difference-contact CFAM Development Director Camtrice Bexten at 402.250.2937 for information on giving opportunities, or camtrice.bexten@nufoundation.org..
About participation advice and information UNO Music School, Contact Adam Hilt at 402.554.2177 or ahilt@unomaha.edu..
Maverick Musician: Aida Soria | College of Communication, Fine Arts and Media Source link Maverick Musician: Aida Soria | College of Communication, Fine Arts and Media