Santa Ana
New Santa Ana | The SAPD is searching for a bald auto theft suspect – Santa Ana, California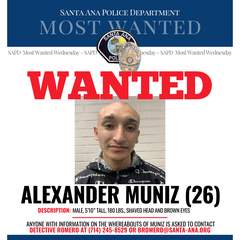 Santa Ana, California 2021-06-16 14:49:01 –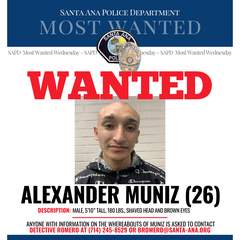 At around 2:30 pm on June 13, 2021, Alexander Muñiz was talking to the victim while the victim's car was parked with the key inside. Muñiz suddenly got into the car and ran it without the permission of the victim.
The vehicle is still outstanding. Muniz currently has an unresolved warrant for car theft in an unrelated case.
Suspect's description: Male, 5 feet 10 inches tall, 180 lbs, shaved head, brown eyes.
Vehicle Description: White 2002 Lexus RX300
If you have information about Muñiz's whereabouts, please contact Detective Romero (714) 245-8529 or BRomero@santa-ana.org.
Relation


New Santa Ana | The SAPD is searching for a bald auto theft suspect Source link New Santa Ana | The SAPD is searching for a bald auto theft suspect