Sacramento
'Rosies' unite in support to save historic New Helvetia housing – Sacramento, California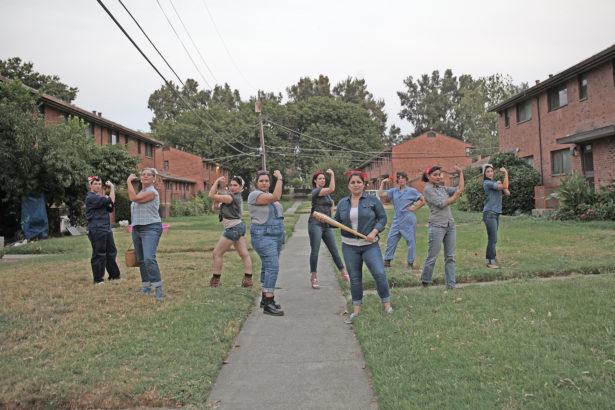 Sacramento, California 2020-08-23 22:34:26 –
Future uncertain for Land Park area public housing project
By LANCE ARMSTRONG
A group of nine women dressed in the attire of the iconic Rosie the Riveter character of World War II gathered on Aug. 18 at the historic, Land Park area New Helvetia public housing project to express their support of the preservation of those structures.
This event occurred a week ahead of the Sacramento City Council's vote on the city's proposed revitalization plan that could lead to the demolition of these decades-old Broadway structures that were built during World War II.
The selection of the "Rosie the Riveter" character for last week's gathering was additionally fitting, considering that these buildings were initially used as defense housing during that war, before being converted back to their original intended purpose of serving as low-income housing.
The original Rosie the Riveter, Rosalind (Palmer)Walter, died last March at the age of 95. She worked for a year in a Connecticut aircraft plant, and her image served to represent the strong, capable women who took the place of many male workers in war industry jobs.
Also significant to the history of New Helvetia is its connection to Nathaniel Colley, the first black attorney to establish a private law practice in this city and the former legal counsel of the local chapter of the NAACP – the nation's oldest civil rights organization.
In the early 1950s, after becoming aware that certain, mostly black residents were being segregated in 16 units at New Helvetia, Colley filed a lawsuit against the city's housing authority that led to the end that practice.
The historic, 360-unit New Helvetia complex along Broadway, between 6th and 9th streets, is the city's oldest public housing. They sit within the New Helvetia Historic District, which was placed on the National Register of Historic Places in 2014.
Several blocks from those buildings – modernly known as Alder Grove – is the 391-unit Marina Vista low-income, public housing project, which was built in the 1950s.
Both Alder Grove and Marina Vista are managed by the Sacramento Housing and Redevelopment Agency.
Of concern to the women who portrayed Rosie the Riveter last week was the City Council's then-upcoming vote on the West Broadway Specific Plan, which includes Alder Grove and the New Helvetia Historic District.
This proposal was designed to set policy for future development for the next 20 years, within a 279-acre area intended to improve connectivity with Land Park, the Sacramento River and the central part of the city. This area is generally bounded by Highway 50 and Broadway on the north; Muir Way and 5th Street on the east; 4th Avenue on the south; and the Sacramento River on the west.
Within the proposal are new city streets that would run through Alder Grove – the historic New Helvetia low-income housing site – and necessitate the demolition of structures on that property, as well as displace low-income residents.
A city document on the plan notes that at build-out, the area "will accommodate up to 4,900 housing units, approximately 389,000 (to) 429,000 square feet of commercial and/or other public and employment uses, and approximately 148,000 (to) 163,000 square feet of public or recreational building development." This plan also "incorporates a park and open space framework that includes improvement of the approximately 60-acre Miller Regional Park and Sacramento Marina and an additional 20 acres of parks and open space."
While posing in their Rosie attire, the nine women were photographed with the old New Helvetia buildings as a backdrop by three local photographers.
Amreet Sandhu, one of the organizers of the event, said that the gathering was established as a photography session to document and highlight the value of the historic buildings and their grounds.
"It's important for people to know that this is a historically and culturally important community that, I think, people fail to recognize the architectural importance of (these buildings) being in the national historic register," she said. "And this photo event was to showcase those elements.
"Our purpose was to work with current residents on highlighting the space, so that for people that haven't been there, they can see that there's lush lawns for people to walk on, there are walking paths throughout the buildings.
"There are already parks in the community, and tenants are working with organizers from different parts of the community in one coalition to save New Helvetia to make sure that piece of Sacramento remains intact as it currently is."
Also attending the event was Les Light, a member of the organizing team of the Sacramento Tenants Union, which is self-described as a "tenant-led organization fighting for affordable, safe and fair housing options for all Sacramentans."
Light noted that the housing market would be impacted, if any public housing in the city is lost.
"If we see public housing being removed, that's going to effect the rates of our rents," he said. "That makes it tougher. We've got a housing crisis in Sacramento as it is. It's very concerning to us."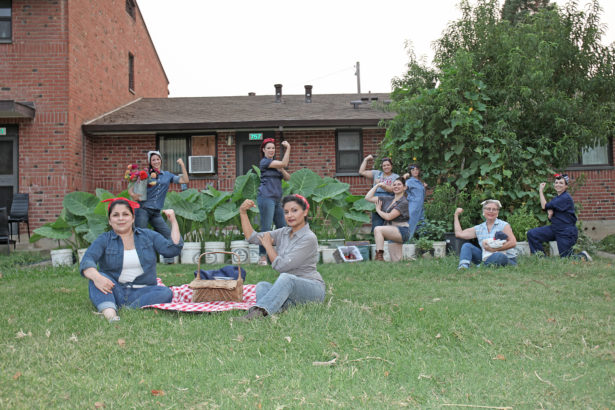 Residents respond to revitalization plan
Following the event, two residents of the neighborhood's low-income housing shared their views on the city's proposed revitalization plan.
Marcheri Smith, a single mother of two children, said that she desires that the old New Helvetia buildings are saved and continue to serve their original intended purpose.
"For me, I just feel like the history behind what these were built for, the legacy that it's leaving, I don't feel like it's something that should be torn down and reconstructed for the benefit of people that are already happily wealthy or living the good life," she said.
"Just the whole idea of what this was built for, was for lower-class families that were trying to do the best they could to survive. So, to take something like this away from this particular population of people is just going to make the homeless rate even (higher)."
Smith stressed that there is a need for upgrades at Alder Grove, but that the buildings are valued by the tenants who live there.
"I think they should just stick with doing some modifications inside," she said. "A lot of the buildings, they don't have central air and heat. It would kind of be unfair to all of a sudden throw all these people out who haven't had central air and heat all this time.
"They'll rebuild it, put central air and heat in here and not even let them come back and enjoy it, because now they want it for the public and not for the housing community that it's supposed to be for."
Smith emphasized her desire for the historic New Helvetia structures to remain standing.
"I just hope that they come up with something different, that demolishing this is not an idea," she said.
Kianah Thompson, another resident of this area's low-income housing, said that she is concerned about where her own family and neighbors would live, if they were displaced from their homes.
"My main concern is everybody living there," she said. "I already know that most of those people, they don't have anywhere else to go, including my family. If it wasn't for (this housing), I'm sure that most of those people would be living with other people or they would just be straight-up homeless.
"I would feel extra bad (for the residents), because I don't really want anybody to be homeless. We already have so many people on the streets already, so it would just add on to that, and people would complain more about homeless people being on the street. But really, it's not even their fault. It's the city's (fault). It's just kind of irritating."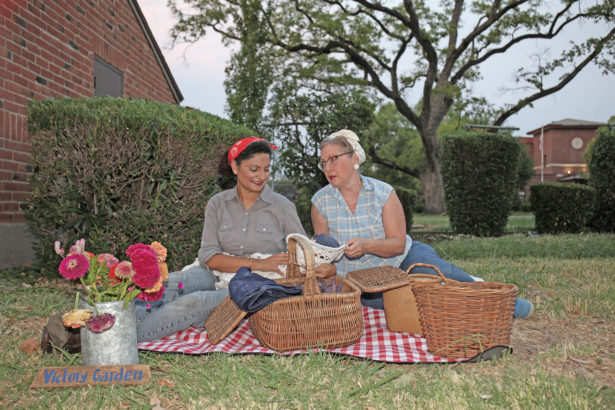 The city's proposal
In an interview with this publication earlier this month, Elizabeth Boyd, a senior planner with the city, stressed that the West Broadway Specific Plan is a policy document for the next 20 years, as opposed to a project.
Boyd told this paper that this document would prepare the city for the possible creation of more diversified living in the future.
"The city knows that things can change over 20 years, over 10 years, so it wants to put forth what would we want to see if they would do something different than they're currently planning, which could happen, because of changes," she said.
"So, what would we like to see this area be? And we really would like to see it as more connected and mixed income, and a place where we just don't have poor people. But we're still providing affordable housing, but we're also providing for it to be a mixed-income community."
Boyd additionally noted that in the event that any changes are made to the current residents' living situation, they would be provided with relocation assistance.
A report on the City Council's Aug. 25 decision on the West Broadway Specific Plan will be published in an upcoming print edition of this paper and online at www.valcomnews.com.