Pittsburgh
Unvaccinated adults are 11 times more likely to die from COVID-19 than those vaccinated, CDC data shows – Pittsburgh, Pennsylvania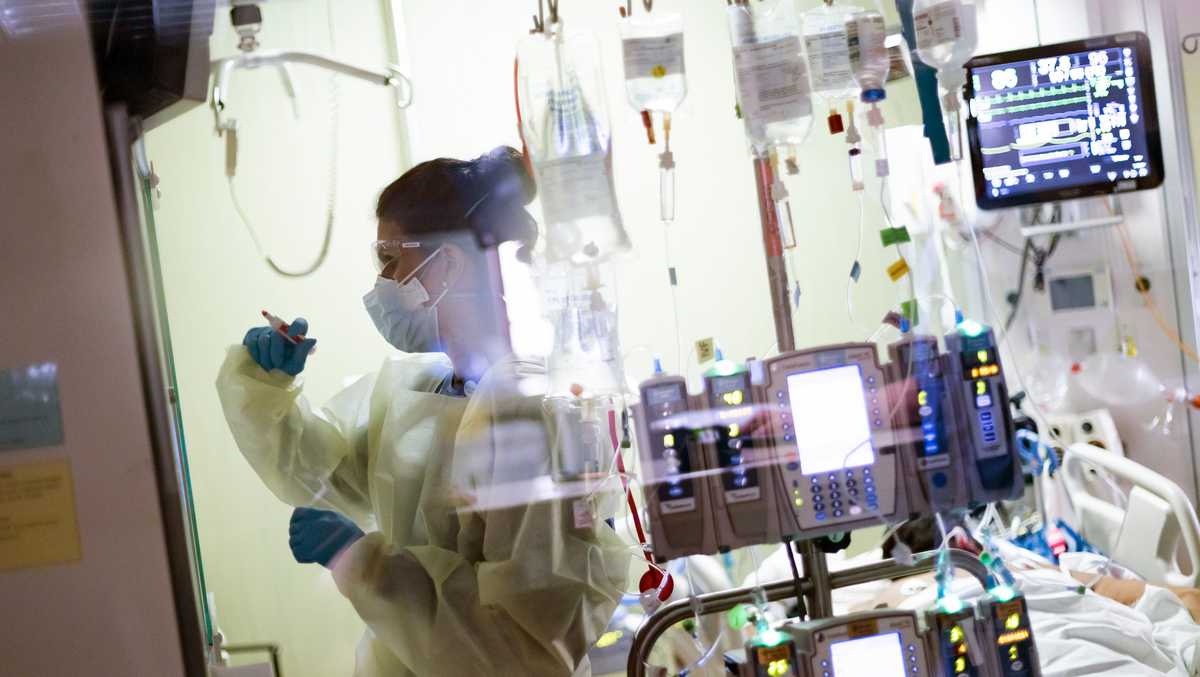 Pittsburgh, Pennsylvania 2021-10-15 20:06:00 –
Throughout August, the risk of death from COVID-19 was 11 times higher in unvaccinated adults than in fully vaccinated adults in the United States, according to new data released by the US Centers for Disease Control and Prevention. rice field. The risk of a positive COVID-19 test throughout the month and the risk of being hospitalized in the last week of August was about 19 times higher in unvaccinated adults than in fully vaccinated adults. Related Video Above: FDA Panel Approves Johnson & Johnson Booster Vaccines Some states and local governments have recently begun publishing COVID-19 cases, deaths and hospitalization rates by vaccination status on their own dashboards. However, the CDC is working with the health department to link case monitoring data to the immune information system for its own analysis. The CDC analysis is not completely comprehensive, and the data released late Thursday is the first federal government survey on COVID-19 risk by v. Immunization status is published with a plan for regular updates. Case data by vaccination status is available from 14 states in all regions of the United States and from New York City and King County, Seattle, which make up approximately 30% of the total population of the United States. Death data are available from all but one of these jurisdictions, and hospitalization data are from different sets of 13 states. CDC data show that the risk of death from COVID-19 in unvaccinated adults has declined in recent weeks at a new pace. Cases will decrease nationwide. By the last week of August, COVID-19 mortality in unvaccinated adults was about 30% lower than in the first week of the month, from 13 per 100,000 mortality to about 100,000. The mortality rate has dropped to nine. However, since April, the risk for fully vaccinated adults has not exceeded 1.2 per 100,000. Last week, CDC director Dr. Rochelle Walensky said there are still pockets for unvaccinated people who are not protected from the virus. "The virus is not stupid," she said. "It will go there." Although the risk of cases and death has decreased, CDC data also show that hospitalization rates for unvaccinated adults continue to rise by more than 80% from the first week to the end of August. It is shown that. The risk ratio depends on the age group. For example, the COVID-19 hospitalization rate for adults under the age of 50 is about 15 times higher in unvaccinated people than in fully vaccinated people. For people aged 50 to 64, the hospitalization rate for unvaccinated people is 31 times higher, and for people over 65 years old, the hospitalization rate for unvaccinated people is 16 times higher. Vaccination with COVID-19 reduces the risk of getting COVID. It's -19 and helps protect you from serious illness even if you're infected with COVID-19, "says the CDC. According to an analysis by the Kaiser Family Foundation (KFF) on Wednesday, more than 90,000 preventable COVID-19 deaths have occurred in unvaccinated adults in the last three months, and more. According to KFF, COVID-19 surged to the second leading cause of death in September after falling into the seventh leading cause of death in July. In the United States in September, heart disease alone killed more than COVID-19, and COVID-19 was the leading cause of death in adults aged 35 to 54 in both August and September. When it first became widely available, the number of COVID-19 deaths dropped sharply, "says KFF. "But due to the more infectious variants of the COVID-19 Delta, inadequate vaccination rates, and the relaxation of social distance restrictions by local and state governments, COVID-19 cases, hospitalizations, and Deaths have increased again. "
Throughout August, unvaccinated adults were 11 times more likely to die from COVID-19 than fully vaccinated adults, according to new data released by the US Centers for Disease Control and Prevention.
Unvaccinated adults are six times more likely to test positive for COVID-19 throughout the month, and in the last week of August, the risk of hospitalization for unvaccinated adults is that of fully vaccinated adults. It was about 19 times.
Related Video Above: FDA Panel Approves Johnson & Johnson Vaccine Booster
Some states and local governments have recently begun publishing COVID-19 cases, deaths, and hospitalization rates on their own dashboards by vaccination status. The CDC is working with the health department to link case monitoring data to the immune information system for its own analysis.
Although the CDC analysis is not completely comprehensive, the data released late Thursday is the first federal government study of COVID-19 risk by vaccination status published in a regular update plan.
Case data by vaccination status is available from 14 states in all regions of the United States, as well as New York City and King County, Seattle. That's about 30% of the total population of the United States. Death data are available from all but one of these jurisdictions, and hospitalization data are from different sets of 13 states.
CDC data show that the risk of death from COVID-19 in unvaccinated adults has declined in recent weeks as the pace of new cases slowed nationwide. By the last week of August, COVID-19 mortality in unvaccinated adults was about 30% lower than in the first week of the month, from 13 per 100,000 mortality to about 9 per 100,000. Reduced to human mortality.
However, since April, the risk for fully vaccinated adults does not exceed 1.2 per 100,000.
Last week, CDC director Dr. Rochelle Walensky said the United States still has pockets for unvaccinated people who are not protected from the virus.
"The virus is not stupid," she said. "I'm going there."
Although the risk of cases and death has decreased, CDC data also show that hospitalization rates for unvaccinated adults continue to rise by more than 80% from the first to last week of August.
The risk ratio depends on the age group. For example, the COVID-19 hospitalization rate for adults under the age of 50 is about 15 times higher in unvaccinated people than in fully vaccinated people. The hospitalization rate for people aged 50 to 64 is 31 times higher than that for unvaccinated people, and the hospitalization rate for people aged 65 and over is 16 times higher than that for unvaccinated people.
According to the CDC, "COVID-19 vaccination reduces the risk of getting COVID-19 and protects you from serious illness even if you get COVID-19." .. The institution is leading research to maintain long-term monitoring of vaccine efficacy and breakthrough cases.
According to an analysis by the Kaiser Family Foundation (KFF) on Wednesday, more than 90,000 preventable COVID-19 deaths have occurred in unvaccinated adults in the last three months, with more than half occurring in September alone. increase.
According to KFF, COVID-19 surged to the second leading cause of death in September after falling into the seventh leading cause of death in July. In the United States in September, heart disease alone killed more people than COVID-19, and COVID-19 was the leading cause of death in adults aged 35 to 54 in both August and September.
According to KFF, "COVID-19 deaths have declined sharply due to the rapid spread of vaccination in the months when the vaccine was first widely available." "But due to the more infectious variants of the COVID-19 Delta, inadequate vaccination rates, and the relaxation of social distance restrictions by local and state governments, COVID-19 cases, hospitalizations, and Deaths have increased again. "
Unvaccinated adults are 11 times more likely to die from COVID-19 than those vaccinated, CDC data shows Source link Unvaccinated adults are 11 times more likely to die from COVID-19 than those vaccinated, CDC data shows