USA
US PGA Championship 2022: second round – live! | US PGA
The two-time winner Brooks Koepka has been struggling badly of late, and shot a troubled 75 yesterday. But he's never missed the cut at the PGA, and he clearly doesn't intend doing so this week. Having played the back nine in one-under 34, he's just sent a tramliner into the cup at 3 for another birdie. He rise to +3, which is coincidentally the current projected cut. He'll be here for the weekend as is.
That birdie at 17 appears to have lit a fire under Jon Rahm. Or cooled him down. You can look at it either way. He's a lot happier, let's put it like that, and having creamed a drive down 1, he clips his second to three feet, and pops in the putt to move to +1. The US Open champion is slowly hauling himself back into the tournament.
JT misses another opportunity to join Rory in the lead. He knocks his second at 2 to 20 feet, leaving a fairly straight putt, but his birdie effort never really looks like dropping, and he stays at -4. Meanwhile, here's Steve Buist: "By day, I'm an investigative journalist so it's my job to ask the tough questions. It's time to address the Tiger … err, elephant … in the room with a chicken-or-egg question (that's a lot of animals in one sentence). Does the limping lead to the bad score, or does the bad score lead to the limping? Discuss." Ow, tough crowd! Does the investigative journalism lead to the cynicism or does the cynicism lead to the investigative journalist?
A big stroke of luck for Aaron Wise on the par-five 13th. Hitting three from the rough down the right, he overcooks a lob wedge, and his ball's preparing to bound a good way past the hole. But it hits the flagstick flush, and comes to rest a foot or so away. He tidies up for his second birdie of the day, the first having come at 11, and the 25-year-old from Las Vegas moves to -3. He's joined there by Joaquin Niemann, coming the other way after visiting greenside sand at 15, and it's about time to post a leaderboard update, isn't it.
-5: McIlroy
-4: Thomas (10*), Hoge, Zalatoris
-3: Fitzpatrick (7*), Niemann (6*), Wise (4*), Ancer, Kuchar
Scottie Scheffler nearly drains a 30-footer on 18 for birdie. His ball stops just short. That's nine pars in a row on the back nine, and he stays at +1. Playing partner Collin Morikawa, having sliced into the creek on the right, limits his damage to bogey and drops to +3. Meanwhile on 2, Shane Lowry can't get close with his approach, having sent his tee shot into the rough. He races his long birdie putt miles past the cup, and can't make the eight footer coming back. He slips to -1, and looks like a man about to descend into a full fume.
Justin Thomas sends a fairly average second into 1, failing to take advantage of the excellent drive. He nearly drains the 20-foot birdie putt, but it stubbornly stays high on the right, and he remains at -4. A great chance to grab back a share of the lead is gone. Thomas incidentally has come dressed today as a seat on the Piccadilly Line, either a homage to the design gurus of the London Underground, or Arsenal Football Club, who have been gadding around in similar gear this season.
A first birdie of the day for Jon Rahm, who isn't out of this quite yet. After a string of pars, he rolls in a 20-footer on 17 to move to +2. That puts him above the current projected cut line … though expect that to move out a couple of shots anyway. The wise owls are suggesting the cut is likely to be +5 or +6, but time will tell.
It's par for Thomas at 18, and he's played the back nine in 33 strokes, like Lowry before him. He then takes to the 1st tee, and is about to pull the trigger with driver when a shadow cuts across him from above. A drone? A drone. Very strange. An over-enthusiastic camera operative, no doubt. It doesn't put him off, though. Neither does the swirling wind, and he belts one down the track. Up on the green, Lowry makes a two-putt par to remain at -2.
The wind is whipping around Southern Hills. As a result, players are hanging on rather than making any serious tilts at the top. Lowry and Niemann are this morning's prime movers; the only other player out there currently two under for his round is Kevin Kisner, who has just followed up birdie at 13 with another at 14. The 38-year-old from South Carolina is level par for the tournament.
Shane Lowry completes the back nine in 33 strokes. He's going along nicely at -2 for both round and tournament. A reminder that he tied for fourth in this championship last year, and tied for third at the Masters last month. It's on? It could be on.
Some drama on the 18th tee. Dustin Johnson (+3) sends a huge slice into the creek down the right. His playing partner Justin Thomas, spooked by the 25mph wind, sends his drive in exactly the same direction. He moans in distress, but the ball somehow skirts the bank and stays dry. Inches away from disaster; now he'll be thinking about getting up and down for birdie.
From the centre of the 12th fairway, 121 yards to go, Joaquin Niemann really isn't sure about the swirling wind. He steps out of the shot a couple of times, and needs his caddy to convince him to execute their plan. He's wise to listen and grasp the nettle. He wedges to four feet, then tidies up for a par that takes him into the thick of it.
-5: McIlroy
-4: Thomas (7*), Niemann (3*), Hoge, Zalatoris
-3: Fitzpatrick (3*), Ancer, Kuchar
Thomas scrambles well at 16. Having sent his approach down a swale to the left of the green, he chips up, one bounce, stop. A tap-in to save his par and remain at -4. Meanwhile two birdies in three holes for the 2015 champion Jason Day, at 13 and 15, the latter the reward for a gorgeous approach from 170 yards to a couple of feet. The 34-year-old Aussie was pretty much ever-present at the top end of major leaderboards during the 2010s. In the last couple of years, not so much, although a tie for fourth in this championship in 2020 stands out. It'd be great to see him back competing. He's level par for the week, so it could be happening right now.
Lucas Herbert threatened to join Rory McIlroy in the lead at one point yesterday evening. But a slightly dispiriting finish – two bogeys in the last four holes – saw him end the day with a 68. Still mighty fine, but the 25-year-old Aussie would have been dreaming of more. He continues to move in the wrong direction today, with bogey at 2. He slips back to -1.
Matt Fitzpatrick still hasn't won in America, but now would be a good time to start. He follows a brilliant, battling 68 yesterday with birdie at 11 this morning. He rises to -3, where he's joined by Joaquin Niemann, another young player who wouldn't be flattered at all were he to lift the Wanamaker Trophy this week. An opening birdie at 10 for the 23-year-old Chilean.
-5: McIlroy
-4: Thomas (6*), Hoge, Zalatoris
-3: Fitzpatrick (2*), Niemann (1), Ancer, Kuchar
The world number one Scottie Scheffler hasn't really got going so far this week, his frustration evident last night when he started repeatedly battering his bag with his driver upon finding water on 18. He ended up with a one-over 71 that could have been a lot worse. There's no great change today. He starts with four pars in a row, the latest a slightly disappointing one at the par-five 13th, any chance of birdie gone after spending an age moving pebbles in a bunker under a referee's supervision only to take far too much of the ball with his chip out. The Masters champion remains +1.
Having reached the summit, Justin Thomas immediately topples back off it. He dunks his tee shot at the par-three 14th into a bunker at the front, and can't get his splash out over the ridge running across the green. He leaves himself a tricky uphill curler for par that he can't make. Back into a tie for second he goes.
-5: McIlroy
-4: Thomas (5*), Hoge, Zalatoris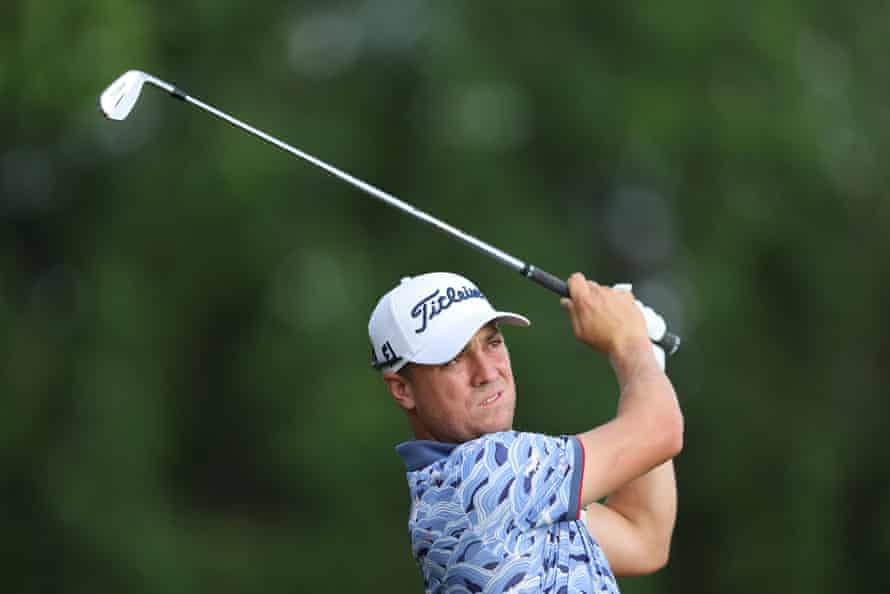 KH Lee is a man in form. Last week, the 30-year-old South Korean became only the fourth man in history to successfully defend the Byron Nelson. That's no mean feat, given the other three are Sam Snead, Jack Nicklaus and Tom Watson! He's got an utterly dreadful record in major championships, though: five appearances, five cuts missed. He's looking good to break that sorry run this week, though. A 69 yesterday, and a 30-yard rake for birdie at 6 moves him to -2 overall.
The par-five 13th was the easiest hole on the golf course yesterday, averaging 4.84 shots and giving up 42 birdies. No great surprise, then, that Justin Thomas has just picked up his second birdie of the day on the hole. He looks in the mood to post something to give Rory McIlroy pause for thought this afternoon … and has already joined him at the top of the leaderboard!
-5: Thomas (4*), McIlroy
-4: Hoge, Zalatoris
-3: Ancer, Kuchar
-2: Lowry (5*), Lee (6), Gooch (7), Riley, Na, Smith, Schauffele, Pereira, Kirk, Niemann, Herbert, Fitzpatrick
Back-to-back birdies for Shane Lowry! This one comes at the par-three 14th, reward for knocking his tee shot to eight feet. He's -2, and on Sky Sports, Dame Laura Davies points out that Lowry won't be at all fazed by these conditions, having grown up playing in the occasional breeze in Ireland. The wind is picking up.
Anirban Lahiri – who led this year's Players after three rounds and ended the week one shot and one place behind the winner Cam Smith – became a father last weekend. High on life, the 30-year-old from India has just sent his tee shot at the 214-year par-three 6th straight at the flag. One bounce and it's … well, not in, but teetering on the edge of the hole. So close to a hole-in-one to wet the baby's head! He'll move to +4 and everything helps when you're trying to survive the cut.
Shane Lowry wasn't the happiest yesterday evening, effing and jeffing as he needlessly whistled a shot into water on the par-five 13th. He still scrambled his par, though, and ended up signing for a level-par 70. Now the same hole has given something back: birdie that brings the 2019 Open champion into red figures. He's -1.
Local lad Talor Gooch won his first PGA Tour event earlier this season, at the RSM Classic. The 30-year-old Okie is also finding his feet in the majors, having survived the cut at last year's PGA and Open, and tied for 14th at the Masters last month. He shot a very respectable 69 yesterday evening, and is following it up this morning, making birdie at the monster par-five 5th (660 yards today) and moving up to -2.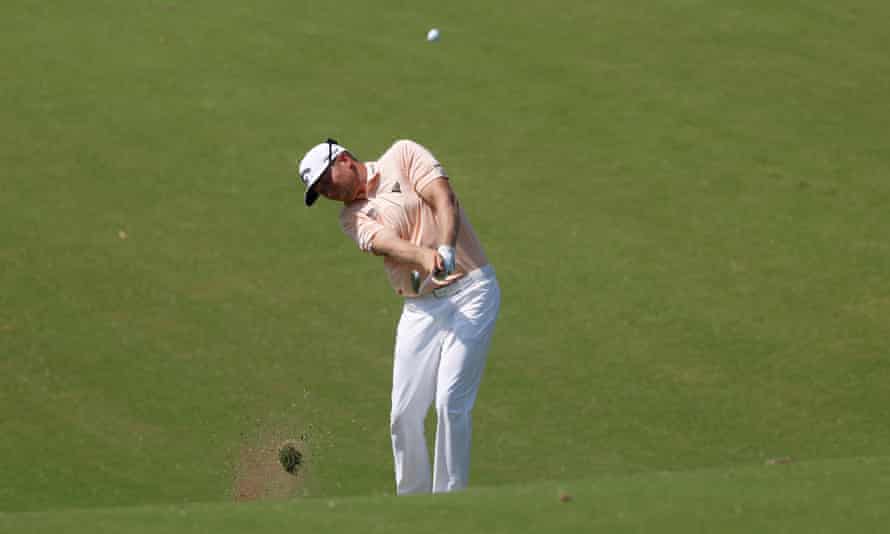 Speaking of movers and shakers (which we were, sort of) there's been some early action at the top of the leaderboard. The 2017 champion Justin Thomas played the back nine in 32 strokes last night, so has already proved he can do this in difficult conditions. He's flown out of the traps this morning, sticking his second at 10 to six feet and making the birdie. He's now just one off Rory McIlroy's lead.
-5: McIlroy
-4: Thomas (3*), Hoge, Zalatoris
-3: Ancer, Kuchar
The wind has prompted the PGA into action. They haven't sent their mowers over the greens today, for fear of gusts moving balls and making putting a lottery. This is usually more of a problem at the Open – if memory served the wind caused havoc on the greens at Sandwich in 2011 and St Andrews in 2015 – but here we all are. By way of further illustration, the official Twitter feed posted this:
As forecast, it's going to be a tempestuous 24 hours in Tulsa. This morning will see the field battered by gusts of up to 40 mph, with consistent winds of 20 to 25 mph. Come the afternoon, the second wave of starters will be pleased to feel the wind drop – an average of ten to 15 mph with gusts no higher than 20 mph – but they will have to deal with cooler temperatures, showers, and possibly even thunderstorms. Will everyone get round today? It's by no means certain, with "severe" storms expected during the evening, featuring more strong winds, hail and heavy rain. Buckle up!
A long day awaits us as the players jostle into position ahead of tomorrow's Moving Day. Hustle Friday? Needs some work, but nice Van McCoy earworm. Anyway, high winds, plus the Damoclesian threat of the cut, means this one could stretch out. A lot of drama, glee, excitement and heartache awaits us. Here's how the top of the leaderboard looks after the first round …
-5: McIlroy
-4: Hoge, Zalatoris
-3: Ancer, Kuchar, Thomas
-2: Riley, Na, Smith, Schauffele, Pereira, Kirk, Niemann, Herbert, Fitzpatrick
-1: Hossler, Reed, Pieters, Cink, Finau, Burmester, Wise, Kizzire, Simpson, Lee, Gooch
E: Steele, Molinari, Woodland, Fox, Hovland, Hatton, Homa, MacIntyre, Noren, Henley, Lowry
… and here's when everyone takes to the course. It's on!
Starting at hole 1
13:00 Brandon Bingaman, Talor Gooch, Ryosuke Kinoshita (Jpn)
13:11 Tim Feenstra, Anirban Lahiri (Ind), Kyoung-Hoon Lee (Kor)
13:22 Rich Beem, Alex Cejka (Ger), Jesse Mueller
13:33 Seamus Power (Irl), Russell Knox (Sco), Scott Stallings
13:44 Christiaan Bezuidenhout (Rsa), Corey Conners (Can), Jason Kokrak
13:55 Keegan Bradley, Martin Kaymer (Ger), Marc Leishman (Aus)
14:06 Cameron Champ, Russell Henley, Zach Johnson
14:17 Branden Grace (Rsa), Webb Simpson, Henrik Stenson (Swe)
14:28 J. J. Spaun, Sepp Straka (Aut), Adam Schenk
14:39 Joo-Hyung Kim (Kor), Keith Mitchell, Matthew Wolff
14:50 Lucas Herbert (Aus), Austin Hurt, Chad Ramey
15:01 Tyler Collet, Chan Kim, Maverick McNealy
15:12 Paul Dickinson, Patton Kizzire, Luke List,
18:30 Robert MacIntyre (Sco), Alexander Noren (Swe), Ryan Palmer
18:41 Adria Arnaus (Spa), Colin Inglis, Jinichiro Kozuma (Jpn)
18:52 Michael Block, Mackenzie Hughes (Can), Sadom Kaewkanjana (Tha)
19:03 Tony Finau, Hideki Matsuyama (Jpn), Xander Schauffele
19:14 Denny McCarthy, Tyrrell Hatton (Eng), Max Homa
19:25 Viktor Hovland (Nor), Cameron Smith (Aus), Will Zalatoris
19:36 Rory McIlroy (NIrl), Jordan Spieth, Tiger Woods
19:47 Patrick Reed, Justin Rose (Eng), Bubba Watson
19:58 Lucas Glover, Kevin Na, Daniel van Tonder (Rsa)
20:09 Sam Burns, Davis Riley, Cameron Young
20:20 Francesco Molinari (Ita), Lee Westwood (Eng), Gary Woodland
20:31 Oliver Bekker (Rsa), Brian Harman, Ryan Vermeer
20:42 Laurie Canter (Eng), Lanto Griffin, Dylan Newman

Starting at hole 10
13:05 Ryan Brehm, Min-Woo Lee (Aus), Wyatt Worthington II
13:16 Justin Harding (Rsa), Nicolai Hoejgaard (Den), Sean McCarty
13:27 Adam Hadwin (Can), Hudson Swafford, Cameron Tringale
13:38 Brooks Koepka, Shane Lowry (Irl), Adam Scott (Aus)
13:49 Patrick Cantlay, Dustin Johnson, Justin Thomas
14:00 Jason Day (Aus), Rickie Fowler, Harold Varner III
14:11 Collin Morikawa, Jon Rahm (Spa), Scottie Scheffler
14:22 Daniel Berger, Louis Oosthuizen (Rsa), Ian Poulter (Eng)
14:33 Tommy Fleetwood (Eng), Billy Horschel, Kevin Kisner
14:44 Matthew Fitzpatrick (Eng), Sergio Garcia (Spa), Charl Schwartzel (Rsa)
14:55 Harry Higgs, Joaquin Niemann (Chi), Erik van Rooyen (Rsa)
15:06 Alex Beach, Jhonattan Vegas (Ven), Bernd Wiesberger (Aut)
15:17 Jared Jones, Aaron Wise, Joel Dahmen
18:25 John Daly, Shaun Micheel, Yong-Eun Yang (Kor)
18:36 Matthew Borchert, Takumi Kanaya (Jpn), Troy Merritt
18:47 Dean Burmester (Rsa), Chris Kirk, Kyle Mendoza
18:58 Sam Horsfield (Eng), Nic Ishee, Guillermo Mito Pereira (Chi)
19:09 Shaun Norris (Rsa), Carlos Ortiz (Mex), Kevin Streelman
19:20 Cameron Davis (Aus), Rikuya Hoshino (Jpn), Matt Kuchar
19:31 Stewart Cink, Jason Dufner, Padraig Harrington (Irl)
19:42 Abraham Ancer (Mex), Thomas Pieters (Bel), Kramer Hickok
19:53 Richard Bland (Eng), Garrick Higgo (Rsa), Matt Jones (Aus)
20:04 Tom Hoge, Si Woo Kim (Kor), Beau Hossler
20:15 Ryan Fox (Nzl), Pablo Larrazabal (Spa), Shawn Warren
20:26 Yuki Inamori (Jpn), Sebastian Munoz (Col), Zac Oakley
20:37 Bio Kim (Kor), Casey Pyne, Brendan Steele


US PGA Championship 2022: second round – live! | US PGA Source link US PGA Championship 2022: second round – live! | US PGA