Boston
Walsh ties Boston virus case spike to Thanksgiving – Boston News, Weather, Sports – Boston, Massachusetts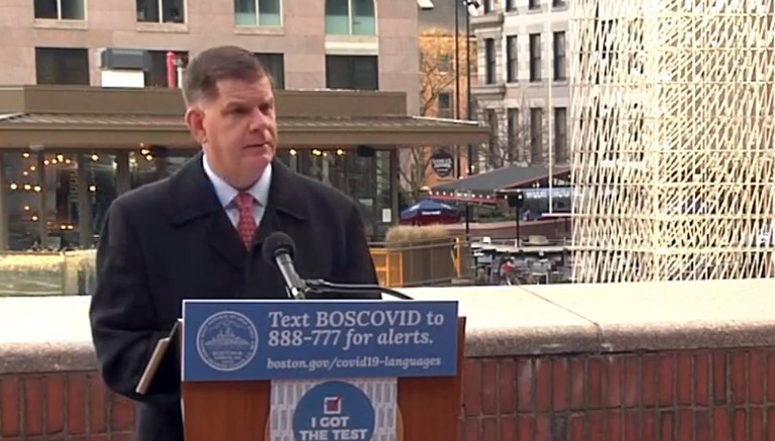 Boston, Massachusetts 2020-12-01 16:32:32 –
In the two largest cities in the state, authorities are closely monitoring the latest coronavirus data to monitor the effects of Thanksgiving gatherings and are wary of possible very dark weeks.
Boston Mayor Martin Walsh said in the two weeks leading up to Thanksgiving, COVID-19 data is heading in the right direction with more tests and fewer new cases, but on Tuesday the city was on the virus. He said he had confirmed 407 new cases. More than double the daily average of 183 new cases for the week ended November 23.
"Watch the data carefully as it comes in to make sure you don't see these big spikes. That 400 number was, to be honest, the largest since June. That big day. We didn't, so we'll see what the numbers look like tomorrow and in the next few days, "says Walsh.
According to the mayor, Boston's positive test rate averaged 3.4% in the same week, down from 5.4% last week. Walsh said positive test rates have declined in all parts of Boston and the average number of tests processed daily has increased steadily last month. However, he said there were concerns about a surge in 407 new cases on Tuesday.
"It may be the first sign of what Thanksgiving holidays have brought," Walsh said. He added: "So we need to see what's going on right now. In the next 5-10 days, I think we'll know exactly if there's an impact … I can't count 400. Thank you all for Thanksgiving, I'm sure it has something to do with it. "
In the state's second-largest city, public health officials are also concerned that Thanksgiving trips and rallies will throw the current COVID-19 surge into higher gear. Worcester's medical director, Dr. Michael Hirsch, said in a federal talk with Hank Storz on Monday morning that he was worried that the situation would continue to worsen.
"This will be a big, terrible, ugly six weeks. I think a lot of what I saw last week's numbers reflect the Halloween weekend. And now I've overlaid this bump. I think it will come out in mid-December, and Christmas will be a lot of trips and New Year's Day during the week, "he said. "By the time all these cumulative uplifts occur, it will be mid-January, and I think the vaccine is here by then, but it will put a terrible burden on the hospital."
The field hospital, where the state is relaunching at Worcester's DCU center, is scheduled to open on December 6, Hirsch said. "Not soon," he said.
As of Sunday, 67% of the 1,200 non-ICU beds in Central Massachusetts hospitals were occupied, and half of the 200 ICU beds in the area were full, according to the Public Health Service. In the Boston area, 71% of the 3,400 non-ICU beds were full, and 57% of the 700 ICU beds in the area were occupied, DPH said. Throughout the state, as of Sunday, 66% of non-ICU beds and 50% of ICUs were full.
"Not everything is lacking in PPE, ventilators, etc., but the beds are definitely being squeezed. Unfortunately, the health care staff are also being squeezed," says Hirsh. He added that people underestimate how easy it is to catch the coronavirus.
On Tuesday afternoon, Worcester Business Journal reported that Worcester's UMass Memorial Healthcare had transitioned to an emergency surgery program "for a large number of patients."
Boston is "very carefully" monitoring hospitalization rates, but hasn't seen similar activity in hospitals or emergency rooms in April, Walsh said.
"We're looking at activities in the hospital, but they're not the same, and that's a big number that really makes the difference between keeping a restaurant open and closing it. That's what opened the business. It's the difference between leaving it alone and closing the business, "said the mayor. "Unfortunately, if our hospital is overcrowded and people are influencing other illnesses to be treated, we will have a very different conversation here."
Backed by a few weeks of positive trends last week, Walsh said that if the trends were maintained, "we could probably have a real conversation about getting people back to school soon." On Tuesday he said he did not expect the school to fully reopen before the holidays later this month.
"I hope I can stand here with a plan on how to reopen Boston school in the coming weeks. I don't expect the school to fully reopen before Christmas. Well, it's a Christmas holiday, but I hope we can have some clarification about what will happen to the gradual resumption after Christmas, "he said.
Walsh added, "As we continue to move forward, we lower these numbers to set benchmarks, and if we are currently below those benchmarks, we hope to begin the process of resuming school shortly after the New Year. I added.
(Copyright (c) 2020 State Capitol News Agency.
Walsh ties Boston virus case spike to Thanksgiving – Boston News, Weather, Sports Source link Walsh ties Boston virus case spike to Thanksgiving – Boston News, Weather, Sports