New Orleans
With over 675 spicy entries sent in, check out the HOTTEST punchlines in Walt Handelsman's latest Cartoon Caption Contest! | Opinion – New Orleans, Louisiana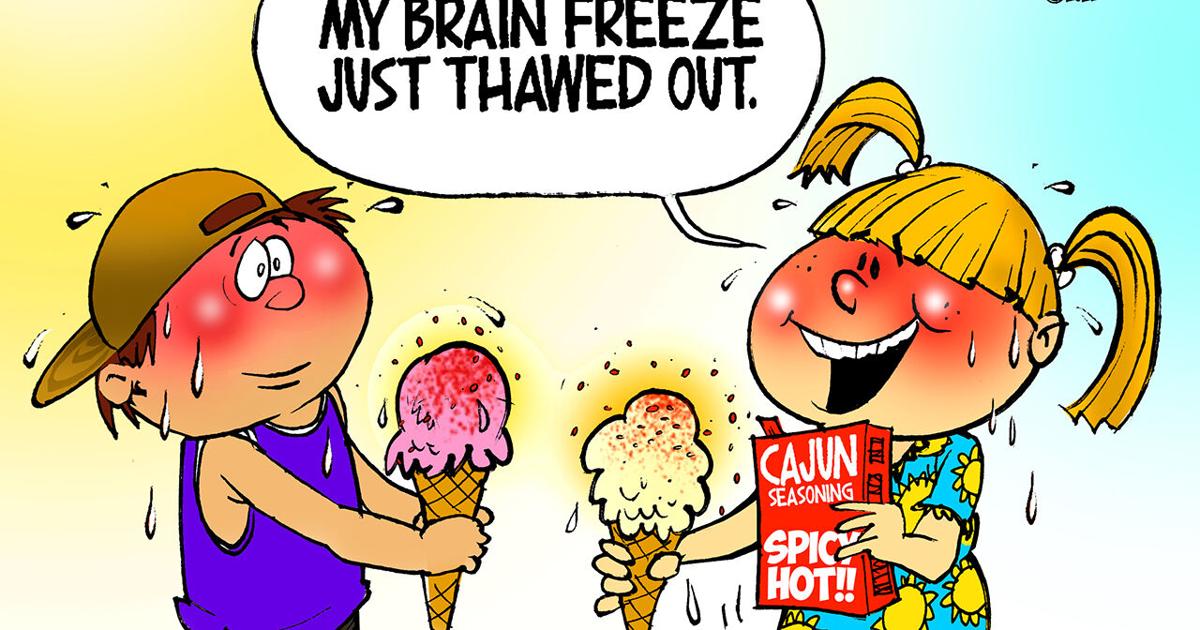 New Orleans, Louisiana 2022-06-26 16:00:00 –
Spicy hot!
I received 688 red hot entries at this week's Cartoon Caption Contest! These were very smart and very fun to read (with the air conditioner turned on)! Enjoy this week's punch line and let's all have a cool time!
As always, if you have duplicate entries, and always do so, choose the fastest send.
Here are your winners and finalists.
winner:
Colorado Springs, Dale Stout, Colorado: (Punch line written in letters on a balloon)
Finalist
David Trip Haneman, Metairie: "I did it! I matched the ice cream to the heat index!"
John Hanley, Baton Rouge: "Tomorrow is popsicles and peppers!"
John Shreeves, New Orleans: "The box says that you need to boil these for 20 minutes right now!"
Bill Delauned, Prairieville: "I call it Tabascorn."
Karen Poirier, Ratcher: "Did the fever get your tongue? !!"
Lee Racewell, Heber Springs, Arkansas: "If you like this, wait until you reach the Habanero Pepper at the bottom of the cone."
Mariano Hinosho, Baton Rouge: "Once you get over the hot things, you can lick them!"
Mike Fisher, Kenner: "Regular furikake is for children."
Louis Freshly, Mandeville: "BAM!"
Kye Cantey, Crowley: "'Cayenne' Do you handle heat?"
Hadley Delta Fox, 9 years old, Portland, Oregon: "Summer is just 20 degrees hot, talk about heat waves!"
Brian Almon, Metairie: "Now I'm as hot as I'm outside."
Diane Lilleman, Metairie: "I'm calling it-a dream of pralines and Cajun!"
Jim Cook, Baton Rouge: "Now this is what I call Icy Hot."
Philip T. Griffin, New Orleans: "Before trying, make sure you know where the fountain is."
Harper Vicidomina-Mills (7 years old), Metairie: "I found a sprinkle! Thank you !!!"
Mary Harvey, Metairie: "Sure, it may be hot outside, but'I have to fight the fire' !!"
Jim Flock, Harahan: "Maybe you can call it" Ice Cream Etoffy "! "
Richie Corvers, River Ridge: "This takes" lagniappe "to a whole new level. "
Pat Singleton, Baton Rouge: "I knew you would love my ICE SCREAM!"
Richard Robins, New Orleans: "If you can't stand the heat, get out of Cajun."
Bobby Ussery, New Orleans: "I have a hot scoop for you."
Madeleine Wininkov, Metairie: "You might call this a" spice cream. " "
Joni Catanzaro, Baton Rouge: "I call it fire and ice!"
Kimberly McDaniel-King, Slidell: "These new sprinkles tinker with my eyes."
Vicky Whittington, Baton Rouge: "This is the best way to'lick'the heat of South Louisiana! "
Charles Riddle, III, Marksville: "Great for pancakes!"
Danny McCabe, Kenner: "It's hot! Then Louisiana is hot!"
Donna Reuters, Metairie: "Paul Prudhomme will be very proud."
Christine Crow, Gonzales: "They were out of the Rainbow Sprinkles!"
Erin Rednour-Burnet, River Ridge: "I found something hotter than the weather!"
Drew Kurzweil in New Orleans: "Maybe you should wash them off with snowballs!"
Thank you for your work, everyone!
Best-Walt


With over 675 spicy entries sent in, check out the HOTTEST punchlines in Walt Handelsman's latest Cartoon Caption Contest! | Opinion Source link With over 675 spicy entries sent in, check out the HOTTEST punchlines in Walt Handelsman's latest Cartoon Caption Contest! | Opinion