New Orleans
With over 800 entries, check out the WINNER and finalists in Walt Handelsman's latest Cartoon Caption Contest! | Opinion – New Orleans, Louisiana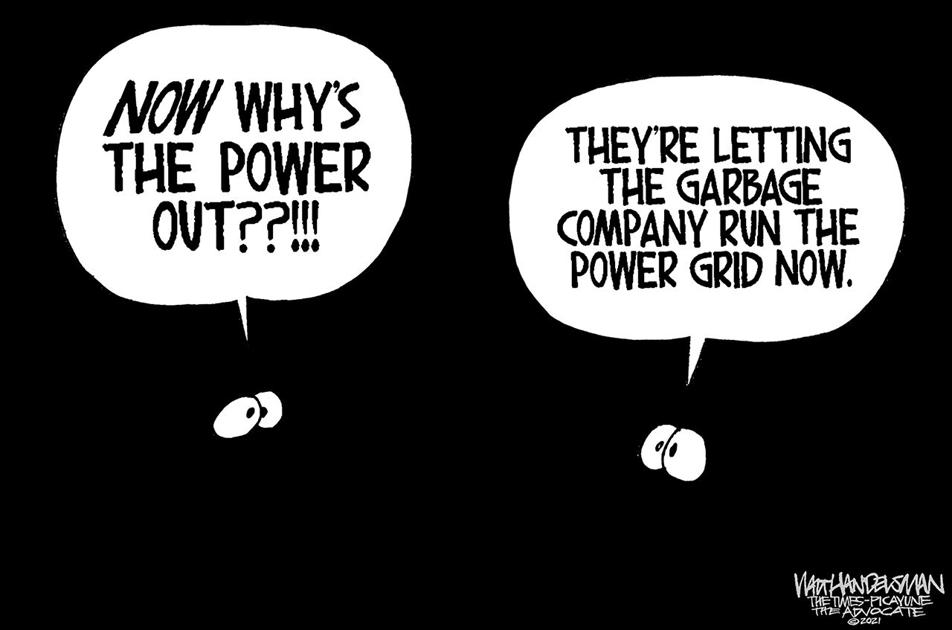 New Orleans, Louisiana 2021-09-26 16:00:00 –
Curse the darkness
Wow! You guys really illuminated this. There were 839 entries and some hilarious entries in this batch !! From generator troubles to electricity bills and squirrels! Our winner hit the most entertaining punch line and popular theme of all of them. These were great! Congratulations.
As always, if you have duplicate entries, and always do so, choose the one that was sent the earliest.
Here are your winners and finalists!
winner:
Michael Gilly: Covington (Punch line written in letters on a balloon)
Finalist
Herbert Stein, New Orleans: "The squirrel must be having a party at the substation again!"
David Patillo, Metairie: "We're outside, Karl. It's the trash that blocks the sun."
Shirley Gubitz, Metairie: "This is easy for the eyes because our world is in shape!"
Sam Johnson, Zachary: "Thanks for the power when the power is on because the power company does so !!!"
Mittie Boyer, New Orleans: "I couldn't pay the light invoice. The internet was down."
Robert Saroom, Baton Rouge: "I think the neighbors are testing the Christmas illuminations."
David Scaffidi, New Orleans: "It's another 100-year storm!"
Earl Pansano, Metairie: "Cartoonists are too lazy to draw the rest of us!"
Dustin Hanks, Washington DC: "It's easier to ignore climate change in the dark."
Bobby Ettinger, Mandeville: "Did you say that the red clamp is on the positive terminal?"
Keith Harold Ashburn, Prescott Valley, Arizona:"Because I applauded twice."
Kate Arms, Baton Rouge: "Is it possible for all the light bulbs to burn out at once?"
Camille Domangue, Baton Rouge: "It's dark, but at least it's" dry dark. " "
CC Cook, Baton Rouge: "Entergy's hurricane damage insurance claim must have been rejected."
Ken Hickman, New Orleans: "Because LA is doing two things well:" shrimp and grits "and" skip the grid "! "
Christie Weeks, Jonesboro: "Are we on the Texas grid now?"
Luci Parham, Baton Rouge: "A pile of garbage knocked down a power line!"
Donovan Mall, New Orleans:"Do fish swim in transformers?"
William C. Basby, Leland, NC: "Washington wants us to see what life is like in the dark."
Geoffrey Richardson, New Orleans: "I don't want to see what's in the fridge after evacuating!"
Kevin Gremillion, New Orleans: "So I can't see the trash."
Chris Barber, Los Angeles, CA: "Don't dare anymore."
Zora White (almost 6), new road: "Because Aida was here!"
Paula Barton-Willis, New Orleans: "We can smell the trash, but at least we don't have to see it!"
Mark Jaffe, Metairie: "We are switching to a" virtual "power supply. "
Harper Vichi Domina-Mills (6 years old), Metairie: "Because I don't know how power hears!"
Kye Cantey, Crowley: "I heard that the state is trying to calculate how much it will cost to repair all the roads."
Mary Perot Williams, Baton Rouge: "I don't have a bright idea."
Ed Mayo Jr., Harahan: "Don't overload the generator! Don't overload the generator! But NOOOOO! Expert !!!"
Michael Coleman, New Orleans: "It's called night, Stanley. Go back to sleep!"
Wayne Dyer, Baton Rouge: "If IDA knows, IDA told you!"
Fredwatson, Metairie: "Who are you and how did you get here?"
Dottie Anklam, Baton Rouge: "Just a habit I guess!"
Shelby Rotoro, Metairie: "Entergy said they wouldn't turn the lights back on until people stopped saying bad things about them."
Scott Treadwell, NC: Advance: "Look for me, I can't keep up with the current events."
Mary Fox Tebo, Baton Rouge: "I don't know, but if it doesn't touch my feet, I'm having a bigger problem !!!"
Ritchie Shega, Mandeville: "Do you think it's not a good time to ask what to do for dinner?"
Tom Boon, Gonzales: "With all the money we spent on gasoline for generators, we couldn't afford to pay for electricity."
Danny Dysart, Chalmette: "Power overload at the garbage relay station."
Michael Tisserand, New Orleans: "Don't worry, the clumsy cartoonist just knocked over the ink again!"
Alan Seicshnaydre, Metairie: "The entertainer I heard didn't have the nerve to ask the city council to raise rates with the lights on !!"
David W. Hoerner, Metairie: "I thought you paid for the electricity."
Richard Hirsch, Livonia: "Maybe they finally switched on their new ovens at HubigPies."
Morley Berton, Mandeville: "Unorganized thunderstorm groups have moved off the coast of Africa."
Karen Poirier, Ratcher: "Fred !!! to remind you to thank Lineman!"
Thank you for brightening our day.
Nice to meet you — Wolt


With over 800 entries, check out the WINNER and finalists in Walt Handelsman's latest Cartoon Caption Contest! | Opinion Source link With over 800 entries, check out the WINNER and finalists in Walt Handelsman's latest Cartoon Caption Contest! | Opinion