USA
Canelo Álvarez defeats Gennady Golovkin by unanimous decision to defend titles – live! | Boxing
Key events
Canelo Álvarez wins by unanimous decision!
As expected, Álvarez has won by a unanimous decision to defend his undisputed super-middleweight title. Not so expected: the scores, much closer than expected! Dave Moretti had it 116-112, while Steve Weisfeld and David Sutherland each turned in cards of 115-113.
After the result is announced, Álvarez and Golovkin embrace in the center of the ring and share a moment together. "Thank you so much my friend," Álvarez says in English. "Thank you forever. We gave the fans three good fights."
Round 12
Álvarez breezes through the finish line. Not much action to speak of in the final round. The crowd boos each time they clinch. The outcome, currently being tabulated at ringside, should be straightforward. What it means, not so much.
The Guardian's unofficial score: Álvarez 10-9 Golovkin (Álvarez 119-109 Golovkin)
Round 11
Álvarez appears to be bleeding from an accidental headbutt. He's fighting safely, almost like he knows he's sitting on an insurmountable lead, which he is. Álvarez matches Golovkin's power with power. Another for Canelo.
The Guardian's unofficial score: Álvarez 10-9 Golovkin (Álvarez 109-100 Golovkin)
Round 10
Golovkin rocks Álvarez with a right hand upstairs, his best punch of the fight. This one is closer than some of the others, but Canelo is still in total control. Probably not a great idea for Álvarez to spend so much time along the ropes willingly. It's entirely possible the Mexican setting a trap, but he's given way enough for Golovkin to nick his first round.
The Guardian's unofficial score: Álvarez 9-10 Golovkin (Álvarez 99-91 Golovkin)
Round 9
Golovkin is finally fighting like he's behind, standing in front of Álvarez and trading with him for the first time all night. He's got Álvarez up against the ropes and he's landing a couple of shots to the head, but the Mexican is throwing with him. A couple of spicy exchanges break out all over the ring, each bringing the crowd to their feet. But those were Golovkin's best moments of the fight and they weren't enough to get on the board. Canelo has won every minute of every round.
The Guardian's unofficial score: Álvarez 10-9 Golovkin (Álvarez 90-81 Golovkin)
Round 8
More of the same. Golovkin lands a couple of power shots but Álvarez walks through them like raindrops. Álvarez picks up the pace in the final minute, letting his hands go and pummeling Golovkin backwards. He's clearly looking to finish this inside the distance but not forcing the issue.
The Guardian's unofficial score: Álvarez 10-9 Golovkin (Álvarez 80-72 Golovkin)
Round 7
Golovkin is a silhouette of the fighter who pushed Canelo to the absolute limit in their first two meetings. This is one-way traffic. Álvarez is punishing Golovkin's body, then follows it with a right hand flush to the head. Golovkin lands a right uppercut through Álvarez's guard, which must be the first one he's thrown all night, but the Mexican walks right through it.
The Guardian's unofficial score: Álvarez 10-9 Golovkin (Álvarez 70-63 Golovkin)
Round 6
The crowd is getting impatient. Golovkin refuses to engage, no doubt leery of Canelo's devastating counterpunching. A quiet round but easy to score for Álvarez, who is running away with this one.
The Guardian's unofficial score: Álvarez 10-9 Golovkin (Álvarez 60-54 Golovkin)
Round 5
Álvarez is starting to move Golovkin backward with his punches and it's quickly becoming a question not of the outcome but whether a 40-year-old fighter who's never been stopped or knocked down in a fight can keep those streaks alive. With half a minute left, Álvarez lands a thudding right to the ribs that sends Golovkin reeling backward toward the ropes, drawing roars from the crowd. Álvarez being allowed to do whatever he wants in there. Golovkin looks flat with a terrible game plan: not a recipe for success.
The Guardian's unofficial score: Álvarez 10-9 Golovkin (Álvarez 50-45 Golovkin)
Round 4
Let's just say it. Golovkin looks old. He is 40 and he looks it. Álvarez continues to back him up and he's very gradually starting to open up, landing a right hand over the top. Golovkin lands a hard right hand, his best shot of the night, but Álvarez takes it in stride. Golovkin badly needs something to change the rhythm of this fight but it's unclear if he's got it in him.
The Guardian's unofficial score: Álvarez 10-9 Golovkin (Álvarez 40-36 Golovkin)
Round 3
Álvarez is throwing more and landing more. Just the busier fighter overall, but it's not been a high bar. Golovkin can't win fighting like this. The close rounds are going to go to Álvarez and he's just banked three of them. An ominous sign given Canelo's reputation as a slow starter.
The Guardian's unofficial score: Álvarez 10-9 Golovkin (Álvarez 30-27 Golovkin)
Round 2
Another quiet, feeling-out round staged almost entirely in the center of the ring. Álvarez lands a right hand that's blocked partially but sends the crowd into a roar. Golovkin lands a short left hook but otherwise barely throwing at all. Biggest cheers of the round came after the bell when NBA stars Steph Curry and Devin Booker are shown on the big screen.
The Guardian's unofficial score: Álvarez 10-9 Golovkin (Álvarez 20-18 Golovkin)
Round 1
Both men circle one another at the center of the ring for the first minute, feeling one another out and not throwing a whole lot. Álvarez throws a couple of lunging punches that draw cheers from the crowd, but nothing that troubles Golovkin. Álvarez lands a left hand to the body. Golovkin staying dedicated to the jab, flicking it and moving out of danger. Álvarez looks fast. Golovkin scoring with the jab a bit, looking sharp. Not a whole lot to go by in the first round but Álvarez connected on more of what was offered.
The Guardian's unofficial score: Álvarez 10-9 Golovkin (Álvarez 10-9 Golovkin)
"This is the moment of truth and there's no looking back!" says the announcer from the center of the ring. And with that Gennady Golovkin makes the walk to the squared circle. He enters to the White Stripes' Seven Nation Army, which he's adopted as a personal anthem over the last decade. Golovkin is very quick to the ring, wasting no time. Everyone has their phones out to take a snapshot or a video.
Next it's Canelo, who enters to México Lindo y Querido by Vicente Fernández, his traditional walk-out song, accompanied by the Mexican singer Alejandro Fernández with a full band playing from above the tunnel. His faithful supporters sing along as the arena is bathed in green and red light. He's smiling and looks relaxed, taking his time while Golovkin stays loose near his corner next to chief second Johnathon Banks.
The smell of spent fireworks hangs in the air as the fighters are announced. Not much longer now. We'll pick it up with round-by-round coverage from here.
Álvarez has closed as a -500 favorite at the MGM Grand sports book. Golovkin's price has drifted to +375. That movement over just the last couple of hours suggests heavy action on the Mexican, which, judging by the temperature of the room, makes a lot of sense.
There are Golovkin fans in the building and plenty of white-and-cyan Kazakhstan flags if you look for them. But make no mistake: this is a home game for Canelo.
That brings us to the main event. The pageantry should be under way shortly, but it should be mentioned that tonight's fight does not appear to be a complete sellout like the first two. There are large pockets of empty seats in the lower bowl of the T-Mobile Arena, at least a few hundred in all. The fans who are here are singing their hearts out as ranchera music blasts at ear-splitting volumes on the arena sound system.
Jesse Rodríguez has just successfully defended his WBC super-flyweight title with a unanimous-decision win over Israel González. It was tougher sledding than expected for the 22-year-old southpaw from San Antonio, made even more difficult by a point deduction for a low blow in the middle rounds, but he dictated the pace throughout and got the job done. The judges' scores were 118-109, 117-110 and 114-113. (The Guardian had it 116-111.)
Rodríguez will have no shortage of challenges moving forward at 115lbs, a positively stacked division that includes name brands like Román González, Juan Francisco Estrada and Julio Cesar Martinez.
Here's a look at the odds for tonight's main event at the MGM Grand sports book. Canelo has held as a solid -450 favorite (meaning a $450 bet would pay off $100), while Golovkin is a +340 underdog (meaning a $100 wager would return $340). That's a dramatic swing from their first two meetings, where Golovkin went off as a slight favorite both times.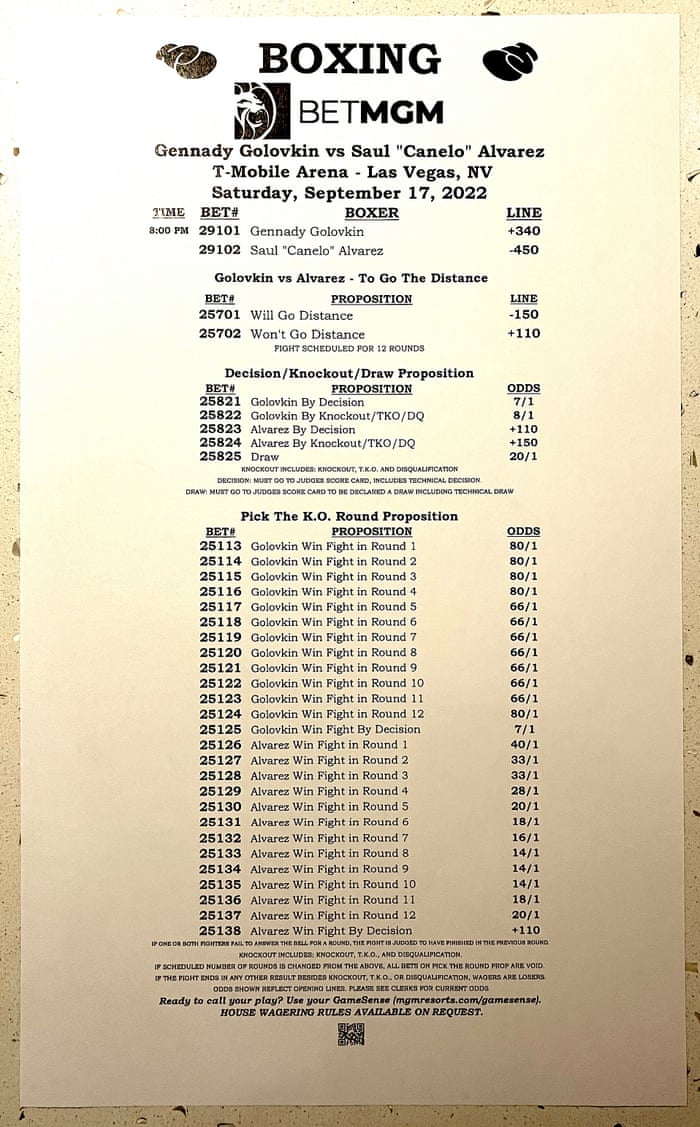 There's one more undercard bout ahead of tonight's feature attraction and it's worth tuning in for. Jesse Rodríguez, the youngest world champion in boxing today and one of America's brightest rising stars, is making his second defense of the WBC super-flyweight title against Israel González in a fight that's due to start in the next few minutes.
The 22-year-old Texan southpaw, who trains under the great Robert Garcia, has been widely tabbed for Fighter of the Year honors and can effectively close the debate with a good show tonight. Our Donald McRae caught up with him earlier this week:
For the first time this year Rodriguez will step into the ring as the favourite when he defends his world title against Israel Gonzalez. If he wins in dominant style again, many boxing insiders believe he could seal his place as 2022's Fighter of the Year.

"This is a huge fight for me," Rodriguez says, "probably bigger than my last two fights because it's on the biggest card of boxing in Vegas. So this is the perfect platform to go out there and show not just the hardcore boxing people but the casual fans what I can do. I'm one of those fighters you see very rarely, a once-in-a-generation world champion, and people are going to see that on Saturday night in Las Vegas. I'm going to go out there and be spectacular and show everyone that I really am the fighter of the year."

Rodriguez looks up and grips my hand with one last dazzling smile. "It's crazy," he says, "but it's beautiful."
Here's a look at how Canelo and Golovkin measure up ahead of tonight's main event. Golovkin still enjoys the slight advantage in height if not in reach. The key difference from their first two encounters is the contracted weight, which both met at yesterday's weigh-in. The 40-year-old Kazakh is moving up to super-middleweight for the first time in his career, a division where Álvarez has proven more than comfortable since they last met four years ago.
Hello and welcome to the Las Vegas Strip for tonight's third fight between Canelo Álvarez and Gennady Golovkin. We're ringside at the T-Mobile Arena for a threequel four years in the making as two of the most accomplished fighters of their generation look to stamp a definitive conclusion on their highly caustic rivalry after 24 rounds that left so little to separate them.
Their first encounter, in 2017, was one of the most eagerly anticipated summit meetings of the decade and the rare superfight that managed to not only meet but exceed the hype. Until, that is, the decision. Most at ringside, in the crowd and watching at home believed the Kazakh knockout artist known as Triple G did enough to win on points. But the official verdict – including the mystifying score of 118-110 to Álvarez handed down by Adalaide Byrd – was a widely disputed split draw that denied Golovkin what should have been the defining moment of a career spent largely out of the mainstream spotlight.
Their second, in 2018, was closer, but ended in a majority-decision win for Álvarez after another 12 rounds where many thought Golovkin did no worse than a draw. That it came after Álvarez failed a pair of Wada-administered urine screenings for the banned substance clenbuterol, which the Mexican claimed was a result of contaminated meat consumed while training in Guadalajara, managed to further raise the temperature on their rancor.
A third bout always felt inevitable, but the fighters went their separate ways. Golovkin, who turned 40 in April, has fought only four times in the four years since, including wins over Sergiy Derevyanchenko and Ryōta Murata to win back a couple of belts at the middleweight division he's lorded over for nearly a decade. Meanwhile, the 32-year-old Álvarez furthered his ascent as boxing's biggest superstar, adding titles at super-middleweight and light-heavyweight before coming back down to unify all four belts at 168lbs in the span of a year: the very same undisputed championship that's on the line tonight.
Of course, this is Golovkin's first time fighting at 168lbs after a career spent at middleweight, which further tilts the odds in the younger, primer Mexican's favor. But if Álvarez and Golovkin have proven nothing else in their two fights so far, they are born dance partners. And any time they share the prize-ring carries with it the promise of something very special.
It's all little more than an hour and half away. Álvarez are Golovkin expected to make their ringwalks shortly after 8pm local time, 11pm ET and 4am BST.
Bryan will be here shortly. In the meantime here's Donald McRae's preview of tonight's main event.
https://www.theguardian.com/sport/live/2022/sep/17/canelo-alvarez-gennady-golovkin-iii-fight-live-round-by-round Canelo Álvarez defeats Gennady Golovkin by unanimous decision to defend titles – live! | Boxing