USA
First Thing: Trump pleads not guilty as supporters move to cash in | US news
Good morning.
Donald Trump pleaded not guilty yesterday to federal charges over his efforts to overturn the results of the 2020 presidential election, marking the third time this year the former president has been forced to respond to a criminal indictment.
Trump was arrested and arraigned on four felony counts outlined in the special counsel, Jack Smith's, indictment: conspiracy to defraud the United States, conspiracy to obstruct an official proceeding, obstruction of and attempt to obstruct an official proceeding and conspiracy against rights.
It is the third time Trump has been arraigned this year, and he is the only former US president in history to be criminally indicted. Each time, Trump and his supporters, as well as detractors, have moved to gain from his time in court.
The former president earlier said being arrested was "a great honor" in a post on Truth Social, his social media platform. He also posted Thursday ahead of his arraignment: "I NEED ONE MORE INDICTMENT TO ENSURE MY ELECTION!"
How have the Trump team responded? Minutes after Trump left Washington, his son Eric Trump sent out a fundraising email calling the city "the belly of the beast", according to NBC News. His campaign pulled in nearly $4m after Trump's first arraignment in March and considerably less – but still more than $1m – after his arraignment in June, according to the New York Times.

How long will the case drag on for? Smith this week said he was pursuing a "speedy trial", and the magistrate judge seemed to follow suit. Unlike Trump's other legal cases, where the next court dates were scheduled for months later, the first hearing for this case will happen within the month. Trump's lawyers challenged the swiftness of the proceedings but the date was not changed.
Biden administration rule restricting asylum can remain in place, court rules
A Biden administration rule restricting asylum at the southern border can stay in place for now, an appeals court ruled yesterday in a decision that is a win for the White House.
The new rule makes it extremely difficult for people to be granted asylum unless they first seek protection in a country they are traveling through on their way to the US, or apply online. It includes room for exceptions and does not apply to children traveling alone. The Biden administration had argued the policy is integral to its efforts to maintain order along the US-Mexico border.
The decision by the US ninth circuit court of appeals grants a temporary reprieve from a lower court decision that had found the policy illegal and ordered the government to end its use by Monday. The government had gone quickly to the appeals court asking for the rule to be allowed to remain in use while the larger court battles surrounding its legality play out.
The restrictions can remain in place pending the outcome of Biden's appeal, the ninth circuit court said, saying it would expedite the process.
When did the new rule come into force? The new asylum rule was put in place in May as the US was ending use of a different policy called Title 42, which had allowed the government to swiftly expel migrants without letting them seek asylum. The stated purpose of Title 42, enacted under Trump during the pandemic, was to protect Americans from the coronavirus.
Top US doctors' group backs gender-affirming care amid rightwing attacks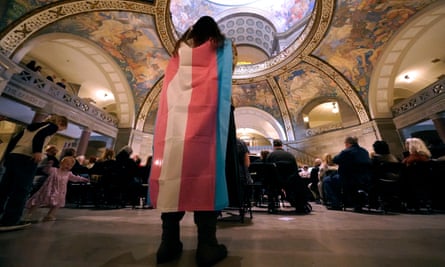 The American Academy of Pediatrics has reaffirmed its support for gender-affirming medical care for transgender children, even as the treatments face a push for bans and restrictions from Republican lawmakers across the US.
The board of directors for the group, which represents 67,000 pediatricians, unanimously voted to reaffirm its 2018 position on the treatments. The board also voted to provide additional documents to support pediatricians, including clinical and technical reports, and to conduct an external review of research regarding the care.
"The additional recommendations also reflect the fact that the board is concerned about restrictions to accessing evidence-based health care for young people who need it," Mark Del Monte, the academy's chief executive, said in a statement released by the group, calling the restrictions enacted by states "unprecedented government intrusion".
"We therefore need to provide the best and most transparent process possible," he said.
How widespread are the attacks on gender-affirming care? At least 21 states have now enacted laws restricting or banning gender-affirming medical care for transgender minors, and most of those states face lawsuits. A federal judge struck down Arkansas's ban as unconstitutional, and federal judges have temporarily blocked bans in Alabama and Indiana.
In other news …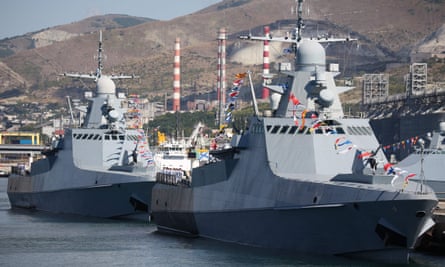 Stat of the day: South Korea spends millions to rescue World Scout Jamboree amid scorching heatwave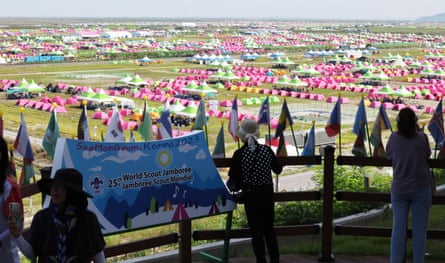 South Korea has pumped 6.9bn won ($5.2m) into improving conditions at a global Scouts gathering it is hosting amid a suffocating heatwave, with the president, Yoon Suk Yeol, ordering "unlimited" air-conditioned buses and cold-water trucks, and hundreds more sanitary and medical staff being brought in. The World Scout Jamboree, which opened on 8.8 sq km of unsheltered tidelands in the south-western county of Buan on Tuesday, has resulted in hundreds of participants needing treatment for heat-related conditions. On Thursday, 138 people attended clinics and hospitals for heat conditions, bringing the total to more than 700. More than 43,000 participants, most of them aged 14-18, are attending the jamboree, the scouts' first global gathering since the pandemic. It coincides with a severe heatwave, with authorities issuing the highest-level heat warning in four years, as temperatures in some parts of South Korea exceeded 38C (100F) this week.
Don't miss this: 'I'm the only one that can say I never quit' – meet the bands with no original members left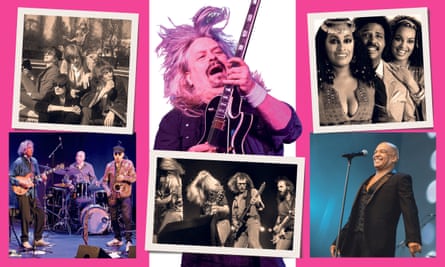 Last month, the southern US rock band Molly Hatchet played to more than 10,000 bikers at Berlin's annual Motorcycle Jamboree, 45 years after their debut album was released. There is nothing unusual about that – plenty of veteran rock bands still play to huge audiences. What is unusual, though, is that no one who played on that first album – in fact, no one who was on any of their first six albums – was on stage in Berlin.
Molly Hatchet are not alone. Groups with no original members are not uncommon, even among bands that remain vital forces: it is 37 years since Napalm Death had any original members. For fans who obsess over the idea of legitimacy and authenticity – think how many people refuse to recognise Pixies in their current guise, owing to the absence of Kim Deal – this can cause problems. For the musicians? Not so much. Members of Yes, Odyssey, Soft Machine and Molly Hatchet explain why they are keeping the flame alive despite the gripes.
Climate check: 'Winter is disappearing' – South America hit by 'brutal' unseasonal heatwave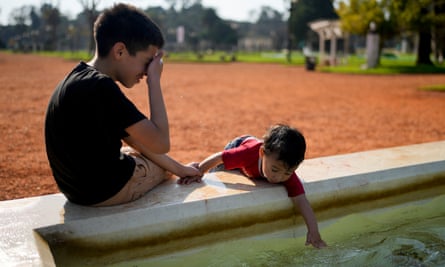 Now should be South America's bleak midwinter, but several parts of the continent are experiencing an extraordinary unseasonal heatwave that scientists believe offers a disturbing glimpse of a future of extreme weather. Argentina's capital, Buenos Aires, this week recorded its hottest 1 August in 117 years. Cindy Fernández, a weather bureau spokesperson, said the country was facing "a year of extreme heat".
Hundreds of miles to the west, in Chile, temperatures rose even higher, towards 40C. "July was the planet's hottest month since records began and the Andes are now experiencing their own thermal ordeal," announced the Santiago-based newspaper La Tercera. "Although we're in winter, Chile is living through a little hell of its very own." Raúl Cordero, a climate expert from the University of Santiago, told the newspaper that as far as temperatures and rainfall were concerned, "Chile's winter is disappearing".
Sign up
First Thing is delivered to thousands of inboxes every weekday. If you're not already signed up, subscribe now.
Get in touch
If you have any questions or comments about any of our newsletters please email newsletters@theguardian.com
Summarize this content to 100 words Good morning.Donald Trump pleaded not guilty yesterday to federal charges over his efforts to overturn the results of the 2020 presidential election, marking the third time this year the former president has been forced to respond to a criminal indictment.Trump was arrested and arraigned on four felony counts outlined in the special counsel, Jack Smith's, indictment: conspiracy to defraud the United States, conspiracy to obstruct an official proceeding, obstruction of and attempt to obstruct an official proceeding and conspiracy against rights.It is the third time Trump has been arraigned this year, and he is the only former US president in history to be criminally indicted. Each time, Trump and his supporters, as well as detractors, have moved to gain from his time in court.The former president earlier said being arrested was "a great honor" in a post on Truth Social, his social media platform. He also posted Thursday ahead of his arraignment: "I NEED ONE MORE INDICTMENT TO ENSURE MY ELECTION!" How have the Trump team responded? Minutes after Trump left Washington, his son Eric Trump sent out a fundraising email calling the city "the belly of the beast", according to NBC News. His campaign pulled in nearly $4m after Trump's first arraignment in March and considerably less – but still more than $1m – after his arraignment in June, according to the New York Times. How long will the case drag on for? Smith this week said he was pursuing a "speedy trial", and the magistrate judge seemed to follow suit. Unlike Trump's other legal cases, where the next court dates were scheduled for months later, the first hearing for this case will happen within the month. Trump's lawyers challenged the swiftness of the proceedings but the date was not changed. Biden administration rule restricting asylum can remain in place, court rulesPeople cross the barbed wire fences placed on the border wall to surrender and request asylum. Photograph: Luis Torres/EPAA Biden administration rule restricting asylum at the southern border can stay in place for now, an appeals court ruled yesterday in a decision that is a win for the White House.The new rule makes it extremely difficult for people to be granted asylum unless they first seek protection in a country they are traveling through on their way to the US, or apply online. It includes room for exceptions and does not apply to children traveling alone. The Biden administration had argued the policy is integral to its efforts to maintain order along the US-Mexico border.The decision by the US ninth circuit court of appeals grants a temporary reprieve from a lower court decision that had found the policy illegal and ordered the government to end its use by Monday. The government had gone quickly to the appeals court asking for the rule to be allowed to remain in use while the larger court battles surrounding its legality play out.The restrictions can remain in place pending the outcome of Biden's appeal, the ninth circuit court said, saying it would expedite the process. When did the new rule come into force? The new asylum rule was put in place in May as the US was ending use of a different policy called Title 42, which had allowed the government to swiftly expel migrants without letting them seek asylum. The stated purpose of Title 42, enacted under Trump during the pandemic, was to protect Americans from the coronavirus. Top US doctors' group backs gender-affirming care amid rightwing attacksA woman is draped in a trans flag in a counter-protest against a gathering supporting a ban on gender-affirming healthcare legislation in Jefferson City, Missouri. Photograph: Charlie Riedel/APThe American Academy of Pediatrics has reaffirmed its support for gender-affirming medical care for transgender children, even as the treatments face a push for bans and restrictions from Republican lawmakers across the US.The board of directors for the group, which represents 67,000 pediatricians, unanimously voted to reaffirm its 2018 position on the treatments. The board also voted to provide additional documents to support pediatricians, including clinical and technical reports, and to conduct an external review of research regarding the care."The additional recommendations also reflect the fact that the board is concerned about restrictions to accessing evidence-based health care for young people who need it," Mark Del Monte, the academy's chief executive, said in a statement released by the group, calling the restrictions enacted by states "unprecedented government intrusion"."We therefore need to provide the best and most transparent process possible," he said. How widespread are the attacks on gender-affirming care? At least 21 states have now enacted laws restricting or banning gender-affirming medical care for transgender minors, and most of those states face lawsuits. A federal judge struck down Arkansas's ban as unconstitutional, and federal judges have temporarily blocked bans in Alabama and Indiana. In other news …Russia's Black Sea fleet at anchor in Novorossiysk, southern Russia, last month. Photograph: AFP/Getty Images Ukraine's intelligence services claim they have put the Russian Black Sea fleet vessel Olenegorsky Gornyak out of action, saying it has sustained a serious breach and is unable to carry out combat missions. Reuters reports an intelligence source as saying that the sea drone attack was carried out by Ukraine's SBU security service and its navy. The Tennessee representatives Justin Pearson and Justin Jones, who became Democratic heroes as members of the "Tennessee Three", reclaimed their legislative seats yesterday after they were expelled for involvement in a gun control protest on the house floor. Two US navy sailors have been arrested on charges of handing over sensitive national security material to China, US officials said. Jinchao Wei, 22, was arrested on Wednesday on a charge related to espionage while separately Wenheng Zhao, 26, was charged for allegedly collecting bribes. The US could soon offer to put armed sailors and marines on commercial ships traveling through the strait of Hormuz in the Persian Gulf, two US officials have said, amid alleged attempts by Iran to hijack ships in international waters. The Pentagon in July sent additional fighter jets along with a warship to the Middle East after Iran's seizure and harassment of commercial shipping vessels. Stat of the day: South Korea spends millions to rescue World Scout Jamboree amid scorching heatwaveTents are pitched at the World Scout Jamboree in Buan, South Korea, on Friday. Photograph: Choe Young-soo/APSouth Korea has pumped 6.9bn won ($5.2m) into improving conditions at a global Scouts gathering it is hosting amid a suffocating heatwave, with the president, Yoon Suk Yeol, ordering "unlimited" air-conditioned buses and cold-water trucks, and hundreds more sanitary and medical staff being brought in. The World Scout Jamboree, which opened on 8.8 sq km of unsheltered tidelands in the south-western county of Buan on Tuesday, has resulted in hundreds of participants needing treatment for heat-related conditions. On Thursday, 138 people attended clinics and hospitals for heat conditions, bringing the total to more than 700. More than 43,000 participants, most of them aged 14-18, are attending the jamboree, the scouts' first global gathering since the pandemic. It coincides with a severe heatwave, with authorities issuing the highest-level heat warning in four years, as temperatures in some parts of South Korea exceeded 38C (100F) this week.Don't miss this: 'I'm the only one that can say I never quit' – meet the bands with no original members leftAnd the band played on … (from left) Soft Machine in 2023 and 1967; Bobby Ingram of Molly Hatchet and the band in 1979; Steven Collazo of Odyssey and the original group in 1977. Composite: Guardian Design; BIPS; Paul Natkin/Getty Images; John Bentley; INSTAR Images LLC/Alamy; AB Archive; Lorne Thomson/RedfernsLast month, the southern US rock band Molly Hatchet played to more than 10,000 bikers at Berlin's annual Motorcycle Jamboree, 45 years after their debut album was released. There is nothing unusual about that – plenty of veteran rock bands still play to huge audiences. What is unusual, though, is that no one who played on that first album – in fact, no one who was on any of their first six albums – was on stage in Berlin.Molly Hatchet are not alone. Groups with no original members are not uncommon, even among bands that remain vital forces: it is 37 years since Napalm Death had any original members. For fans who obsess over the idea of legitimacy and authenticity – think how many people refuse to recognise Pixies in their…
https://www.theguardian.com/us-news/2023/aug/04/first-thing-trump-pleads-not-guilty-as-supporters-move-to-cash-in First Thing: Trump pleads not guilty as supporters move to cash in | US news