USA
Nashville SC 1-1 Inter Miami (aet, pens 9-10): Leagues Cup final 2023 – as it happened | Leagues Cup 2023
Key events
Tournament awards …
First, the officials get their medals, and the crowd takes one last chance to register its disapproval.
Callender wins best goalkeeper. The crowd chants "Pan-ic-co! Pan-ic-co!"
And the top scorer and best player awards go to … a very confused Lionel Messi, who didn't seem to realize that he actually needed to grab both trophies.
With that, it's time to get some sleep. Barely six hours until we have another tournament final. Hope it's as entertaining as this one.
Good night to all.
Messi hugs both Beckhams. This is the biggest celebration of star power in Nashville that doesn't involve guitars and songs about trucks. (I kid, country music fans.)
Tata Martino, the architect of Atlanta United's early success in MLS, gets his turn being interviewed via translation. He doesn't have much to say, but he lets on that he thought a tie was a fair result, and then it was up to the team keeping composure in penalties.
To recap: That was 10-9! The players made 19 of 22 penalties, and the last one that missed was the keeper.
Hey, Peter Oh's checking in by email: "gotta hand it to Messi. Just a couple of weeks into his new gig and already he's a La Leagues legend."
Ow. That one's painful.
The Apple TV crew claims this is Messi's 44th trophy, more than any other player. I have no idea how they've computed that. Do preseason tournaments count? SuperCups? I don't know. But he's at least 42 ahead of me. (U-12 league championship, then a division championship in our indoor league that unfortunately got us promoted to the top flight. Ouch.)
Drake Callender is getting his just due with a quickly but carefully compiled highlight reel. Several big saves through the game, then two saves in PKs, the clinching one coming right after he took his own penalty with more aplomb than some of the world's best players.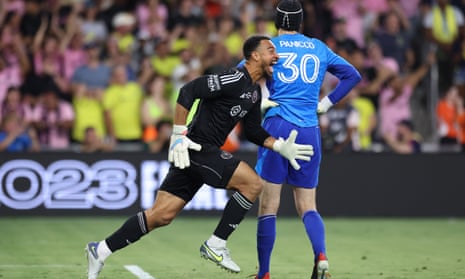 They're tossing Messi in the air. They should give Callender some flight time as well. What a performance from the young keeper.
David Beckham appears to be in tears as he hugs his wife. That's his first trophy as a co-owner.
Inter Miami win the Leagues Cup
Callender saves it from his opposite number.
Messi has another trophy.
What a game.
PKs: Inter 10-9 Nashville (Callender converts)
Oh my. The keeper confidently rips his shot into the roof of the net.
PKs: Inter 9-9 Nashville (Shaffelburg converts)
Keeper sent the wrong way. And now he must shoot.
PKs: Inter 9-8 Nashville (Yedlin converts)
The veteran of MLS and the Premier League rips it into the side netting.
PKs: Inter 8-8 Nashville (Davis converts)
You could tell from his expression. He just blasts it to Callender's left.
That's nine shots per team. We're one away from having the keepers shoot.
PKs: Inter 8-7 Nashville (Ruiz converts)
Stutter-step, Panicco goes left, then right, and Ruiz goes the other way.
PKs: Inter 7-7 Nashville (MacNaughton converts)
Down the middle.
PKs: Inter 7-6 Nashville (Gomez converts)
Panicco moves early, Gomez shoots down the middle.
PKs: Inter 6-6 Nashville (Lovitz converts)
Callender starts to lean to his left, and Lovitz blasts it into the other upper corner.
PKs: Inter 6-5 Nashville (Alba converts)
Slow run-up, and Panicco again goes a little early. Alba, whom the announcers tell us has never taken a kick in a PK shootout, easily finishes.
PKs: Inter 5-5 Nashville (Moore converts)
Shaq slams it into the net. Same spot.
PKs: Inter 5-4 Nashville (Krvytsov converts)
The Ukrainian defender rips it into the upper right corner.
PKs: Inter 4-4 Nashville (Surridge converts)
I think the new guy is doing just fine for Nashville. Composed, powerful shot.
That's the scheduled five. We kick on.
PKs: Inter 4-3 Nashville (Panicco saves Ulloa shot)
HUGE SAVE! Panicco read it like high school kids reading The Catcher in the Rye, and he smashes it away.
PKs: Inter 4-3 Nashville (Zimmerman converts)
The Nashville captain derisively smashes the ball straight down the middle as if daring Callender to stay there. Which he didn't.
PKs: Inter 4-2 Nashville (Miller converts)
Oh, just barely! Panicco guessed correctly and got his hand within a ball's width of the post. Miller squeezed it through.
PKs: Inter 3-2 Nashville (Godoy converts)
Hard shot, keeper sent the wrong way.
PKs: Inter 3-1 Nashville (Campana converts)
"I'm not going the wrong way! I'm not going the wrong way!" You can practically hear Panicco saying that.
"You're going the wrong way," Campana says. Goal.
PKs: Inter 2-1 Nashville (Callender saves Leal shot)
Leal went straight up the middle. Callender left enough of his legs there to block the shot.
Advantage Inter.
PKs: Inter 2-1 Nashville (Busquets converts)
Panicco started going to his right well before Busquets got to the ball. Wide open net for the legend.
PKs: Inter 1-1 Nashville (Makhtar converts)
Nothing Callender could do about that one. Went the wrong way, and Makhtar's shot had some juice.
PKs: Inter 1-0 Nashville (Messi converts)
Just sends the keeper the wrong way and passes it into the net. Easy.
I think I owe Drake Callender an apology. I thought the Miami keeper, in his second year as a starter, looked shaky in the first half. That's three immense saves.
Messi and Zimmerman meet with the referee crew to call coin flips. Inter will shoot first, and they're facing Nashville's loudest supporters section. I guess Messi didn't win that coin flip …
End regulation: Nashville 1-1 Inter Miami
Miss of the game! Miami counter brilliantly, and Campana is one-on-one with Panicco! He chips. He trips Shaq Moore, the only defender in the vicinity, but that turns into a disadvantage because he wastes just a few microseconds, and then when he catches up to his own shot as it bounces wide, he can't direct it in.
Both teams had a huge chance to win in the last 20 seconds.
But we're off to PKs.
Point-blank range – Callender on Surridge from the corner …
and then …
90 mins +2: SAVE by Callender on a roof-bound shot from Mukhtar at a difficult angle. Shaffelburg helped to set it up.
Another good play by the Inter keeper. Another Nashville corner.
90 mins: Free kick is headed away. Three minutes of stoppage time to be played.
Summarize this content to 100 words Key eventsShow key events onlyPlease turn on JavaScript to use this featureTournament awards …First, the officials get their medals, and the crowd takes one last chance to register its disapproval.Callender wins best goalkeeper. The crowd chants "Pan-ic-co! Pan-ic-co!"And the top scorer and best player awards go to … a very confused Lionel Messi, who didn't seem to realize that he actually needed to grab both trophies.With that, it's time to get some sleep. Barely six hours until we have another tournament final. Hope it's as entertaining as this one.Good night to all.Lionel Messi takes flight. Photograph: Chandan Khanna/AFP/Getty ImagesMessi hugs both Beckhams. This is the biggest celebration of star power in Nashville that doesn't involve guitars and songs about trucks. (I kid, country music fans.)Tata Martino, the architect of Atlanta United's early success in MLS, gets his turn being interviewed via translation. He doesn't have much to say, but he lets on that he thought a tie was a fair result, and then it was up to the team keeping composure in penalties.To recap: That was 10-9! The players made 19 of 22 penalties, and the last one that missed was the keeper.Hey, Peter Oh's checking in by email: "gotta hand it to Messi. Just a couple of weeks into his new gig and already he's a La Leagues legend."Ow. That one's painful.The Apple TV crew claims this is Messi's 44th trophy, more than any other player. I have no idea how they've computed that. Do preseason tournaments count? SuperCups? I don't know. But he's at least 42 ahead of me. (U-12 league championship, then a division championship in our indoor league that unfortunately got us promoted to the top flight. Ouch.)Drake Callender is getting his just due with a quickly but carefully compiled highlight reel. Several big saves through the game, then two saves in PKs, the clinching one coming right after he took his own penalty with more aplomb than some of the world's best players.Drake Callender races to join his teammates' celebration after his game-ending save. Photograph: Tim Nwachukwu/Getty ImagesUpdated at 23.34 EDTThey're tossing Messi in the air. They should give Callender some flight time as well. What a performance from the young keeper.David Beckham appears to be in tears as he hugs his wife. That's his first trophy as a co-owner.Inter Miami win the Leagues CupCallender saves it from his opposite number.Messi has another trophy.What a game.PKs: Inter 10-9 Nashville (Callender converts)Oh my. The keeper confidently rips his shot into the roof of the net.PKs: Inter 9-9 Nashville (Shaffelburg converts)Keeper sent the wrong way. And now he must shoot.PKs: Inter 9-8 Nashville (Yedlin converts)The veteran of MLS and the Premier League rips it into the side netting.PKs: Inter 8-8 Nashville (Davis converts)You could tell from his expression. He just blasts it to Callender's left.That's nine shots per team. We're one away from having the keepers shoot.PKs: Inter 8-7 Nashville (Ruiz converts)Stutter-step, Panicco goes left, then right, and Ruiz goes the other way.PKs: Inter 7-7 Nashville (MacNaughton converts)Down the middle.PKs: Inter 7-6 Nashville (Gomez converts)Panicco moves early, Gomez shoots down the middle.PKs: Inter 6-6 Nashville (Lovitz converts)Callender starts to lean to his left, and Lovitz blasts it into the other upper corner.PKs: Inter 6-5 Nashville (Alba converts)Slow run-up, and Panicco again goes a little early. Alba, whom the announcers tell us has never taken a kick in a PK shootout, easily finishes.PKs: Inter 5-5 Nashville (Moore converts)Shaq slams it into the net. Same spot.PKs: Inter 5-4 Nashville (Krvytsov converts) The Ukrainian defender rips it into the upper right corner.PKs: Inter 4-4 Nashville (Surridge converts)I think the new guy is doing just fine for Nashville. Composed, powerful shot.That's the scheduled five. We kick on.PKs: Inter 4-3 Nashville (Panicco saves Ulloa shot)HUGE SAVE! Panicco read it like high school kids reading The Catcher in the Rye, and he smashes it away.PKs: Inter 4-3 Nashville (Zimmerman converts)The Nashville captain derisively smashes the ball straight down the middle as if daring Callender to stay there. Which he didn't.PKs: Inter 4-2 Nashville (Miller converts)Oh, just barely! Panicco guessed correctly and got his hand within a ball's width of the post. Miller squeezed it through.PKs: Inter 3-2 Nashville (Godoy converts)Hard shot, keeper sent the wrong way.PKs: Inter 3-1 Nashville (Campana converts)"I'm not going the wrong way! I'm not going the wrong way!" You can practically hear Panicco saying that."You're going the wrong way," Campana says. Goal.PKs: Inter 2-1 Nashville (Callender saves Leal shot)Leal went straight up the middle. Callender left enough of his legs there to block the shot.Advantage Inter.PKs: Inter 2-1 Nashville (Busquets converts)Panicco started going to his right well before Busquets got to the ball. Wide open net for the legend.PKs: Inter 1-1 Nashville (Makhtar converts)Nothing Callender could do about that one. Went the wrong way, and Makhtar's shot had some juice.PKs: Inter 1-0 Nashville (Messi converts)Just sends the keeper the wrong way and passes it into the net. Easy.I think I owe Drake Callender an apology. I thought the Miami keeper, in his second year as a starter, looked shaky in the first half. That's three immense saves.Messi and Zimmerman meet with the referee crew to call coin flips. Inter will shoot first, and they're facing Nashville's loudest supporters section. I guess Messi didn't win that coin flip …End regulation: Nashville 1-1 Inter MiamiMiss of the game! Miami counter brilliantly, and Campana is one-on-one with Panicco! He chips. He trips Shaq Moore, the only defender in the vicinity, but that turns into a disadvantage because he wastes just a few microseconds, and then when he catches up to his own shot as it bounces wide, he can't direct it in.Both teams had a huge chance to win in the last 20 seconds.But we're off to PKs.SAVE OF THE GAMEPoint-blank range – Callender on Surridge from the corner …and then …90 mins +2: SAVE by Callender on a roof-bound shot from Mukhtar at a difficult angle. Shaffelburg helped to set it up.Another good play by the Inter keeper. Another Nashville corner.90 mins: Free kick is headed away. Three minutes of stoppage time to be played.Updated at 23.03 EDT
https://www.theguardian.com/football/live/2023/aug/19/nashville-sc-v-inter-miami-leagues-cup-final-2023-live Nashville SC 1-1 Inter Miami (aet, pens 9-10): Leagues Cup final 2023 – as it happened | Leagues Cup 2023