USA
Republicans feud over Trump, abortion and climate in first 2024 primary debate | US elections 2024
Republican presidential candidates clashed over Donald Trump's legal woes during the first primary debate of the 2024 campaign season, underscoring the former president's absence from the event and casting a spotlight on his potential vulnerabilities in a general election rematch against Joe Biden.
Nearly an hour into the debate in Milwaukee, Wisconsin, the Fox News hosts Martha MacCallum and Bret Baier asked the eight candidates on the stage whether they would still support Trump as the Republican presidential nominee if he were convicted of the charges he faces. Six candidates – North Carolina's Governor Doug Burgum, Florida's Governor Ron DeSantis, the former UN Ambassador Nikki Haley, the former vice-president Mike Pence, the entrepreneur Vivek Ramaswamy and South Carolina's Senator Tim Scott – indicated they would still support Trump. Only two candidates – the former New Jersey governor Chris Christie and former Arkansas governor Asa Hutchinson – said they would not.
Christie, a vocal critic of Trump, called on the fellow debate participants to "stop normalizing this conduct".
"Whether or not you believe that the criminal charges are right or wrong, the conduct is beneath the office of the president of the United States," Christie said. When his criticism was met with some boos from the debate crowd, Christie added: "Booing is allowed, but it doesn't change the truth."
Ramaswamy jumped on Christie's comments, echoing Trump's complaints about the alleged politicization of federal law enforcement. "We have to end the weaponization of justice in this country," Ramaswamy said.
The debate came one day before Trump was expected to surrender to authorities in Fulton county, Georgia, where he has been charged on 13 felony counts related to his efforts to overturn Biden's 2020 victory in the state. The former president faces 91 total felony counts across four criminal cases.
But a CBS News/YouGov survey compiled last week found that Trump now holds his largest polling lead to date, as he won the support of 62% of likely Republican primary voters. The survey showed Trump beating his next closest competitor, DeSantis, by 46 points, with every other candidate mired in the single digits.
Rather than attending the debate, Trump chose to sit down for an interview with the former Fox News host Tucker Carlson, which was available on X, formerly known as Twitter, minutes before the debate began. Trump cited his standing in the polls to justify skipping the debate, mocking his opponents' struggles to gain momentum in the race.
"You see the polls that have come out, and I'm leading by 50 and 60 points and some of them are at one and zero and two. And I'm saying, do I sit there for an hour or two hours or whatever it's going to be and get harassed by people who shouldn't even be running for president?" Trump told Carlson. "I just felt it would be more appropriate not to do the debate."
Although Trump's absence and his criminal charges shaped much of the debate, the candidates also sparred over key policy issues like abortion and climate change. Discussing federal abortion policy in the wake of the reversal of Roe v Wade, Pence praised a 15-week abortion ban as "an idea whose time has come" and DeSantis expressed pride over signing Florida's six-week abortion ban into law.
But Haley was more hesitant to embrace a potential federal ban, a proposal that is widely unpopular with the American people. Describing herself as "unapologetically pro-life", Haley argued a federal ban would not pass Congress and called on Democrats and Republicans to "find consensus" on abortion access.
Discussing the climate crisis, Ramaswamy drew some boos from the debate crowd when he denied the unequivocal truth of human-made climate change. "The climate change agenda is a hoax," Ramaswamy said.
Christie retorted: "I've had enough already tonight of a guy who sounds like ChatGPT."
It was one of several insults directed at Ramaswamy, who has climbed into a distant third place in national polls. Mocking Ramaswamy's inexperience, Pence said: "Now is not the time for on-the-job training. We don't need to bring in a rookie."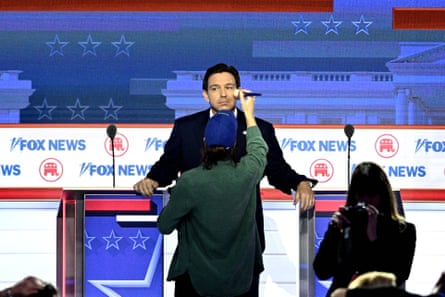 Several other presidential candidates – including the rightwing commentator Larry Elder, the former Texas congressman Will Hurd and the mayor of Miami, Francis Suarez – failed to meet the Republican National Committee's qualifications for the debate, leaving them out of the event and further diminishing their primary prospects. Hurd elected to live-tweet his reactions to the debate, and he criticized his opponents who said they would still support Trump in the event of a conviction.
"Anyone who raises their hand in support of Donald Trump as our party's nominee even if convicted in a court of law is unfit to serve as president," Hurd said.
But Trump's criminal charges appear to have only fortified his position as the frontrunner in the Republican presidential primary. According to the CBS poll, 73% of Trump's voters say they back the former president partly to "show support for his legal troubles".
With such stalwart support for Trump among the Republican base, it remains unclear how any of the participants in the Monday debate could capture the nomination. The electoral threat of nominating a twice-impeached former president, who now faces nearly 100 criminal charges, did not escape the attention of at least one debate participant.
"We have to face the fact that Trump is the most disliked politician in America," Haley said. "We can't win a general election that way."
The Guardian's David Smith contributed reporting from Milwaukee
Summarize this content to 100 words Republican presidential candidates clashed over Donald Trump's legal woes during the first primary debate of the 2024 campaign season, underscoring the former president's absence from the event and casting a spotlight on his potential vulnerabilities in a general election rematch against Joe Biden.Nearly an hour into the debate in Milwaukee, Wisconsin, the Fox News hosts Martha MacCallum and Bret Baier asked the eight candidates on the stage whether they would still support Trump as the Republican presidential nominee if he were convicted of the charges he faces. Six candidates – North Carolina's Governor Doug Burgum, Florida's Governor Ron DeSantis, the former UN Ambassador Nikki Haley, the former vice-president Mike Pence, the entrepreneur Vivek Ramaswamy and South Carolina's Senator Tim Scott – indicated they would still support Trump. Only two candidates – the former New Jersey governor Chris Christie and former Arkansas governor Asa Hutchinson – said they would not.Most of the candidates on stage raised their hands to say they'd support Donald Trump as the Republican nominee. Photograph: Win McNamee/Getty ImagesChristie, a vocal critic of Trump, called on the fellow debate participants to "stop normalizing this conduct"."Whether or not you believe that the criminal charges are right or wrong, the conduct is beneath the office of the president of the United States," Christie said. When his criticism was met with some boos from the debate crowd, Christie added: "Booing is allowed, but it doesn't change the truth."Ramaswamy jumped on Christie's comments, echoing Trump's complaints about the alleged politicization of federal law enforcement. "We have to end the weaponization of justice in this country," Ramaswamy said.The debate came one day before Trump was expected to surrender to authorities in Fulton county, Georgia, where he has been charged on 13 felony counts related to his efforts to overturn Biden's 2020 victory in the state. The former president faces 91 total felony counts across four criminal cases.But a CBS News/YouGov survey compiled last week found that Trump now holds his largest polling lead to date, as he won the support of 62% of likely Republican primary voters. The survey showed Trump beating his next closest competitor, DeSantis, by 46 points, with every other candidate mired in the single digits.Chris Christie and Vivek Ramaswamy on stage on Wednesday. Photograph: Brendan Smialowski/AFP/Getty ImagesRather than attending the debate, Trump chose to sit down for an interview with the former Fox News host Tucker Carlson, which was available on X, formerly known as Twitter, minutes before the debate began. Trump cited his standing in the polls to justify skipping the debate, mocking his opponents' struggles to gain momentum in the race."You see the polls that have come out, and I'm leading by 50 and 60 points and some of them are at one and zero and two. And I'm saying, do I sit there for an hour or two hours or whatever it's going to be and get harassed by people who shouldn't even be running for president?" Trump told Carlson. "I just felt it would be more appropriate not to do the debate."Although Trump's absence and his criminal charges shaped much of the debate, the candidates also sparred over key policy issues like abortion and climate change. Discussing federal abortion policy in the wake of the reversal of Roe v Wade, Pence praised a 15-week abortion ban as "an idea whose time has come" and DeSantis expressed pride over signing Florida's six-week abortion ban into law.But Haley was more hesitant to embrace a potential federal ban, a proposal that is widely unpopular with the American people. Describing herself as "unapologetically pro-life", Haley argued a federal ban would not pass Congress and called on Democrats and Republicans to "find consensus" on abortion access.Discussing the climate crisis, Ramaswamy drew some boos from the debate crowd when he denied the unequivocal truth of human-made climate change. "The climate change agenda is a hoax," Ramaswamy said.Christie retorted: "I've had enough already tonight of a guy who sounds like ChatGPT."It was one of several insults directed at Ramaswamy, who has climbed into a distant third place in national polls. Mocking Ramaswamy's inexperience, Pence said: "Now is not the time for on-the-job training. We don't need to bring in a rookie."Ron DeSantis has his makeup touched up. Photograph: Brendan Smialowski/AFP/Getty ImagesSeveral other presidential candidates – including the rightwing commentator Larry Elder, the former Texas congressman Will Hurd and the mayor of Miami, Francis Suarez – failed to meet the Republican National Committee's qualifications for the debate, leaving them out of the event and further diminishing their primary prospects. Hurd elected to live-tweet his reactions to the debate, and he criticized his opponents who said they would still support Trump in the event of a conviction."Anyone who raises their hand in support of Donald Trump as our party's nominee even if convicted in a court of law is unfit to serve as president," Hurd said.But Trump's criminal charges appear to have only fortified his position as the frontrunner in the Republican presidential primary. According to the CBS poll, 73% of Trump's voters say they back the former president partly to "show support for his legal troubles".With such stalwart support for Trump among the Republican base, it remains unclear how any of the participants in the Monday debate could capture the nomination. The electoral threat of nominating a twice-impeached former president, who now faces nearly 100 criminal charges, did not escape the attention of at least one debate participant."We have to face the fact that Trump is the most disliked politician in America," Haley said. "We can't win a general election that way."The Guardian's David Smith contributed reporting from Milwaukee
https://www.theguardian.com/us-news/2023/aug/23/republican-candidate-2024-debate-recap-desantis-ramaswamy-christie-trump Republicans feud over Trump, abortion and climate in first 2024 primary debate | US elections 2024