USA
Spain v Netherlands: Women's World Cup 2023 quarter-final goes to extra-time – live | Women's World Cup 2023
Key events
End first half of stoppage time: Spain 1-1 Netherlands
Simon McRae writes: "Netball is awesome – give it a whirl sometime."
I wouldn't know where to find a place to play. It has a lower profile in the US than handball. Wouldn't a US handball league be awesome? When I covered the Iceland men's handball team in 2008, some of them said they'd enjoy playing in the US.
Sub: van der Gragt, who conceded a needless penalty at one end and scored a wonderful goal at the other, is out. If the Netherlands can't pull this out, that's the end of her outstanding career. Kerstin Casparij of Manchester City is in.
105 mins (+2): Navarro, who has been a lively sub, gets fouled deep in the Dutch half by … Beerensteyns? How much energy does she have?
Nothing comes of it, and we've finished the first half of stoppage time. Putellas is talking with the ref for some reason.
105 mins: We'll have two minutes of stoppage time for some reason. We did have one injury, but that seems double what we need.
Spain win a corner kick and maintain possession for a bit, but Putellas is easily dispossessed with simple shoulder charge.
104 mins: Putellas tries to rip a shot from 25 yards out, but it's blocked at close range. That might hurt.
Dutch counter – as always, up to Beerensteyn – and Coll plays it a solid 35 yards from her own goal. Is this a youngster making her second appearance for the national team, or is it Manuel Neuer?
102 mins: The Netherlands try a long ball, but it's easily cut out. Spain works back up the field, and in the end it's a SAVE on a header by the excellent Hermoso.
Peter Oh writes: "The Dutch haven't been convincing overall, but you have to give them credit for slotting a defender in up top and snatching a crucial goal. That took some creativity and guts. I don't think Big Sam Allardyce (Hi Mary Waltz!) would send Harry Maguire up front and expect him to latch onto a throughball and finish."
99 mins: Caldentey and Gonzalez are out, with Putellas and Navarro in. Navarro is one of the few Spanish players who play for neither Barcelona nor Real Madrid. She's with Atlético Madrid.
98 mins: Spain prepare a sub. Would they really let this game play out and possibly depart the World Cup without playing a two-time Ballon d'Or winner?
The answer is no. Alexia Putellas is coming in.
95 mins: The roles have reversed. The Dutch are possessing. Spain are trying to counter. And the Netherlands keep pushing defenders up the field – in this case, Janssen is all the up on the left to cross it, and it doesn't miss by much – so they may be vulnerable.
Egurrola, who has had a lively match, is down hurt. Or possibly cramped. It's not hot out there, to say the least, but they've been running a long time.
They decide to make the sub. Dijkstra goes in for her second appearance of the Cup.
92 mins: How many miles has Beerensteyn covered today? Another good run to meet up with a through ball, and she lays it back for a shot. Turns out she was offside, but we have to marvel at what the English call "work rate."
Van der Gragt, incidentally, is retiring after this World Cup. The handball was nearly her last meaningful play in soccer. Looks like she may have penned a better ending.
91 mins: Spain make a defensive sub, with Olga Carmona replacing Hernandez. Carmona actually started the game against Japan as the captain but was pulled at halftime and didn't play against Switzerland.
End of regulation time: Spain 1-1 Netherlands
Yes, Spain have had the better of play. But the Netherlands' direct play posed some serious challenges throughout, and we saw a penalty kick awarded and then inexplicably overturned. This is a just scoreline after 90.
Hey, does anyone know that Spain have the two-time defending Ballon d'Or winner on their bench? Maybe they were thinking of resting Alexia Putellas once they took the lead, but now that the situation has changed, will we see her in the game? They could use a finisher.
90 mins +11: Nope, nope, silly me – Coll conceded one goal against Switzerland. But that's the first one scored by an opponent. Check her stats.
I don't think she had a chance on that goal, though.
The Netherlands get some possession in the attacking half, but … that's it.
90 mins +10: Direct ball to Beerensteyn, who manages to back into Andres and keep backing up, keep backing up, until Andres is finally called for a foul.
I'll go back and check, but I think that Dutch goal is the first that Coll has conceded as an international or as a professional.
90 mins +8: Spain resume the possession play we were lauding. They're making the Dutch midfielders chase, which must be brutal this late in the game.
90 mins +6: Before all that, a couple of people wrote in to complain about the complaints about the game. To be sure, Spain is playing possession soccer very well. But their finishing has been poor.
Since the goal, the Netherlands look the more likely side to score.
GOAL! Spain 1-1 Netherlands (van der Gragt 90+1)
How? Van der Graft slides into the No 9 slot, and Pelova plays a pitch-perfect through ball while the Spanish defense appears to have a brain freeze. You'd never guess van der Gragt plays at the back from the way she finished that to the far post. Perfect.
And redemption for conceding the penalty.
There is, of course, a check for offside. It's not close. A defender elsewhere on the line kept the tall defender in a nice and legal position.
Game on!
90 mins: Beerensteyn goes 1v2, and she wins that battle. Then her shot is a mile wide.
Sam Tidey has an explanation for the crowd: "As someone in the crowd who is surrounded by glum Americans who assumed they'd have a team to cheer for I think that accounts for how subdued we are."
They've been livelier in the last few minutes.
TWELVE MINUTES of stoppage time coming.
88 mins: Wilms fights and fights for the ball. She forces the Spanish defense into some awkward moments.
Nouwen replaces … Brugts? Really?
87 mins: Another sub, with Guerrero replacing Bonmati for Spain.
I really want Putellas to come in, if for no other reason than to make Fox acknowledge her existence.
Speculative shot from the Netherlands, giving Coll a chance to give the ball a rest.
86 mins: CHANCE for the Netherlands, as Beerensteyn just figures she'll do it on her own, picking up the ball near midfield and racing the retreating Spanish defense. She shoots meekly in the end. She had teammates open. She's disappointed.
83 mins: The world feed cuts back to the action just in time to show a ball floating toward the Dutch goal. Turns out to have been a quickly taken Spanish free kick, cheekily aimed at chipping van Domselaar.
Sub: Out goes Spitse. In comes Everton forward Katja Snoeijs.
82 mins: So can the Netherlands open it up?
They once again play ahead looking for … say it together now … Beerensteyn. It's too far in front, and Coll collects.
GOAL! Spain 1-0 Netherlands (Caldentey 81 pen)
Caldentey takes one step. Then another. Then time passes. Species go extinct. Then she shuffles her feet, finally sends the keeper the wrong way, and clanks her shot off the inside of the post. She's surely relieved to see the bounce go in her favor.
Shocking from van der Gragt. Maybe that's just where her arm went, but it was clearly away from her torso. No doubt about this one.
78 mins: Whoa … Spain cross from the right, and van der Gragt blatantly reaches out a hand and swats it away. No whistle, but VAR is going to check to see if she was in the area.
And the answer is …
76 mins: Oh no. Codina plays the ball forward with no one around her, lands awkwardly and falls down on her backside. She's down for treatment. Then out. Ivana Andres comes in.
73 mins: More promising work from Spain, more disappointment. The ball gets to Caldentey at the top of the area, but she turns with all the speed and grace of a middle-aged journalist doing live commentary. She lays it off to the onrushing Abelleira, who puts a lot of power on her shot but places it … say it with me … straight to the keeper.
Attendance is just over 32,000, but we've heard again from Andrew Miller that there are far too many quiet Dutch fans in orange.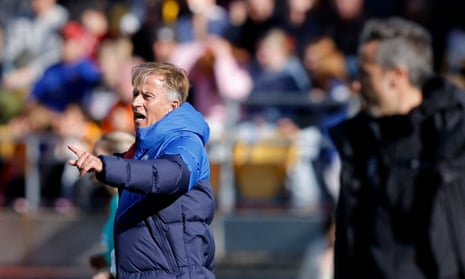 71 mins: 19-year-old Salma Paralluelo enters for Spain, replacing Redondo.
Beerensteyn again comes close to forcing a turnover at the back. How much longer can she keep this up?
69 mins: Just her second game for her national team, and Spanish goalkeeper Cata Coll is playing with something between poise and insanity. First, she comes out 45 yards or so to play the ball. Then she calmly plays with her feet just outside her own area, nearly turning it over.
Then a cross nearly finds Beerensteyn. Cleared, and then they try an aerial cross to Beerensteyn, but she's a couple of yards offside and realizes it.
68 mins: Corner kick to Spain. Then another.
Robert Speed writes: "Maybe the crowd atmosphere is poor because the game is rubbish? Maybe if both of the teams actually tried winning the game by….scoring more goals than their opponent? Radical I know. But this kind of Mexican standoff is far too accepted in soccer, particularly knockout matches."
I think this email came in before the non-penalty, to be fair. And Spain just had a nice ball into the area.
67 mins: Free kick to Spain – should I get a caffeinated soda now? Is this going to penalties?
65 mins: Back to that sub – Wilms has fewer minutes played in this Cup (2) than Roord has goals (4). But Roord has been invisible.
Penalty to the Netherlands … or not!
What on Earth was Paredes thinking? She's beaten by a through ball to Beerensteyn, but her keeper was safely clearing the ball, and the Spanish defender simply bundled down the Dutch attacker.
That was an easy, obvious call.
So, naturally, it's overturned by VAR.
I've figured out the problem with officiating in this World Cup. The TVs in the VAR booth are tuned to the wrong game.
61 mins: Substitution for the Netherlands, and it's Wilms shockingly in for Roord, but we have other news …
60 mins: Stoppage is over. No sub entered the game. Insert comment about Vlatko Andonovski here.
The crowd is awakening. Not sure what in the game is inspiring them at this point, but it's lovely to hear.
Yellow card to Egurrola for sliding through Abelleria's legs.
58 mins: The Netherlands play a through ball to … no one.
We have a sub coming. Egurrola is down after possibly taking a knee to the face, and Spitse goes for the old-school approach of playing the ball out to tend to an injured player.
56 mins: Spain try a through ball, but van Domselaar throws herself on it.
Jovana Josivljevic writes: "The glariness of a midday game is making me reconsider setting up my alarm for 2:55am Amsterdam time. It looks like I'm not the only one who was pulled out of bed to join the match — Roord and Martens look surprised to be on the pitch."
The direct approach also leaves them out of it. It'd be nice to see them change that.
Mary Waltz: "I have this premonition that Spain will continue to dominate, but at the death Netherlands will intercept, go long, the Spanish defender will have a Stevie G style tumble and the Dutch will score.1-0."
54 mins: Spain get a lot of touches in the penalty area, but none of them involve sending a spherical object toward a couple of posts and a bar, behind which a net sits.
51 mins: Hey, the Netherlands tried passing it to someone other than Beerensteyn! But it's too far ahead of Brugts.
We have a couple of comments on the crowd:
Barnaby Nicholls: "NZ crowds just aren't very demonstrative, it's a full house in Wellington so not really a question of people not taking time off work – polite applause just tends to be as far as we go. We'd probably consider more vocal passion to be obnoxious."
Andrew Miller: "It may not come across on TV but the stadium is not that far off full. Wellington region has only 400k people and has consistently pulled larger crowds than either Adelaide or Perth which have 1-2m people. The lack of atmosphere is because most supporters are Dutch and they've had little to cheer about. There's been excllent atmosphere for other matches."
And a defense of netball from Penelope Collier: "Enough of the snide comments about netball, which is a popular sport played by so many women and girls. Australia just won the World Cup in that. New Zealand came fourth…"
I am confident that both teams could beat the US.
50 mins: Hermoso holds it … holds it …. HOLDS IT! Then back. Gonzalez winds up laying it off for Mariona, who gets a lot of power on her 20-yard shot but puts it too close to the keeper.
49 mins: Too many passes in that Spanish attack. But they win it back and earn their second corner.
47 mins: Beerensteyn is down, and action stops for a bit. But she remains in the game. She is quite literally the only Dutch player attacking, even with Lieke Martens and Jill Roord on the field.
Enjoying the Guardian's coverage of the Women's World Cup? This action-packed, up-to-the-minute live blog is only possible thanks to funding from our fans all around the world. We don't have a paywall, so everything we publish is open and free for everyone. Unlike so many others, the Guardian is fiercely independent – meaning we don't have a billionaire owner who can censor us.
Fund quality sports journalism from the Guardian today from as little as $1. It takes less than a minute but makes a huge difference.
46 mins: Ohhhhh, that's close from Gonzalez. Maybe 20 yards out, diagonal shot, and it misses the post by a couple of inches.
Kickoff: No subs. Have we mentioned that Spain have the back-to-back Ballon d'Or winner on the bench?
Stats, or why the US women's performance was alarming …
Remember when the Netherlands were able to play keepaway against the US through the first 60 minutes or so?
Today …
Shots: Spain 11, Netherlands 0
Passes completed: Spain 259, Netherlands 182
Mailbag
There's an objection to the depiction of New Zealand's prime minister. I vaguely recall that their Covid response was better than most, but I'm in the US, so I envy everyone.
Joe Pearson is listening to a Dutch radio feed. He doesn't speak the language.
Murray Henman, writing from Brisbane (where he IS taking time off from work): "Re your comment at the 14th minute I'm watching on tv and I can hear the crowd. Not exactly deafening though."
Kate Blackhurt, writing from Australia: "Having lived in New Zealand for 15 years, my experience is that Kiwis are more than happy to take time off work for something they care about – rugby; skiing; netball; sailing etc. Football doesn't really cut it there, sadly."
Netball? NETBALL? I mean, it's mentioned in a Flight of the Conchords song, but still …
Michael Connolly from a location we won't divulge: "Not skipping work exactly, merely cyber-slacking in my office, pretending to be working on a report."
Jacob Murray-White says he checked some of the top Spanish news sites and found no prominent mentions of the game. Maybe they'll notice if they can win this one?
My favorite of Peter Oh's notes so far: "I admire the Dutch gaffer's apparent serenity. He looks like he's contemplating a Vermeer, not presiding over a do-or-die World Cup knockout match."
So who's the most likely scorer? I might go with Lineth Beerensteyn of the Netherlands. She has come awfully close to breaking into space.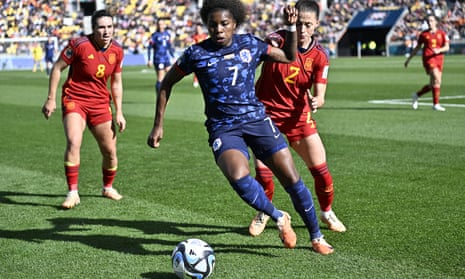 Halftime: Spain 0-0 Netherlands
Disappointing on many fronts. The stadium does indeed have some fans present, but they just don't seem into it, only perking up a bit on the occasions that Spain hit the post or put it in the net. The Dutch aren't making any serious effort to possess the ball, and the Spanish left their shooting boots behind after the Switzerland game.
45 mins +3: Beautiful overlapping on the left for Spain, and it ends up with Gonzalez, who tries to bull her way through a thicket of Dutch defenders.
45 mins +1: Beerensteyn gets it on the right and works down toward the end line. Her cutback attempt is blocked, but she gets it and crosses … never mind, the flag is up.
On the replay, that call looks questionable. But I'm sure the international feed will show us some animated graphic showing a point on her armpit was a millimeter ahead of the defender's waist or something.
45 mins: We'll have four minutes of stoppage time.
Summarize this content to 100 words Key eventsShow key events onlyPlease turn on JavaScript to use this featureEnd first half of stoppage time: Spain 1-1 NetherlandsSimon McRae writes: "Netball is awesome – give it a whirl sometime."I wouldn't know where to find a place to play. It has a lower profile in the US than handball. Wouldn't a US handball league be awesome? When I covered the Iceland men's handball team in 2008, some of them said they'd enjoy playing in the US.Sub: van der Gragt, who conceded a needless penalty at one end and scored a wonderful goal at the other, is out. If the Netherlands can't pull this out, that's the end of her outstanding career. Kerstin Casparij of Manchester City is in.105 mins (+2): Navarro, who has been a lively sub, gets fouled deep in the Dutch half by … Beerensteyns? How much energy does she have?Nothing comes of it, and we've finished the first half of stoppage time. Putellas is talking with the ref for some reason.105 mins: We'll have two minutes of stoppage time for some reason. We did have one injury, but that seems double what we need.Spain win a corner kick and maintain possession for a bit, but Putellas is easily dispossessed with simple shoulder charge.104 mins: Putellas tries to rip a shot from 25 yards out, but it's blocked at close range. That might hurt.Dutch counter – as always, up to Beerensteyn – and Coll plays it a solid 35 yards from her own goal. Is this a youngster making her second appearance for the national team, or is it Manuel Neuer?102 mins: The Netherlands try a long ball, but it's easily cut out. Spain works back up the field, and in the end it's a SAVE on a header by the excellent Hermoso.Peter Oh writes: "The Dutch haven't been convincing overall, but you have to give them credit for slotting a defender in up top and snatching a crucial goal. That took some creativity and guts. I don't think Big Sam Allardyce (Hi Mary Waltz!) would send Harry Maguire up front and expect him to latch onto a throughball and finish."99 mins: Caldentey and Gonzalez are out, with Putellas and Navarro in. Navarro is one of the few Spanish players who play for neither Barcelona nor Real Madrid. She's with Atlético Madrid.98 mins: Spain prepare a sub. Would they really let this game play out and possibly depart the World Cup without playing a two-time Ballon d'Or winner?The answer is no. Alexia Putellas is coming in.95 mins: The roles have reversed. The Dutch are possessing. Spain are trying to counter. And the Netherlands keep pushing defenders up the field – in this case, Janssen is all the up on the left to cross it, and it doesn't miss by much – so they may be vulnerable.Egurrola, who has had a lively match, is down hurt. Or possibly cramped. It's not hot out there, to say the least, but they've been running a long time.They decide to make the sub. Dijkstra goes in for her second appearance of the Cup.92 mins: How many miles has Beerensteyn covered today? Another good run to meet up with a through ball, and she lays it back for a shot. Turns out she was offside, but we have to marvel at what the English call "work rate."Van der Gragt, incidentally, is retiring after this World Cup. The handball was nearly her last meaningful play in soccer. Looks like she may have penned a better ending.91 mins: Spain make a defensive sub, with Olga Carmona replacing Hernandez. Carmona actually started the game against Japan as the captain but was pulled at halftime and didn't play against Switzerland.Updated at 23.09 EDTEnd of regulation time: Spain 1-1 NetherlandsYes, Spain have had the better of play. But the Netherlands' direct play posed some serious challenges throughout, and we saw a penalty kick awarded and then inexplicably overturned. This is a just scoreline after 90.Hey, does anyone know that Spain have the two-time defending Ballon d'Or winner on their bench? Maybe they were thinking of resting Alexia Putellas once they took the lead, but now that the situation has changed, will we see her in the game? They could use a finisher.Updated at 23.08 EDT90 mins +11: Nope, nope, silly me – Coll conceded one goal against Switzerland. But that's the first one scored by an opponent. Check her stats.I don't think she had a chance on that goal, though.The Netherlands get some possession in the attacking half, but … that's it.90 mins +10: Direct ball to Beerensteyn, who manages to back into Andres and keep backing up, keep backing up, until Andres is finally called for a foul.I'll go back and check, but I think that Dutch goal is the first that Coll has conceded as an international or as a professional.90 mins +8: Spain resume the possession play we were lauding. They're making the Dutch midfielders chase, which must be brutal this late in the game.90 mins +6: Before all that, a couple of people wrote in to complain about the complaints about the game. To be sure, Spain is playing possession soccer very well. But their finishing has been poor.Since the goal, the Netherlands look the more likely side to score.GOAL! Spain 1-1 Netherlands (van der Gragt 90+1)How? Van der Graft slides into the No 9 slot, and Pelova plays a pitch-perfect through ball while the Spanish defense appears to have a brain freeze. You'd never guess van der Gragt plays at the back from the way she finished that to the far post. Perfect.And redemption for conceding the penalty.There is, of course, a check for offside. It's not close. A defender elsewhere on the line kept the tall defender in a nice and legal position.Game on!Stefanie van der Gragt shoots and scores. Photograph: Molly Darlington/ReutersUpdated at 22.55 EDT90 mins: Beerensteyn goes 1v2, and she wins that battle. Then her shot is a mile wide.Sam Tidey has an explanation for the crowd: "As someone in the crowd who is surrounded by glum Americans who assumed they'd have a team to cheer for I think that accounts for how subdued we are."They've been livelier in the last few minutes.TWELVE MINUTES of stoppage time coming.88 mins: Wilms fights and fights for the ball. She forces the Spanish defense into some awkward moments.Nouwen replaces … Brugts? Really?87 mins: Another sub, with Guerrero replacing Bonmati for Spain.I really want Putellas to come in, if for no other reason than to make Fox acknowledge her existence.Speculative shot from the Netherlands, giving Coll a chance to give the ball a rest.86 mins: CHANCE for the Netherlands, as Beerensteyn just figures she'll do it on her own, picking up the ball near midfield and racing the retreating Spanish defense. She shoots meekly in the end. She had teammates open. She's disappointed.83 mins: The world feed cuts back to the action just in time to show a ball floating toward the Dutch goal. Turns out to have been a quickly taken Spanish free kick, cheekily aimed at chipping van Domselaar.Sub: Out goes Spitse. In comes Everton forward Katja Snoeijs.82 mins: So can the Netherlands open it up?They once again play ahead looking for … say it together now … Beerensteyn. It's too far in front, and Coll collects.GOAL! Spain 1-0 Netherlands (Caldentey 81 pen)Caldentey takes one step. Then another. Then time passes. Species go extinct. Then she shuffles her feet, finally sends the keeper the wrong way, and clanks her shot off the inside of the post. She's surely relieved to see the bounce go in her favor.Penalty to Spain!Shocking from van der Gragt. Maybe that's just where her arm went, but it was clearly away from her torso. No doubt about this one.78 mins: Whoa … Spain cross from the right, and van der Gragt blatantly reaches out a hand and swats it away. No whistle, but VAR is going to check to see if she was in the area.And the answer is …76 mins: Oh no. Codina plays the ball forward with no one around her, lands awkwardly and falls down on her backside. She's down for treatment. Then out. Ivana Andres comes in.73 mins: More promising work from Spain, more disappointment. The ball gets to Caldentey at the top of the area, but she turns with all the speed and grace of a middle-aged journalist doing…
https://www.theguardian.com/football/live/2023/aug/10/spain-v-netherlands-womens-world-cup-2023-quarter-final-live Spain v Netherlands: Women's World Cup 2023 quarter-final goes to extra-time – live | Women's World Cup 2023