USA
Sweden v USA: extra-time in Women's World Cup 2023 last 16 – live | Women's World Cup 2023
Key events
96 min: Some good build-up play from the US and Sullivan crosses but it's got too much on it for Smith to capitalise.
94 min: Sweden look the brighter at the moment, Jakobsson crosses in again but it's cleared. The ball comes in again, Hurtig leaps for it and clashes with Naeher, Hurtig wants a foul but it's not given.
92 min: Jakobsson crosses in but it's cleared, the US peel away but Williams' long range pass is straight at Musovic.
Extra time kick off! Sweden 0-0 USA
We are off again! Will a winner be found? Or will we have penalties? We will soon find out!
Mary has got in touch and said: "If the USWNT was playing on a computer simulation the "talent on paper" line would make sense. So far, in this journey, whatever their individual talent is means nothing. It is about tactics, and teamwork, and they have shown little of either so far. They might be able to turns things around, they have shown some skills in this half, but the US juggernaut of the past has not appeared so far. Hoping we can pull this out but I am not betting on it." Something to note also though is that other teams have also improved. The US capable of winning this game and look more likely to find a winner.
Full time! Sweden 0-0 USA
And so we go to extra time! The US definitely the stronger team throughout this match but they haven't converted with Musovic making some monster saves.
90 + 1 min: Williams pops it in and finds Morgan's head again but Musovic collects. There will be two minutes added.
90 min: MUSOVIC! Another fantastic save from the keeper – Morgan has a bullet of a header but she punches away. Wow!
89 min: Andersson's delivery is good but Naeher again punches away – the keeper has dealt with these corners so well – and Sweden can't convert the rebound.
88 min: Can anyone find a normal time winner? Horan tries to find it with a great ball but no one makes a run to connect with it. Sweden now with the throw in and they win a corner! This could be it.
86 min: Fox's pass is cut out by Ilestedt and it's a poor pass to Hurtig which sees US intercept and counter. They thread the ball to Morgan, whose shot it off target – she was offside regardless. Jakobsson gets the ball in the box and what a hit! It has so much power but Naeher does well to stop it.
84 min: Asllani surely would have been a penalty taker for Sweden, if we get to that, and so the replacement is interesting. The game has stalled a little at the moment.
82 min: Girma passes a great ball to Smith but Musovic collects the shot. Sweden on the attack now but Blackstenius is crowded in the box and her shot is blocked. Sweden make two changes with Kaneryd and Asllani are off for Hurtig and Jakobsson.
80 min: Williams with a great run again, the sub has been good since coming on. She does lose out as she is about to cross and Rolfo can clear. Blackstenius has her hands in the air as she thinks Ertz held her but the referee doesn't give anything.
78 min: Boos come again as Girma wins a throw in, Sweden thought that was theirs. Dunn then sees it out for a goal kick.
76 min: Sweden have some great play but Kaneryd's cross only finds a US boot. The US then create some attack, Williams with a great run but Sonnett's shot is over the bar.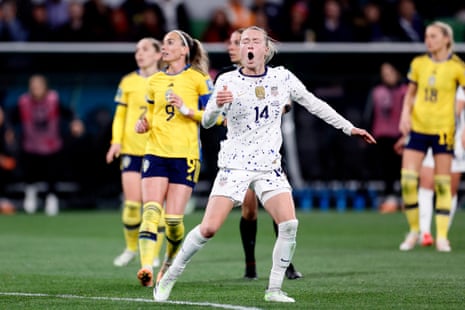 74 min: Williams makes a great run and a cross, a great delivery but no one is there to turn it goalward. Williams comes again, a lovely link up with Morgan but Ilestedt clears – a great intervention from the defender.
72 min: Angeldahl wins a free kick on halfway but Sweden have players forward here. They pop it into the box, they win the first header but Fox clears. Sweden want a free kick on the edge of the box but it isn't given. Dunn does really well to win it back.
70 min: She is okay to continue – good news as she's been an asset to this game.
69 min: Horan is down injured here, Angeldahl's studs clipped her knee. This is a player the US will want back up.
68 min: Asllani is over the ball, it's a great delivery but Naeher watches it all the way and collects – really good from the keeper.
67 min: Angeldahl wins a free kick after a foul from Morgan – a good spot for Sweden to launch an attack.
66 min: Sweden with some build-up play but Girma does well to clear a chance and to not concede a corner. The US are making a change, Rodman is off for Williams – I'm a bit shocked as Rodman has played well.
64 min: Morgan gets a cross in but Eriksson clears, it feels a matter of time until the US score. MUSOVIC! Smith gets into the box and the keeper matches her, Smith's touch was heavy but again the keeper does well – Sweden's best player.
62 min: Okay Sweden, threading some nice passes together. But Angeldahl's shot outside the box is blocked. Asllani tries to thread it in but Girma reads it perfectly to clear. Boos rain down as Blackstenius was fouled by Ertz and a free kick wasn't given.
60 min: It's still all the US, I'm trying to find something to say about Sweden but all they are doing is defending – the US all over them. Fox has the latest cross but it hits the side netting.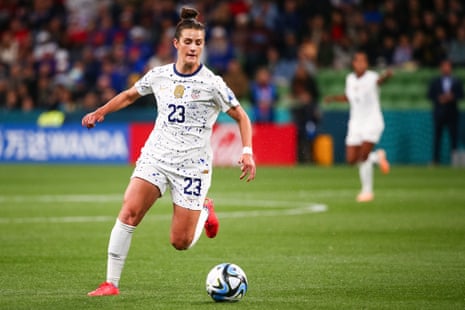 58 min: Horan screams in frustration as another shot is wide. The US are able to undo the Swedish midfield so easily at the moment.
56 min: Rolfo gets the ball in but Asllani can't get a head to it. Bjorn pops it in but Naeher reads it well and collects.
55 min: It is whipped in again and it's Musovic to the rescue again as she punches clear. The US double down on the pressure but the keeper does enough to keep it out. Huge from Musovic.
54 min: WHAT A SAVE!! Musovic take a bow, Horan has a delightful shot but the Chelsea keeper reads it so well and sees it out for a corner.
53 min: Sullivan whips the ball in but Musovic punches away but the US keep crossing in, Sweden doing enough so far to keep them out.
52 min: Rodman, who looks so good every time she is on the ball, gets in the box and Andersson has to concede a corner to stop her.
52 min: Rolfo does well to muscle Horan off the ball and draw a foul. They thread the ball through but Kaneryd's pass has too much on it. Blackstenius pressures Naeher as she clears – the Arsenal player has hardly been in this match.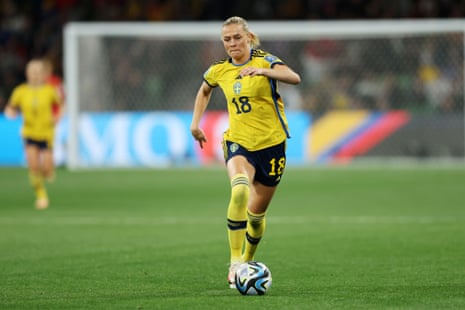 50 min: Despite Sweden's lack of attack, Kari thinks they will get a winner, he said: "Sweden got into good crossing positions several times during but the cross was either wayward or the chance got lost in hesitation. Surely players of the quality of Asllani, Rolfo and Kaneryd will eventually get a cross to Blackstenius, and she doesn't need many chances." Ertz is fouled by Asllani and the US can clear. Asllani receives a yellow card.
48 min: A long pass just goes to Naeher, no pressure from Sweden yet. Angeldahl tries to find Kaneryd but it's out of play.
47 min: Very scrappy in the early stages of this second half, possession exchanging hands quickly. Sweden with the ball now.
Back underway! Sweden 0-0 USA
This game is into it's second half, we could be heading to extra time!
Have a read of this before the second half:
Sweden only had three touches in the US' box in that first half! Can you see either team getting a normal time winner?
Iggy has got in touch and had their say on why the US weren't affective in the group stage: "The United States squad has been poor in the group phase. It honestly looked like youth soccer tactically in that 3rd group stage game. They had a strong team for years, based largely on their athleticism as the rest of the world hadn't yet caught up by investing the resources in youth academies. I feel a number of the now classic top teams that are struggling are in various forms of this kind of rebuild as you cannot cut it now on pure athleticism. The other difficulty with the US squad is the coaching, the tactical plan sees far too many straight forward low-percentage shots. The substitutions have been quite puzzling such as bringing on ineffectual veterans and not using the massive depth of youth this squad has to offer."
An update from the England camp! Sarina Wiegman has said Keira Walsh is available for their last 16 match: "She's doing well. She started her rehab straight after we knew what was going on. She has been on the pitch training today, so now we will wait to see how she recovers and if she does well then she will be available for tomorrow."
Half time! Sweden 0-0 USA
The US have been the better side in this first 45 with Horan's header the closest shot. But they have not converted their chances and the deadlock remains.
45 + 1 min: Andersson receives some treatment, I think she is okay to continue. There is two minutes added.
45 min: Morgan has too much on her pass and it's straight through to Musovic. Andersson is down after being hit in the face on the build-up to that chance.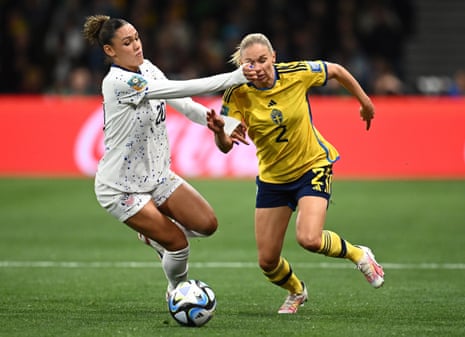 44 min: Smith plays the corner short and it eventually comes into the box, Musovic does well to deny Morgan and the US doesn't get on the rebound.
42 min: Rodman and Horan link, Horan pops it in but Eriksson heads it out for a corner.
41 min: Dunn makes a great run and the US must see a weakness in Sweden with a long ball forward as they play it again but Dunn can't keep it in.
39 min: Smith plays it short and it looks like a move from the training ground but it's cleared, they get it back into the box but they are offside. Sweden have not had an attack in a long time, they need to create something or the momentum will belong to the US.
38 min: The US are relentless right now, Rodman gets in the box but it's out for a corner.
38 min: Musovic reads a play well to come out of goal to collect a ball heading for Girma.
36 min: Musovic looks in pain after reaching for the ball from Horan, she grimaced as she kicked the ball away – she would be a huge miss if she has to go off but she is okay to continue for now.
35 min: OH MY! That was so close, the ball is whipped to Horan, she gets a head to it but it smacks the bar! Musovic would have been there if it was on target, best chance so far.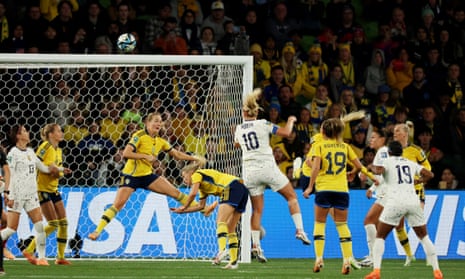 34 min: Rolfo stays on the ground for a moment after a tackle, no foul given and she is back to her feet. Smith tries to find Morgan but Sweden manage to muscle them off the ball – it's such a cagey game so far with both teams able to see how good both are on the break. Rodman – who is having a great match – wins a corner.
32 min: Eriksson does really well to head a ball away in the box which was destined for Horan, that would have been a great chance.
30 min: An absolutely lovely link up with Rodman sees her have another shot but it is way over the bar. Angeldahl again gives a ball away and Smith is played in the box, she does so well to keep it alive but she's boxed out. Sweden now counter but Blackstenius can't get a shot away. Henry has emailed and said: "It seems unfair to compare them to the wonderfully cohesive Japanese team….but the difference between them and the US in terms of cohesion and coaching is stark. The Americans show little cohesion either on the counter, or when simply trying to keep possession. Given the overall level of the Americans, surely that has to be a coaching problem more than anything?" The team is also in transition but Vlatko is under a lot of pressure.
28 min: Angeldahl with an awful pass and the US can attack here, Rodman rallies a great shot but Musovic pushes away – the US can't do anything with the rebound.
Summarize this content to 100 words Key eventsShow key events onlyPlease turn on JavaScript to use this feature96 min: Some good build-up play from the US and Sullivan crosses but it's got too much on it for Smith to capitalise.94 min: Sweden look the brighter at the moment, Jakobsson crosses in again but it's cleared. The ball comes in again, Hurtig leaps for it and clashes with Naeher, Hurtig wants a foul but it's not given.92 min: Jakobsson crosses in but it's cleared, the US peel away but Williams' long range pass is straight at Musovic.Extra time kick off! Sweden 0-0 USAWe are off again! Will a winner be found? Or will we have penalties? We will soon find out!Mary has got in touch and said: "If the USWNT was playing on a computer simulation the "talent on paper" line would make sense. So far, in this journey, whatever their individual talent is means nothing. It is about tactics, and teamwork, and they have shown little of either so far. They might be able to turns things around, they have shown some skills in this half, but the US juggernaut of the past has not appeared so far. Hoping we can pull this out but I am not betting on it." Something to note also though is that other teams have also improved. The US capable of winning this game and look more likely to find a winner.Full time! Sweden 0-0 USAAnd so we go to extra time! The US definitely the stronger team throughout this match but they haven't converted with Musovic making some monster saves.90 + 1 min: Williams pops it in and finds Morgan's head again but Musovic collects. There will be two minutes added.90 min: MUSOVIC! Another fantastic save from the keeper – Morgan has a bullet of a header but she punches away. Wow!Zecira Musovic makes a save from Alex Morgan. Photograph: Hannah McKay/ReutersUpdated at 06.54 EDT89 min: Andersson's delivery is good but Naeher again punches away – the keeper has dealt with these corners so well – and Sweden can't convert the rebound.88 min: Can anyone find a normal time winner? Horan tries to find it with a great ball but no one makes a run to connect with it. Sweden now with the throw in and they win a corner! This could be it.86 min: Fox's pass is cut out by Ilestedt and it's a poor pass to Hurtig which sees US intercept and counter. They thread the ball to Morgan, whose shot it off target – she was offside regardless. Jakobsson gets the ball in the box and what a hit! It has so much power but Naeher does well to stop it.84 min: Asllani surely would have been a penalty taker for Sweden, if we get to that, and so the replacement is interesting. The game has stalled a little at the moment.82 min: Girma passes a great ball to Smith but Musovic collects the shot. Sweden on the attack now but Blackstenius is crowded in the box and her shot is blocked. Sweden make two changes with Kaneryd and Asllani are off for Hurtig and Jakobsson.80 min: Williams with a great run again, the sub has been good since coming on. She does lose out as she is about to cross and Rolfo can clear. Blackstenius has her hands in the air as she thinks Ertz held her but the referee doesn't give anything.78 min: Boos come again as Girma wins a throw in, Sweden thought that was theirs. Dunn then sees it out for a goal kick.76 min: Sweden have some great play but Kaneryd's cross only finds a US boot. The US then create some attack, Williams with a great run but Sonnett's shot is over the bar.Frustration for Emily Sonnett. Photograph: Carmen Mandato/USSF/Getty Images for USSFUpdated at 06.54 EDT74 min: Williams makes a great run and a cross, a great delivery but no one is there to turn it goalward. Williams comes again, a lovely link up with Morgan but Ilestedt clears – a great intervention from the defender.72 min: Angeldahl wins a free kick on halfway but Sweden have players forward here. They pop it into the box, they win the first header but Fox clears. Sweden want a free kick on the edge of the box but it isn't given. Dunn does really well to win it back.70 min: She is okay to continue – good news as she's been an asset to this game.69 min: Horan is down injured here, Angeldahl's studs clipped her knee. This is a player the US will want back up.68 min: Asllani is over the ball, it's a great delivery but Naeher watches it all the way and collects – really good from the keeper.67 min: Angeldahl wins a free kick after a foul from Morgan – a good spot for Sweden to launch an attack.66 min: Sweden with some build-up play but Girma does well to clear a chance and to not concede a corner. The US are making a change, Rodman is off for Williams – I'm a bit shocked as Rodman has played well.64 min: Morgan gets a cross in but Eriksson clears, it feels a matter of time until the US score. MUSOVIC! Smith gets into the box and the keeper matches her, Smith's touch was heavy but again the keeper does well – Sweden's best player.62 min: Okay Sweden, threading some nice passes together. But Angeldahl's shot outside the box is blocked. Asllani tries to thread it in but Girma reads it perfectly to clear. Boos rain down as Blackstenius was fouled by Ertz and a free kick wasn't given.60 min: It's still all the US, I'm trying to find something to say about Sweden but all they are doing is defending – the US all over them. Fox has the latest cross but it hits the side netting.Emily Fox of the USA. Photograph: Dave Hewison/Speed Media/ShutterstockUpdated at 06.20 EDT58 min: Horan screams in frustration as another shot is wide. The US are able to undo the Swedish midfield so easily at the moment.56 min: Rolfo gets the ball in but Asllani can't get a head to it. Bjorn pops it in but Naeher reads it well and collects.Updated at 06.14 EDT55 min: It is whipped in again and it's Musovic to the rescue again as she punches clear. The US double down on the pressure but the keeper does enough to keep it out. Huge from Musovic.54 min: WHAT A SAVE!! Musovic take a bow, Horan has a delightful shot but the Chelsea keeper reads it so well and sees it out for a corner.53 min: Sullivan whips the ball in but Musovic punches away but the US keep crossing in, Sweden doing enough so far to keep them out.52 min: Rodman, who looks so good every time she is on the ball, gets in the box and Andersson has to concede a corner to stop her.52 min: Rolfo does well to muscle Horan off the ball and draw a foul. They thread the ball through but Kaneryd's pass has too much on it. Blackstenius pressures Naeher as she clears – the Arsenal player has hardly been in this match.Fridolina Rolfo controls the ball. Photograph: Robert Cianflone/Getty ImagesUpdated at 06.20 EDT50 min: Despite Sweden's lack of attack, Kari thinks they will get a winner, he said: "Sweden got into good crossing positions several times during but the cross was either wayward or the chance got lost in hesitation. Surely players of the quality of Asllani, Rolfo and Kaneryd will eventually get a cross to Blackstenius, and she doesn't need many chances." Ertz is fouled by Asllani and the US can clear. Asllani receives a yellow card.48 min: A long pass just goes to Naeher, no pressure from Sweden yet. Angeldahl tries to find Kaneryd but it's out of play.47 min: Very scrappy in the early stages of this second half, possession exchanging hands quickly. Sweden with the ball now.Back underway! Sweden 0-0 USAThis game is into it's second half, we could be heading to extra time!Have a read of this before the second half:Sweden only had three touches in the US' box in that first half! Can you see either team getting a normal time winner?Iggy has got in touch and had their say on why the US weren't affective in the group stage: "The United States squad…
https://www.theguardian.com/football/live/2023/aug/06/sweden-usa-womens-world-cup-2023-last-16-live Sweden v USA: extra-time in Women's World Cup 2023 last 16 – live | Women's World Cup 2023