USA
The Masters 2023: Koepka leads by two with third round to come – live | The Masters
Key events
Jon Rahm speaks to Sky. "I did a good job to maintain the score I had yesterday … birdie on 13 today was a huge start … it's not playing easy whatsoever … let's hope the weather gets better this afternoon … I'm excited, looking forward to it … let's hope I can continue the good play … I have a really good chance."
No official news yet of how the third round will be played. A fair chance it'll be three-balls with a two-tee start, though. And while the rain continues to bucket down, there is some hope, with satellite images suggesting the worst of the weather may head off to the north-east sooner rather than later. No promises, but fingers crossed. News of the third-round tee times when we have it.
The second round concludes
-12: Koepka
-10: Rahm
-8: Bennett (a)
-6: Morikawa, Hovland
-5: Day, Burns, Spieth, Young
-4: Woodland, Mickelson, Niemann, Rose, Henley, Lowry
-3: KH Lee, Fox, Reed, Matsuyama
-2: English, Fitzpatrick, T Kim, Bradley, Schauffele, Scott, Cantlay, Smith
-1: Straka, Varner III, D Johnson, Scheffler, Fleetwood, Finau, Theegala, Ancer
Hideki Matsuyama pulls his putt a tad, and it lips out. A bogey five to finish for the 2021 champion, and that's a 70. He goes into Moving Round at -3. Cam Smith rolls his bogey putt into the centre of the cup, and he signs for a level-par 72. He's -2. Then finally Im Sung-jae makes the putt he needs to make to ensure his weekend participation. Par, and while he's signing for a 76, having come home in 39 this morning, everything's relative and he walks off smiling. He's +3.
One of the shots of the week from the 2020 runner-up Im Sung-jae. He requires par at the last to make the cut, and is short of the green in two. From 40 yards, he lobs over the bunker, and over the flag, spinning his ball back to five feet. That's followed by an equally fine wedge from Cam Smith, who will now have a good chance of making his bogey. Then the trilogy is completed by Hideki Matsuyama, who chips from the front to eight feet and will have chance of salvaging par. Three big putts coming up!
It's Cameron Smith's turn for bother down 18. He hooks his drive into the trees down the left, and is forced to punch out. His third, a larruped 3-wood, doesn't even reach the bunker guarding the front of the green … so if you want an illustration of how much longer Augusta National is playing in this incessant rain, there it is! He'll need to get up and down just to limit the damage to bogey.
Cameron Young finds 18 in regulation, and despite leaving his first putt well short, salvages par from eight feet. That's a big putt coming off the back of double bogey at 17, and he signs for a 72 that keeps him in the hunt at -5. Meanwhile Jon Rahm can't make his long par saver, and it's a bogey to end a street-fighting 69 which saw him start slowly but steadily, burst into life mid-round, then finish erratically. At -10, he's two off Brooks Koepka's lead.
Justin Thomas won't be here this weekend. His par putt is always staying high on the right, and the bogey drops him below the cut line at +4. A look of pained disbelief on his face. His caddie throws a consoling arm around his shoulder. This morning's performance will take a while to process. He's played the last seven-and-a-half holes today in six over par. A 78, and the stunned PGA champion is going home.
Jon Rahm wedges over the shelf running across the middle of 18 … but only just, and his ball turns back down the slope, leaving a 40-foot par putt. Meanwhile Thomas chips up onto the green from the left, but his ball bites and leaves a ten-footer he'll need to make if he's to stay around. Back on 17, bogey for Im Sung-jae and he drops to +3, almost guaranteeing the cut stays out there.
JT's in trouble here. He cracks a drive down the middle of 18, but the rain is relentless and the hole is a monster now. He whips a fairway wood from 220 yards. It sails wide left, nearly landing in the gallery. He'll need to get up and down here if he's to play for the rest of the weekend. Meanwhile Jon Rahm opts to hit an iron into the green, and can't reach. A chip and a putt to stay within one of the lead. He may opt to putt from off the green, like he did on 13 and 17 … but water is collecting in patches on the putting surface, so it may not be the percentage play.
Justin Thomas chips elegantly up to eight feet … but can't make the par saver. Tiger breathes a huge sigh of relief. JT's bogey means the projected cut moves to +3. Great news not only for Woods, but also Charl Schwartzel, Billy Horschel, Scott Stallings and Thomas Pieters … but it's a nervous one now for Thomas, who at +3 has to par 18 to survive. No ifs, no buts … and it's absolutely hosing down now, which means the 18th plays long, long, long.
Patrick Cantlay pars 18 and signs for his second 71 of the week. He's -2 going into Moving Round. Meanwhile some bother for Cameron Young on 17, or more literally 15, which is where he's sent his second shot, after slicing a drive into the trees. His third finds the green on the hole he's actually playing, but spins back off it and he doesn't get particularly close with his chip. Two putts later and that's a costly double that crashes him down to -5. But in the meantime, Jon Rahm, who had pulled his second just to the left of the green, hits a hot putt from the fringe that smacks flush into the flagstick and drops for birdie! Had that not hit the hole, it was heading ten feet past at least! Just one in it again!
-12: Koepka (F)
-11: Rahm (17)
-8: Bennett -a- (F)
-6: Morikawa (F), Hovland (F)
-5: Day (F), Burns (F), Spieth (F), Young (17)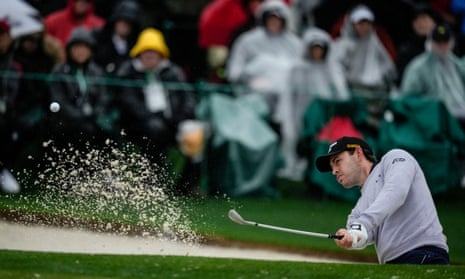 JT can only whistle a low hook out of the trees on 17, trundling his ball up towards the green. He'll need to get up and down from 50 yards for par, and Tiger's hopes rise. Meanwhile back on 16, Cam Smith leaves himself a monster putt from Jon Rahm Country, but unlike Rahm lags his almost to gimme distance. He remains at -3, and looks up for the fight. And the 2021 champion Hideki Matsuyama is on a roll, following up birdie at 13 by sending his tee shot at 16 over the flag and rolling in the straight five-footer for another bird. He's -4.
A closing bogey for Xander Schauffele. He's punished for pulling his second miles left of the green, and finishes with a 74. All the damage done yesterday afternoon. He's -2 overall. Par for Viktor Hovland, and he signs for a slightly disappointing 73. He's -6 overall. And two calm putts for Tiger means bogey, and at +3 he's currently just outside the cutline. But it'll only take one more player to drop to +3 to ensure his participation … and Justin Thomas, currently +2, has just driven into the trees down the left of 17. Stay tuned! No flipping!
The reigning Open champion Cam Smith is trotting along nicely. Birdie at 14 is followed by an elegant wedge into 15, his ball landing six feet past the hole and gently screwing back to three feet. In goes that putt, and he moves up to -3. Not out of this, not by a long chalk. Meanwhile on 16, Jon Rahm putts from downtown to four feet, only to miss the par saver; he slips back to -10, his first dropped shot since that four-putt fiasco at 1 on Thursday.
Tiger's in the centre of the 18th fairway… but having found the trees on the left with his tee shot, there in two. He's at +2, right on the projected cut line. It's possible that +3 will be enough, but he can't bank on it. And here's what's on the line here: Tiger Woods has made 22 consecutive cuts at the Masters, since 1997. If he makes a 23rd, he equals a record set by Gary Player between 1959 and 1982, and Fred Couples between 1983 and 2007. He wedges pin high, but the backspin takes his ball 40 feet away from the hole. Two putts and he's probably here for the rest of the weekend … but at +3, will require one more player to drop down to move the cut to that mark. A tournament within a tournament.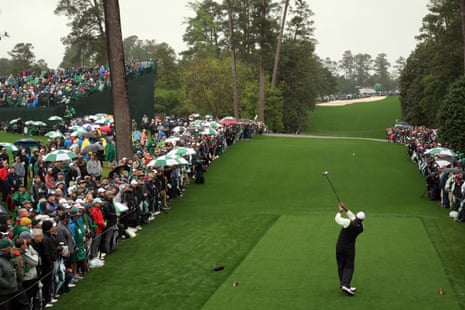 Jon Rahm closes in on Brooks Koepka. He lays up on 15 and wedges to four feet. In goes the putt, and the birdie brings him to within a stroke. But his tee shot on 16 holds up in the cold, swirling air and with the pin back right, he'll face a long two putts to save his par.
-12: Koepka (F)
-11: Rahm (15)
-8: Bennett -a- (F)
-7: Young (15)
-6: Morikawa (F), Hovland (17)
A wild drive at 17 puts Tiger's weekend participation in danger. From the trees on the right, he manufactures his second up towards the green, but sends his wedge over the flag, only just holding the fringe at the back. He can't make the long par saver, and slips to +2. Also in trouble: Justin Thomas, who lays up at 15, then nearly slam dunks his approach into the cup for eagle. But his ball spins back, very nearly toppling into the drink. It stops short, but from 50 feet, he three putts, and suddenly that's a bogey that drops him to +2. A couple of big names on the brink, then, needing to par their way home to make certain of surviving the cut. However, the numbers are volatile, and it could be that both survive if they bogey, as they'd bring in all the +3s on the top-50 rule.
Seamus Power can't salvage his par. But he makes bogey, and signs for a 73. At +1, he'll be here for the business end. The two-time champion Bubba Watson won't be around, though. A 76 to go alongside his opening round of 77, and he departs at +9. Meanwhile back-to-back birdies for Patrick Cantlay, at 15 and 16, the latter reward for a glorious arrow straight at the flag, and suddenly one of the pre-tournament favourites announces himself at -2.
Shane Lowry finishes with a level-par 72. The 2019 Open champion remains at -4 as he heads towards Moving Round. Hopes of matching or bettering last year's third-place finish still very much alive. His compatriot Seamus Power should make the cut, meanwhile; he's in the group behind, and sends his second into the bunker to the right of the green. He's currently level par, so he's got three shots to get down to be certain. Although whatever happens, he'll be heading home at some point with a suitcase brimful of crystal, after those sensational back-to-back holes-in-one at the par-three contest.
Bounceback birdie for Cameron Young! He makes it in some style, sending his second from 150 yards into the heart of the green, allowing the tilt to entice his ball along a gentle left-to-right curve, stopping three feet from the hole. He's back to -7. Pars meanwhile for his playing partners Justin Thomas (+1) and Jon Rahm (-10).
A poor end to Sahith Theegala's round. A bogey-bogey finish. He signs for an ultimately disappointing 70 and slips back down the standings to -1. Meanwhile the 2018 champion Patrick Reed also bogeys 18, also back in the hutch with a 70, but a couple of shots better off at -3.
Second round, 2013, and Tiger Woods wedges his third into 15. The ball clanks off the flagstick and spins back into the lake. He ends up with a bogey six. Second round, 2023, and Tiger Woods wedges his third into 15. The ball clanks off the flagstick and spins back … but stops on the green, 27 feet from the flag. The putt's never going anywhere else but in. Birdie! The great man edges away from the cutline, a little cushion at +1. The 15th owed him that. Payback time!
Cam Young bumps a delicate chip up onto the 13th green. His ball stops one turn short. Given his shenanigans back up the hole, bogey's not the worst outcome. He slips to -6. Jon Rahm meanwhile, having laid up in front of Rae's Creek then sent a poor wedge next to Young's ball, opts to putt. A strange decision, given the amount of moisture, and sure enough he leaves it ten feet short. That's a big mistake, but he makes up for it by nailing the par putt that remains. He stays two behind at -10.
Trouble for Cam Young on 13. He sends a huge slice into the woods down the right. Then, in whipping back out, his back foot slips and he sends his second into the filth on the other side. He drops and smacks a provisional into the fairway, but his caddie finds the first one on the wrong side of Rae's Creek and so they take an unplayable. Young drops and sends his fourth just off the green to the left. He'll have an outside chance of salvaging par from 30 feet.
There was no fairytale final putt for 1988 champion Sandy Lyle; there isn't one for 1987 winner Larry Mize, either. A short one missed on 18 leads to a double bogey finish and a second round of 80 to go with Thursday's 79. He's +15. But who really cares? Augusta born and bred, Mize will always have that chip on 11, and his play-off victory saw off two genuine greats in Seve and Greg Norman. No mean feat. The local hero gets the warm reception he deserves … and gets a hug from Sandy Lyle, who has hung around to bid his old pal farewell. Lucky it's raining, huh?
JT's playing partners Cameron Young and Jon Rahm are doing much better. Both birdie 12. It moves the big Spaniard to within two strokes of leader Brooks Koepka; meanwhile that's Young's third birdie in five holes and the Match Play runner-up is suddenly right back in the mix.
-12: Koepka (F)
-10: Rahm (12)
-8: Bennett -a- (F)
-7: Young (12)
-6: Morikawa (F), Hovland (13)
It's just not happening for the reigning PGA champion Justin Thomas, one of the pre-tournament favourites. He'd carded a decent opening round of 70, but his second round is going a sour way out at an unpleasantly fast speed. He finds the water guarding the 11th green en route to a double bogey, then fails to get up and down from the back of 12. Another dropped shot, and suddenly he's three over for his round and +1 overall.
Sandy Lyle speaks to Sky. "The 18th hole is a lot different to when I played it in 1988 … you could reach the bunkers off the tee, now I can't get within 60 yards! … the whole course has changed an awful lot … but good memories of those times … the two guys I played with [Talor Gooch and Jason Kokrak] were brilliant and allowed me to go off the 18th tee first, which was nice … they gave me the honour … we got a round of applause when we got to the green … unfortunately we couldn't finish the job off yesterday, which would have been quite nice … then this morning I got ready for my ten-foot putt … I hit a lousy putt, it was terrible! … I thought I might be very emotional going up 18 but I was prepared for it very well … it was good, it was nice, but I'm in no rush to come back and play here again because off the ladies tee would be my limit right now … I'm not long enough … playing with the big boys yesterday, you realise time's up … as time goes on you get more and more appreciative of winning the Masters … it never lets you down … the little things … having 'champion' on the windshield of your car … having people who let you through and know the name … 'good morning Mr Lyle, welcome back' … all the little things make a huge difference."
Another birdie for Xander Schauffele! The 2019 runner-up looks reinvigorated this morning. This one comes at 13, and he rises to -3, most of the damage suffered on the front nine yesterday repaired in short order. His playing partner Viktor Hovland meanwhile gets back the shot he dropped at 11 with birdie of his own. The third member of the group, Tiger Woods, has been parring his way round this morning, and remains hovering over the projected cutline at +2.
Freddie Couples makes the cut!
Fred Couples finishes bogey-bogey, but still signs for a 74. Factor in yesterday's 71, and he'll be here this weekend. At 63 years and six months, the 1992 champion becomes the oldest player to make the cut in Masters history. The record had previously been held by Bernhard Langer, who was 63 years and two months in 2020, and before that by Tommy Aaron, who was 63 years and one month in 2000. Sandy Lyle, for the record, bowed out today at the age of 65. Living legends all.
Before the hooter last night, Jon Rahm had crashed a long drive down the middle of 10, then sent a distinctly average second to the back of the green. Play was stopped before he could putt, and he'll have spent all evening fretting about a treacherous 50-footer snaking back down the green. No need, because he guides his putt up to kick-in distance to secure his par. He moves on towards Amen Corner at -9. Meanwhile a birdie for Sahith Theegala at the par-five 15th, and the 24-year-old Californian, who is putting together a very tidy round, moves to -4.
Not the ideal start for Viktor Hovland, whose short par putt on 11 lips out. He drops to -5 before parring the short par-three 12th. His playing partner Xander Schauffele rolls in a 15-footer for birdie on 12, though, and moves back to -2. The 29-year-old from San Diego will have been one of the few players happy to hear the hooter yesterday evening, as he was dropping back into the pack at pace, having doubled 3, then dropped another stroke at 5. But the salvage operation begins here.
The 1988 winner said his goodbyes properly last night, when play was halted before he could putt out on 18 for the final time in his career. He knew there wouldn't be too many patrons around at the resumption on this dreich morning. But the Is need dotting and the Ts crossing, so he's back to finish his round. Two putts from the fringe, and he takes his leave of Augusta National as a competitor with a bogey. An 83 to go with his first round of 81 and he's +20. But he'll always have that bunker shot, that snaking putt, that celebratory jig. Thanks for everything, Sandy. It's been special.
The weather. Wet. Windy. Cold. Conditions will be tough. The course will play long. On the flip side, it's been raining all night, so the greens will be a little more receptive. A different course altogether. In the clubhouse, Brooks Koepka, Sam Bennett and Collin Morikawa are cackling, their feet up by the fireside, sucking down those metaphorical cigars. Brollies at the ready, folks!
Welcome to the third day of the 2023 Masters. Yesterday a storm came to Augusta National, so we still haven't completed the second round. Play is due to restart at 8am local time, 1pm in the devalued UK coin. Here's what happened yesterday …
… and here's where we're at right now. All patrons safe and well, thankfully, so let's get going. It's on!
-12: Koepka (F)
-9: Rahm (9)
-8: Bennett -a- (F)
-6: Morikawa (F), Hovland (10)
-5: Day (F), Burns (F), Spieth (F), Young (9)
-4: Woodland (F), Mickelson (F), Niemann (F), Rose (F), Henley (17), Reed (14), Lowry (13), Scott (10)
-3: KH Lee (F), Fox (F), Kirk (12), Matsuyama (8)


Summarize this content to 100 words Key eventsShow key events onlyPlease turn on JavaScript to use this featureJon Rahm speaks to Sky. "I did a good job to maintain the score I had yesterday … birdie on 13 today was a huge start … it's not playing easy whatsoever … let's hope the weather gets better this afternoon … I'm excited, looking forward to it … let's hope I can continue the good play … I have a really good chance."No official news yet of how the third round will be played. A fair chance it'll be three-balls with a two-tee start, though. And while the rain continues to bucket down, there is some hope, with satellite images suggesting the worst of the weather may head off to the north-east sooner rather than later. No promises, but fingers crossed. News of the third-round tee times when we have it.The second round concludes-12: Koepka-10: Rahm-8: Bennett (a)-6: Morikawa, Hovland-5: Day, Burns, Spieth, Young-4: Woodland, Mickelson, Niemann, Rose, Henley, Lowry-3: KH Lee, Fox, Reed, Matsuyama-2: English, Fitzpatrick, T Kim, Bradley, Schauffele, Scott, Cantlay, Smith-1: Straka, Varner III, D Johnson, Scheffler, Fleetwood, Finau, Theegala, AncerHideki Matsuyama pulls his putt a tad, and it lips out. A bogey five to finish for the 2021 champion, and that's a 70. He goes into Moving Round at -3. Cam Smith rolls his bogey putt into the centre of the cup, and he signs for a level-par 72. He's -2. Then finally Im Sung-jae makes the putt he needs to make to ensure his weekend participation. Par, and while he's signing for a 76, having come home in 39 this morning, everything's relative and he walks off smiling. He's +3.One of the shots of the week from the 2020 runner-up Im Sung-jae. He requires par at the last to make the cut, and is short of the green in two. From 40 yards, he lobs over the bunker, and over the flag, spinning his ball back to five feet. That's followed by an equally fine wedge from Cam Smith, who will now have a good chance of making his bogey. Then the trilogy is completed by Hideki Matsuyama, who chips from the front to eight feet and will have chance of salvaging par. Three big putts coming up!It's Cameron Smith's turn for bother down 18. He hooks his drive into the trees down the left, and is forced to punch out. His third, a larruped 3-wood, doesn't even reach the bunker guarding the front of the green … so if you want an illustration of how much longer Augusta National is playing in this incessant rain, there it is! He'll need to get up and down just to limit the damage to bogey.Cameron Young finds 18 in regulation, and despite leaving his first putt well short, salvages par from eight feet. That's a big putt coming off the back of double bogey at 17, and he signs for a 72 that keeps him in the hunt at -5. Meanwhile Jon Rahm can't make his long par saver, and it's a bogey to end a street-fighting 69 which saw him start slowly but steadily, burst into life mid-round, then finish erratically. At -10, he's two off Brooks Koepka's lead.Justin Thomas won't be here this weekend. His par putt is always staying high on the right, and the bogey drops him below the cut line at +4. A look of pained disbelief on his face. His caddie throws a consoling arm around his shoulder. This morning's performance will take a while to process. He's played the last seven-and-a-half holes today in six over par. A 78, and the stunned PGA champion is going home.Justin Thomas reacts to his bogey on the 18th. Photograph: Christian Petersen/Getty ImagesUpdated at 10.58 EDTJon Rahm wedges over the shelf running across the middle of 18 … but only just, and his ball turns back down the slope, leaving a 40-foot par putt. Meanwhile Thomas chips up onto the green from the left, but his ball bites and leaves a ten-footer he'll need to make if he's to stay around. Back on 17, bogey for Im Sung-jae and he drops to +3, almost guaranteeing the cut stays out there.JT's in trouble here. He cracks a drive down the middle of 18, but the rain is relentless and the hole is a monster now. He whips a fairway wood from 220 yards. It sails wide left, nearly landing in the gallery. He'll need to get up and down here if he's to play for the rest of the weekend. Meanwhile Jon Rahm opts to hit an iron into the green, and can't reach. A chip and a putt to stay within one of the lead. He may opt to putt from off the green, like he did on 13 and 17 … but water is collecting in patches on the putting surface, so it may not be the percentage play.Justin Thomas chips elegantly up to eight feet … but can't make the par saver. Tiger breathes a huge sigh of relief. JT's bogey means the projected cut moves to +3. Great news not only for Woods, but also Charl Schwartzel, Billy Horschel, Scott Stallings and Thomas Pieters … but it's a nervous one now for Thomas, who at +3 has to par 18 to survive. No ifs, no buts … and it's absolutely hosing down now, which means the 18th plays long, long, long.Patrick Cantlay pars 18 and signs for his second 71 of the week. He's -2 going into Moving Round. Meanwhile some bother for Cameron Young on 17, or more literally 15, which is where he's sent his second shot, after slicing a drive into the trees. His third finds the green on the hole he's actually playing, but spins back off it and he doesn't get particularly close with his chip. Two putts later and that's a costly double that crashes him down to -5. But in the meantime, Jon Rahm, who had pulled his second just to the left of the green, hits a hot putt from the fringe that smacks flush into the flagstick and drops for birdie! Had that not hit the hole, it was heading ten feet past at least! Just one in it again!-12: Koepka (F)-11: Rahm (17)-8: Bennett -a- (F)-6: Morikawa (F), Hovland (F)-5: Day (F), Burns (F), Spieth (F), Young (17)Patrick Cantlay hits from the bunker on the 18th. Photograph: Matt Slocum/APUpdated at 10.56 EDTJT can only whistle a low hook out of the trees on 17, trundling his ball up towards the green. He'll need to get up and down from 50 yards for par, and Tiger's hopes rise. Meanwhile back on 16, Cam Smith leaves himself a monster putt from Jon Rahm Country, but unlike Rahm lags his almost to gimme distance. He remains at -3, and looks up for the fight. And the 2021 champion Hideki Matsuyama is on a roll, following up birdie at 13 by sending his tee shot at 16 over the flag and rolling in the straight five-footer for another bird. He's -4.A closing bogey for Xander Schauffele. He's punished for pulling his second miles left of the green, and finishes with a 74. All the damage done yesterday afternoon. He's -2 overall. Par for Viktor Hovland, and he signs for a slightly disappointing 73. He's -6 overall. And two calm putts for Tiger means bogey, and at +3 he's currently just outside the cutline. But it'll only take one more player to drop to +3 to ensure his participation … and Justin Thomas, currently +2, has just driven into the trees down the left of 17. Stay tuned! No flipping!The reigning Open champion Cam Smith is trotting along nicely. Birdie at 14 is followed by an elegant wedge into 15, his ball landing six feet past the hole and gently screwing back to three feet. In goes that putt, and he moves up to -3. Not out of this, not by a long chalk. Meanwhile on 16, Jon Rahm putts from downtown to four feet, only to miss the par saver; he slips back to -10, his first dropped shot since that four-putt fiasco at 1 on Thursday.Tiger's in the centre of the 18th fairway… but having found the trees on the left with his tee shot, there in two. He's at +2, right on the projected cut line. It's…
https://www.theguardian.com/sport/live/2023/apr/08/the-masters-2023-second-and-third-round-live The Masters 2023: Koepka leads by two with third round to come – live | The Masters