USA
The Masters 2023: second round – live | The Masters
Key events
McIlroy and Scheffler take turns to seriously underhit their putts. Both sink the testing knee-knockers that remain, but that's a bogey for McIlroy at 2 and par for Scheffler at 3. They're +1 and -3 respectively, and neither appear in a good frame of mind. In a happier place: Collin Morikawa, who follows up a birdie at 2 with a rare birdie at 4. All of a sudden, the 2020 PGA and 2021 Open champion is -5.
A couple of very careless chips by a pair of world-class superstars. On 2, Rory McIlroy, over the back of the green in three, tries to be too cute and only just reaches the fringe. Unless he sinks a 20-foot putt, he'll be dropping a shot on a hole that was averaging 4.6 yesterday. Meanwhile on 3, Scottie Scheffler also fluffs his lines, his ball only just refusing to topple back down the big slope at the front of the green. He'll have two putts from 25 feet to save par.
Brooks Koepka looks like he can do little wrong. He sends his wedge into 9 over the flag and spins it back, pin high, to eight feet. But his birdie putt turns to the left at the last, and somehow fails to topple into the cup. He remains at -10. Does that missed putt qualify as doing wrong? Not really. Incidentally, a nice stat courtesy of Sky Sports: Koepka is the fastest player to reach double figures under par since Jordan Spieth in 2015. Spieth did it in 23 holes; Koepka has taken a comparatively slothful 26. Oh Brooks! How could you be so indolent!
Scottie Scheffler missed a series of putts high on the left yesterday. He's up to the same tricks again today. A very makeable ten footer on 2 slips by, and there goes a big birdie chance. He remains at -3, and the defending champion stomps off chuntering away to himself in irritation. Not a good sign from a player who normally exudes a supernatural supercool.
Koepka isn't the only one making big par saves. Jason Day finds the sand down the left of 5, a no-no from the tee. He's forced to lay up. But he screeches his approach from 150 yards to seven feet, attacking a flag positioned atop a narrow plateau. His bravery pays dividends, and he rolls in the putt to remain at -7. Meanwhile Justin Rose hands back the shot he picked up a 2, failing to hold the green at 3 with his chip up, a mistake that leads to bogey. He's back to -3.
… er, make that five off the lead! Brooks Koepka batters two big ones into the middle of the par-five 8th green. He's pin high, facing a fairly straight 13-footer for eagle. No bother. In it goes! Remember that Netflix series? Where did that Brooks Koepka, wracked by injury, doubt and self-loathing, go? Not sure. But he's gone!
-10: Koepka (8)
-7: Day (4), Hovland, Rahm
-5: Bennett -a- (1), Young
The big story of Thursday was arguably the effort of 22-year-old Texan Sam Bennett. The first amateur to end the first day in the top ten since Ryan Moore in 2005, his front nine of 32 was the lowest recorded by an amateur in Masters history. He finished up with a blemish-free 68, and he's wasted no time in building on that this morning. An approach at 1 into the heart of the green, followed by a 20-foot putt that got the gallery properly going for the first time this morning. If Augusta had a roof, it would currently be coptering over North Carolina. Bennett moves to -5, just three off the lead!
Rory McIlroy is out and about. If his opening drive is anything to go by, he'll be making sure today that he won't die wondering. He opens the old shoulders and absolutely leathers his tee shot down the middle. A softly-softly approach didn't do him too much good yesterday. Meanwhile up on the green, Scottie Scheffler can't make his long par putt and slips back to -3.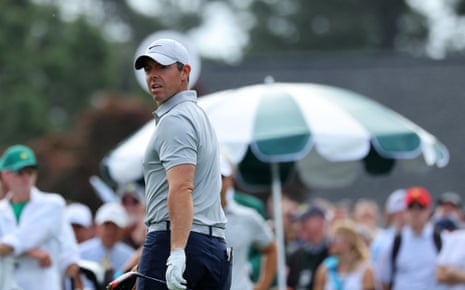 Jason Day clips his tee shot at 4 to 15 feet. Had he given his gentle right-to-left sliding putt one more joule of energy, he'd have made a third birdie in succession. As it is, the par keeps him at -7. The November 2020 champion Dustin Johnson birdies 2 to rise to -2. And there's trouble at the opening hole for the defending champ Scottie Scheffler, who sends his 3-wood into the trees down the right, then finds a bunker to the left of the green, and upon splashing out catches a downslope that takes his ball on a sharp right-hand turn, 30 feet from the hole. Big long par putt coming up.
Gary Woodland, having taken one step forward early in the round, takes his second step back. He follows up that bogey at 5 with a careless one at 7, nearly flying the green from a greenside bunker, a mistake that he can't rectify by rolling in the long par saver. He drops to -3. Passing him the other way: the 2017 runner-up Justin Rose, who birdies the par-five 2nd to move to -4.
Yep! In goes Jason Day's birdie putt on 3, and the 2011 runner-up moves into a tie for second.
-8: Koepka (6)
-7: Day (3), Hovland, Rahm
-5: Young
-4: Woodland (6), Scheffler, Bennett (a), Burns, Lowry, Schauffele, Scott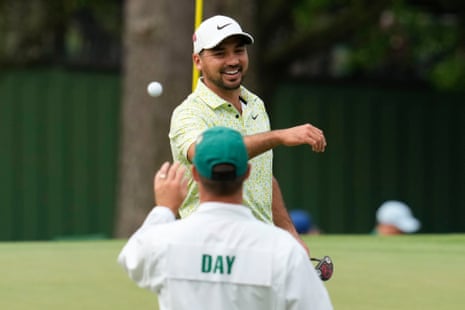 We spoke earlier: do not doubt Brooks Koepka. He rolls his 64-foot putt at 6 up over the slope to six feet. In goes the par putt. Koepka saunters off having not broken a single bead of sweat. He remains at -8. Meanwhile back on the par-five 2nd, Jason Day finds the heart of the green in two big swipes, then nearly drains a 60-footer for eagle. He'll make do with birdie that moves him up to -6 … and he could soon be moving even closer to the leader Koepka, having just chipped his second at the short par-four 3rd to three feet.
A brutal start to the second round for Tyrrell Hatton. The 31-year-old from High Wycombe finished second behind Scottie Scheffler at the Players last month, shooting 29 on the back nine on Sunday, a tournament record. An opening round of 71 yesterday will have given him further encouragement for this week; however he's just traversed Tea Olive like the Keystone Kops in their Ford Model T. Zig-zagging from the trees on the left to the gallery on the right, then flubbing a chip, he ends up with a double-bogey six and drops back to +1 overall. Hey, a farcical start to the round didn't do Jon Rahm any harm yesterday. That's what Hatton, another notorious hot-head, will need to tell himself.
Trouble for the leader Brooks Koepka on the par-three 6th. He pitches his tee shot ten feet to the left of the flag. Problem is, the spin takes his ball back and to the left, then down a slope that takes his ball 64 feet from the flag. The fine margins at Augusta National. Another big par save coming up?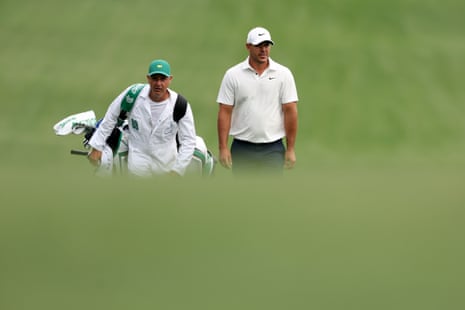 A step backwards for Gary Woodland. From the centre of the 5th fairway, he sends his iron short and right of the green. He spins and waves his club through 360 degrees in wild anger, then overhits a 55-foot putt from the fringe. He misses the one coming back, and drops to -4. Par for his partner Koepka, whose caddie may or may not have been counting Woodland's shots: "Five."
KH Lee is a two-time winner on the PGA Tour, both of his victories coming at the AT&T Byron Nelson. But he's done absolutely nothing of note in the majors. He debuted at Augusta last year, only to miss the cut, but he looks in good shape to make it this week, opening his round today with birdies at 1, 2 and now 4. After a disappointing 74 yesterday, that lifts the 31-year-old South Korean to -1 for the tournament. Byron Nelson, just for the record, won the Masters in 1937 and 1942.
Another street-fighting up and down for Brooks Koepka. His tee shot at the par-three 4th only just creeps over the bunker guarding the front of the green, and his putt from the fringe isn't all that. He leaves himself a testing six-footer, but rolls another par saver into the cup, and remains at -8. Meanwhile on Sky, the European Ryder Cup captain Luke Donald gives his verdict on the rules controversy surrounding Koepka and his caddie Ricky Elliott, who yesterday was caught on camera saying "five" to Gary Woodland and his caddie just after hitting a 5-iron into the heart of the 15th green. "It did seem quite clear that there was some information given," says Donald. "That one seemed clear … you've got to take the word of Brooks and Ricky." And indeed that's what the Masters committee have done. The ruling: no breach of the rules.
The weather, then. Thunderstorms are expected today around 1pm in Augusta (6pm BST) and may last for three or four hours. There could be a few spots of rain before that, too. So don't bet the farm on the second round being completed today. Saturday shouldn't be affected by thunderstorms, but it will be cold and very rainy. Sunday should be decent enough, but despite that, and the fancy sub-air system designed to suck moisture from the turf, plans are being put in place just in case Monday finish is required for the first time since 1983. Much will depend on how long today's expected storm delay lasts, and how heavy and incessant the rain is tomorrow. Fingers crossed!
More fool me for doubting the temperature of the blood in Brooks Koepka's veins. His lob up from the back of 3 is delicate enough, landing softly on the fringe, yet still rolls ten feet past the cup. No matter, because he rolls in the right-to-left slider, dead weight, and blows out in relief as he secures his par. He remains in sole possession of the lead at -8. With the weather threatening to mix everything up – more on that soon, promise – Koepka has spoken of his desire to take as much advantage of his early start and the milder conditions while he can: "I don't think my score really gives me much of an advantage. Maybe my tee time with the weather coming up, I might be able to squeak out a few more holes than everybody else before it starts dumping. That's probably the biggest advantage I've got going for me right now."
More good news for LIV enthusiasts! Phil Mickelson sinks a 30-footer on the 1st for birdie. He moves to -2. But as Greg Norman's tanks prepare to trundle over the manicured greens of Augusta National, a possible setback on 3, where Brooks Koepka chips up from the bottom of the bank at the short par-four, only to bundle his ball over the green and down the swale on the other side. Still a chance to get up and down to save his par, but there's not a lot of green to play with, so he's got a job on here.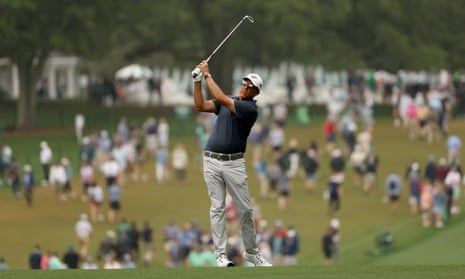 Good morning Augusta! The first thing to say … before we start harping on about the incoming weather … is that we have a new leader of the Masters. Brooks Koepka, who finished runner-up here in 2019 and is a four-time major winner – let's not define him solely by the tour he's on – has birdied 2 to move a shot clear of his overnight co-leaders Jon Rahm and Viktor Hovland. That's courtesy of his birdie at the par-five 2nd. He sent his approach into a bunker to the right of the green, and left himself a downhill lie, but splashed out to eight feet and made the putt. He's going round with the 2019 US Open champion Gary Woodland, who also birdied 2 to move into a tie for fourth. Movement already!
-8: Koepka (2)
-7: Hovland, Rahm
-5: Woodland (2), Day, Young
-4: Scheffler, Bennett (a), Burns, Lowry, Schauffele, Scott
Yesterday this happened …
… which means the top of the leader board after 18 holes looks like this …
-7: Brooks Koepka, Viktor Hovland, Jon Rahm
-5: Jason Day, Cameron Young
-4: Gary Woodland, Scottie Scheffler, Sam Bennett (a), Sam Burns, Shane Lowry, Xander Schauffele, Adam Scott
-3: Justin Rose, Collin Morikawa, Jordan Spieth, Tony Finau
-2: Sepp Straka, Ryan Fox, Matthew Fitzpatrick, Tom Kim, Scott Stallings, Chris Kirk, Keegan Bradley, Justin Thomas, Cameron Smith
-1: Phil Mickelson, Harris English, Joaquin Niemann, Tyrrell Hatton, Dustin Johnson, Max Homa, Fred Couples, Patrick Reed, Patrick Cantlay, Hideki Matsuyama, Im Sung-jae
… and so there's a fair chance Brooks Koepka will soon be leading outright because he goes out early as evidenced by this …
… so stay tuned here for the latest instalment of the three-way existential tussle between Golf, LIV and Perspective. It's on!
Summarize this content to 100 words Key eventsShow key events onlyPlease turn on JavaScript to use this featureMcIlroy and Scheffler take turns to seriously underhit their putts. Both sink the testing knee-knockers that remain, but that's a bogey for McIlroy at 2 and par for Scheffler at 3. They're +1 and -3 respectively, and neither appear in a good frame of mind. In a happier place: Collin Morikawa, who follows up a birdie at 2 with a rare birdie at 4. All of a sudden, the 2020 PGA and 2021 Open champion is -5.A couple of very careless chips by a pair of world-class superstars. On 2, Rory McIlroy, over the back of the green in three, tries to be too cute and only just reaches the fringe. Unless he sinks a 20-foot putt, he'll be dropping a shot on a hole that was averaging 4.6 yesterday. Meanwhile on 3, Scottie Scheffler also fluffs his lines, his ball only just refusing to topple back down the big slope at the front of the green. He'll have two putts from 25 feet to save par.Brooks Koepka looks like he can do little wrong. He sends his wedge into 9 over the flag and spins it back, pin high, to eight feet. But his birdie putt turns to the left at the last, and somehow fails to topple into the cup. He remains at -10. Does that missed putt qualify as doing wrong? Not really. Incidentally, a nice stat courtesy of Sky Sports: Koepka is the fastest player to reach double figures under par since Jordan Spieth in 2015. Spieth did it in 23 holes; Koepka has taken a comparatively slothful 26. Oh Brooks! How could you be so indolent!Scottie Scheffler missed a series of putts high on the left yesterday. He's up to the same tricks again today. A very makeable ten footer on 2 slips by, and there goes a big birdie chance. He remains at -3, and the defending champion stomps off chuntering away to himself in irritation. Not a good sign from a player who normally exudes a supernatural supercool.Scottie Scheffler reacts after his missed putt on the 2nd. Photograph: Brian Snyder/ReutersUpdated at 10.52 EDTKoepka isn't the only one making big par saves. Jason Day finds the sand down the left of 5, a no-no from the tee. He's forced to lay up. But he screeches his approach from 150 yards to seven feet, attacking a flag positioned atop a narrow plateau. His bravery pays dividends, and he rolls in the putt to remain at -7. Meanwhile Justin Rose hands back the shot he picked up a 2, failing to hold the green at 3 with his chip up, a mistake that leads to bogey. He's back to -3.… er, make that five off the lead! Brooks Koepka batters two big ones into the middle of the par-five 8th green. He's pin high, facing a fairly straight 13-footer for eagle. No bother. In it goes! Remember that Netflix series? Where did that Brooks Koepka, wracked by injury, doubt and self-loathing, go? Not sure. But he's gone!-10: Koepka (8)-7: Day (4), Hovland, Rahm-5: Bennett -a- (1), YoungThe big story of Thursday was arguably the effort of 22-year-old Texan Sam Bennett. The first amateur to end the first day in the top ten since Ryan Moore in 2005, his front nine of 32 was the lowest recorded by an amateur in Masters history. He finished up with a blemish-free 68, and he's wasted no time in building on that this morning. An approach at 1 into the heart of the green, followed by a 20-foot putt that got the gallery properly going for the first time this morning. If Augusta had a roof, it would currently be coptering over North Carolina. Bennett moves to -5, just three off the lead!Rory McIlroy is out and about. If his opening drive is anything to go by, he'll be making sure today that he won't die wondering. He opens the old shoulders and absolutely leathers his tee shot down the middle. A softly-softly approach didn't do him too much good yesterday. Meanwhile up on the green, Scottie Scheffler can't make his long par putt and slips back to -3.Rory McIlroy watches his tee shot on the 1st. Photograph: Mike Segar/ReutersUpdated at 10.22 EDTJason Day clips his tee shot at 4 to 15 feet. Had he given his gentle right-to-left sliding putt one more joule of energy, he'd have made a third birdie in succession. As it is, the par keeps him at -7. The November 2020 champion Dustin Johnson birdies 2 to rise to -2. And there's trouble at the opening hole for the defending champ Scottie Scheffler, who sends his 3-wood into the trees down the right, then finds a bunker to the left of the green, and upon splashing out catches a downslope that takes his ball on a sharp right-hand turn, 30 feet from the hole. Big long par putt coming up.Gary Woodland, having taken one step forward early in the round, takes his second step back. He follows up that bogey at 5 with a careless one at 7, nearly flying the green from a greenside bunker, a mistake that he can't rectify by rolling in the long par saver. He drops to -3. Passing him the other way: the 2017 runner-up Justin Rose, who birdies the par-five 2nd to move to -4.Yep! In goes Jason Day's birdie putt on 3, and the 2011 runner-up moves into a tie for second.-8: Koepka (6)-7: Day (3), Hovland, Rahm-5: Young-4: Woodland (6), Scheffler, Bennett (a), Burns, Lowry, Schauffele, ScottJason Day tosses his ball to his caddie after a birdie on the 3rd. Photograph: Mark Baker/APUpdated at 10.05 EDTWe spoke earlier: do not doubt Brooks Koepka. He rolls his 64-foot putt at 6 up over the slope to six feet. In goes the par putt. Koepka saunters off having not broken a single bead of sweat. He remains at -8. Meanwhile back on the par-five 2nd, Jason Day finds the heart of the green in two big swipes, then nearly drains a 60-footer for eagle. He'll make do with birdie that moves him up to -6 … and he could soon be moving even closer to the leader Koepka, having just chipped his second at the short par-four 3rd to three feet.Updated at 10.06 EDTA brutal start to the second round for Tyrrell Hatton. The 31-year-old from High Wycombe finished second behind Scottie Scheffler at the Players last month, shooting 29 on the back nine on Sunday, a tournament record. An opening round of 71 yesterday will have given him further encouragement for this week; however he's just traversed Tea Olive like the Keystone Kops in their Ford Model T. Zig-zagging from the trees on the left to the gallery on the right, then flubbing a chip, he ends up with a double-bogey six and drops back to +1 overall. Hey, a farcical start to the round didn't do Jon Rahm any harm yesterday. That's what Hatton, another notorious hot-head, will need to tell himself.Better times, better times.Trouble for the leader Brooks Koepka on the par-three 6th. He pitches his tee shot ten feet to the left of the flag. Problem is, the spin takes his ball back and to the left, then down a slope that takes his ball 64 feet from the flag. The fine margins at Augusta National. Another big par save coming up?Brooks Koepka lands in trouble on the 6th. Photograph: Christian Petersen/Getty ImagesUpdated at 09.56 EDTA step backwards for Gary Woodland. From the centre of the 5th fairway, he sends his iron short and right of the green. He spins and waves his club through 360 degrees in wild anger, then overhits a 55-foot putt from the fringe. He misses the one coming back, and drops to -4. Par for his partner Koepka, whose caddie may or may not have been counting Woodland's shots: "Five."KH Lee is a two-time winner on the PGA Tour, both of his victories coming at the AT&T Byron Nelson. But he's done absolutely nothing of note in the majors. He debuted at Augusta last year, only to miss the cut, but he looks in good shape to make it this week, opening his round today with birdies at 1, 2 and now 4. After a disappointing 74 yesterday, that lifts the 31-year-old South Korean to -1 for…
https://www.theguardian.com/sport/live/2023/apr/07/the-masters-2023-second-round-live The Masters 2023: second round – live | The Masters