USA
The Masters 2023: third round resumes on marathon final day – live | The Masters
Key events
So having earlier mentioned how Brooks Koepka had been taking care of business at the par-fives this week, he's subsequently only parred both of the ones on the back nine. An illustration of how much longer, and tougher, the course is playing after all that rain. He doesn't seem completely happy with his game today, and now he dumps his tee shot at 16 into the bunker to the right of the green. You'd think advantage Rahm, but he takes one hand off his club as he sends his tee shot wide of that bunker. He's left himself a downhill lie and a shot over sand. Oh, and he's short-sided too. On Sky, Sir Nick Faldo suggests anything within six feet for Rahm would be sensational.
No sixth birdie in a row for Viktor Hovland. But it's a fine par at 16, after pushing his tee shot wide right of the green. A delicate up and down to scramble, and he remains at -8. Meanwhile Brooks Koepka chips close from the bank on 15 to salvage his par, while Jon Rahm needs three putts to get down from the best part of 100 feet. A par for the Spaniard as well, but it's the US star who will feel better given the way that all panned out.
-12: Koepka (15)
-10: Rahm (15)
-8: Hovland (16)
-6: Cantlay (F)
-5: Matsuyama (F), Henley (F)
Under normal, bone-dry conditions, that ball of Koepka's was gone. But it's clear the nerves are beginning to kick in already, with both Rahm and Koepka dicing with wobbly blue bother. And it's only the third round! Imagine the pounding their tickers are going to take when they come around again later!
Heart-in-mouth time for Jon Rahm, who like Viktor Hovland before him, only just gets over the drink at 15 with his second. His ball comes to rest on the front-right corner of the wide green, and he'll have a monster eagle putt. Two putts for birdie is far from certain. Meanwhile Brooks Koepka, having found the trees down the left from the tee, lays up and wedges in. His ball lands by the flag, but spins back and for a second looks like rolling all the way down the slope and into the drink. But the wet turf saves him. The ball sticks on the bank. It's not quite Fred Couples on 12 in 1992, but it's something. A huge break for Koepka!
Five birdies in a row for Viktor Hovland! His second into 15 only just gets over the water – laughing, he performs the breaststroke mime as he wanders down to the green – but from there he takes two putts to move to -8. Just the two more, and he'll be matching the record set by Steve Pate between 7 and 13 in 1999 and matched on exactly the same holes by Tiger in 2005.
The third high-profile four-putt of the week, after Jon Rahm and Hideki Matsuyama, is made on 18 by Matt Fitzpatrick. A terrible end to an otherwise decent round by the US Open champion. Double bogey to finish, a level-par 72, and he walks off as dejected as you'd imagine. He's -2, and to borrow a phrase from Barry Keoghan's character in The Banshees of Inisherin, there goes that dream.
Rahm gives his birdie putt a good whack, and it still comes up one turn short. Still, he'll take par. Koepka meanwhile bounces his chip up from the swale to the back-left of the green, and nearly holes out. His ball rolls three feet past. He's not missing the one coming back. Meanwhile the 33-year-old local lad Russell Henley steers one in from the fringe at the back of 16 to join the party.
-12: Koepka (14)
-10: Rahm (14)
-7: Hovland (14)
-6: Cantlay (F)
-5: Matsuyama (F), Henley (16)
Hideki Matsuyama makes it home in 70. On the face of it, a round of two-under is nothing special, but factor in a bogey-triple-bogey start that featured a four-putt, and that's a brilliant return. The 2021 champion played the last 11 holes in five under par. He goes into the final round at -5, and if he can get that putter going, is the sort of player who can go on a serious birdie spree. He's still in this, with all the depends-on-what-the-leaders-do caveats.
From the centre of 14, Brooks Koepka pulls his approach into the gallery back-left of the green. That was travelling at speed, too, and would have gone a lot further had it not hit some poor patron upside the noggin. Jon Rahm responds by knocking his second pin high. He'll have a look at birdie from 15 feet. This is great matchplay-style fun.
Jon Rahm rattles his long birdie putt at 13 six feet past. That'll be a tester coming back. Not only that, it informs Brooks Koepka's approach, and he makes sure of pace first, lagging up to tap in for his par. Can Rahm sink another of these crucial putts he keeps leaving himself? No he can't. Off to the right it goes, and the gap at the top is two again. That's a poor bogey for Rahm, who was wedging into the green from prime position. A gift for Brooks. Meanwhile up on 14, Viktor Hovland creams his second from 166 yards to 12 feet and steers in the birdie putt. He's far from out of this! Could he do it? The Norwegian could. [No! – Self-ed.]
-12: Koepka (13)
-10: Rahm (13)
-7: Hovland (14)
A third-round 71 for the reigning champion Scottie Scheffler. He's -2 going into the final round, and won't be joining the elite list of players to retain their Masters title: Jack, Nick, Tiger. That uncharacteristically stodgy second round of 75 so costly.
Koepka and Rahm take turns to undercook their wedges into 13. Both distinctly average. On Sky, Faldo sounds distinctly unimpressed. "There's nothing fancy out of those two, is there?" Bennett becomes the third of the group to fail to get his ball over the ridge in the middle of the green and up onto the shelf near the flag. He's an amateur. He's allowed. That's surprisingly poor from the leading duo. Putting competition coming up!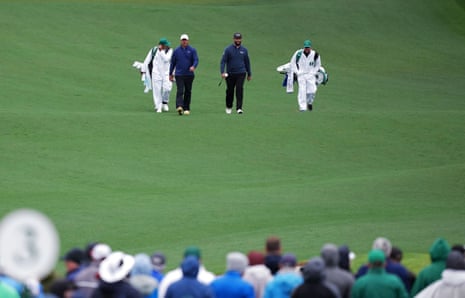 Brooks and Rahm both lay up at the par-five 13th. "In this situation, are you playing the man or the course?" That's the question Paul McGinley asks of Sir Nick Faldo on Sky Sports. What's Faldo's answer? You already know Faldo's answer. "Oh you're playing the man!" You can almost hear the six-time major winner rubbing his hands in gleeful anticipation.
Words, yes, we have them. But pictures also! Immerse yourself in the beauty of Augusta National with our delightful gallery. In you pop!
Patrick Cantlay shoots 68
Koepka can't make his par putt. He doesn't quite give it enough, and the ball dies to the left on its final turn. He taps in, as does Rahm, and suddenly Koepka's lead – four shots as the sun came up this morning – is down to just the one. Meanwhile it's three birdies in a row for Viktor Hovland, no mean feat, and yet he'll be slightly disappointed after knocking his second at 13 from 244 yards to 20 feet, then just missing the eagle putt. Still, he's back in the mix … as is Patrick Cantlay, who pars the last to sign for a best-of-round 68.
-12: Koepka (12)
-11: Rahm (12)
-6: Cantlay (F), Hovland (13), Bennett -a- (12)
Koepka opts to putt from off the green. It's not a wise choice. He rattles a hot one 12 feet past the hole. The gallery coos in drama-on-Sunday fashion. It's still only the third round! Rahm putts as well, from the fringe at the back, and lags close despite having to deal with a mud-ball. Then the gallery groan in sympathy-on-Sunday fashion as Bennett's birdie putt shaves the right-hand lip. Just a par for the amateur. He remains at -6.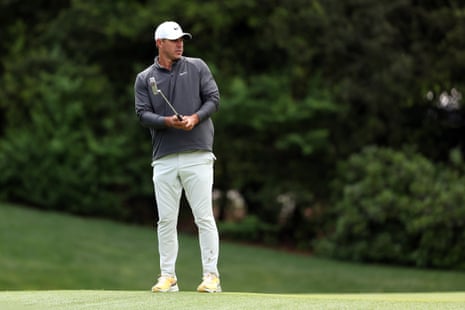 RAHM: Where did that wind come from?
BROOKS: Oh boy! That's getting carried as well!
The 12th hole, ladies and gentlemen, with a strong breeze swirling around Amen Corner. Rahm's ball pitches into the azaleas to the back-left of the green, but spins back onto the fringe. Koepka's misses the green to the left. Sam Bennett's? Over the flag to ten feet. The crowd go ballistic. They're loving this kid. Who doesn't? This is a performance for the ages.
Sam Bennett really is very impressive, like that's breaking news in the wake of Thursday and Friday's evidence. Yesterday afternoon, in dreadful conditions, he got off to an awful start, only to gather himself and make a series of nerve-steadying pars. This morning, he missed his first par putt, but immediately responded with a bounceback birdie on 8, and now he's walking in a very missable 12-foot par saver on 11. What confidence! The young Texan amateur remains at -6 and is made of the real stuff. He's got a future all right. Two-putt pars meanwhile for Rahm and, from just off the green, Koepka.
-13: Koepka (11)
-11: Rahm (11)
-6: Cantlay (17), Bennett -a- (11)
From the centre of the 11th fairway, Jon Rahm nearly plonks his ball into the water guarding the front left of the green. It skips over the corner and onto the putting surface. Wow, he'd have been fearing the worst as that approach was sailing through the air. Brooks Koepka comes up just short. A few nerves beginning to kick in, perhaps, and it's still only the third round! Meanwhile up on 17, Patrick Cantlay , always out of position after finding the first cut down the left with his drive, misses a short right-to-left curler for par and slips back to -6. The chasing pack can't afford mistakes like that, and the resigned look on Cantlay's face suggests he knows that all too well.
Bounceback birdie for Viktor Hovland at 11. He'd hit a lovely second from the best part of 200 yards to four feet. He rises to -4 … then chips in from the back of 12 for another! While this is threatening to turn into a two, possibly three-man battle, Hovland is one of a pack of players who could insert themselves into the equation if they put something sensational together over the last few holes. But unless the top two stumble, time is running out.
-13: Koepka (10)
-11: Rahm (10)
-7: Cantlay (16)
-6: Bennett -a- (10)
-5: Matsuyama (15), Hovland (12)
-4: Fitzpatrick (15), Rose (13), Henley (14), Woodland (13), Niemann (13), Morikawa (12), Day (12)
-3: Schauffele (15), Fox (14)
What a par save by Brooks Koepka! He pours in the 13-foot par putt he'd set up for himself. That's a huge save having snookered himself from the tee! Suddenly the pressure is batted back to Jon Rahm, who having spun his approach back off the front of the green, then trundled an aggressive chip four feet past, is faced with a curly tickler down the slope. He guides it in. Ice in the veins. Both men walk to the 11th tee laughing and chatting. Hold on, lads! What about all this PGA-LIV animosity? Follow the script, will you! Great to see.
Bogey for Matt Fitzpatrick on 14, the result of a wild drive into trees down the left. He drops back to -4. Jordan Spieth moves into red figures after nearly slam-dunking his tee shot at 12; what he'd have given for that birdie in 2016. Viktor Hovland goes backwards with back-to-back bogeys at 9 and 10; he's -3. His playing partner Collin Morikawa heads in the same direction after dropping a shot at 10 then another as the result of a weak chip at 11. He's -3 as well.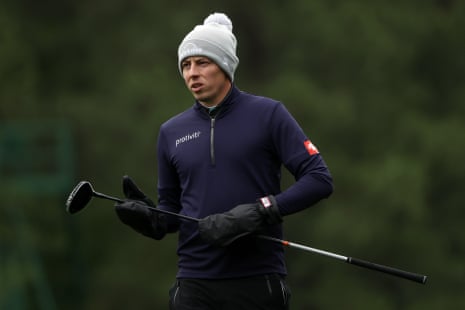 Koepka doesn't spend too much time thinking about it. He takes his medicine and punches out sideways. Then he clips his approach pin high to 15 feet, and will have a chance to salvage a precious par. Meanwhile Patrick Cantlay continues to go along smoothly. After that aforementioned eagle at 15 in 2019, he immediately checked his own momentum with bogey at 16; today he pitches his tee shot at the picturesque par-three to five feet, and pours in the birdie putt. He rises to -7, the one player making serious progress in Moving Round.
Serious trouble for Brooks Koepka at 10. Having watched Jon Rahm split the fairway with his 3-wood, he slices towards the trees on the right. His ball lands smack-bang behind one of them. He might be able to punch forward through a small gap in the branches; he might also be forced to chip out sideways. Either way, he's not making the green in regulation.
One of the shots of the week into 15 by Patrick Cantlay. He creams his second pin high from 220 yards to 12 feet. His eagle putt stubbornly stays high on the left, when it should surely turn right in the direction of the water. But it doesn't drop and he has to settle for a birdie. Cantlay briefly led this tournament on Sunday in 2019 after eagle on this hole, before stumbling home. He's now in position to compete again today. He's four under for his round so far, the hottest property out on the course.
-13: Koepka (9)
-11: Rahm (9)
-6: Cantlay (15), Bennett -a- (9)
-5: Fitzpatrick (13)
Rahm is faced with a treacherous bunker shot. He's got to aim 40 feet left of the pin, and land softly, hoping the slope doesn't take his ball away towards the fairway. He executes it almost perfectly. The ball lands like a feather, turns 90 degrees right, and then, thanks to the camber on the other side of the green acting as a backstop, rolls back into the heart of the green, stopping 12 feet from the flag. The best he could do. On Sky, Ewen Murray points out that Seve would have been 66 today, and he'd have doffed his cap to that one. Rahm rolls in the putt, one of the great up and downs on this famous hole. That's a staunch save, because Koepka chips and putts with minimal fuss. The pair walk off with their pars, Rahm the happier having made three big putts in a row. Koepka must be wondering what he has to do to shake this guy off.
Brooks doesn't take care of business on 9. He's in the middle of the fairway, having watched Rahm send his tee shot onto pine needles down the right, then hit a mud ball into the bunker to the left of the green. But though he lands his approach on the green pin high, there's too much backspin on his ball, which tumbles back down the false front and onto the fairway. An up-and-down contest coming up.
The 2021 champion Hideki Matsuyama will be seriously ruing the cold start he made to this third round. Bogey at 1 followed by a four-putt double-bogey at 2. Ooyah! Oof! He's just made birdie at 13, his fourth in six holes after picking up shots at 8, 10 and 12. All of a sudden he's back up to -4. He's going round with Matt Fitzpatrick, who also birdies 13, a decent response to a dropped shot at 12. The US Open champ is back to -5.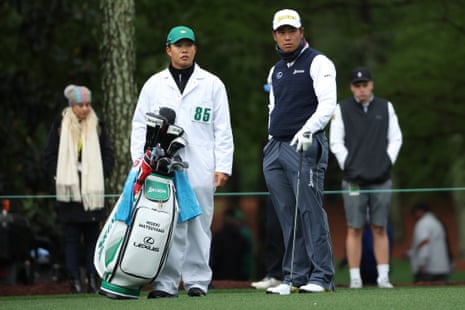 Koepka makes his birdie putt … but so does Rahm, who pours in from ten feet. Right in the middle of the cup, never missing! That's a big birdie that ensures he stays on the leader's tail. Tell you what, though, Koepka really has been taking care of business on the par-fives this week. He's birdied every one so far, with two exceptions: a bogey at 13 on Thursday, and an eagle at 8 on Friday. (Bachman-Turner Overdrive earworm.)
-13: Koepka (8)
-11: Rahm (8)
-6: Bennett -a- (8)
-5: Cantlay (14), Morikawa (9)
Rahm's wedge into 8 is pin high but a good 12 feet right of the hole. Half a chance for birdie, which he'll do well to make, because Koepka chips to a couple of feet. He'll surely be taking back the shot he dropped on the previous hole in short order. But before he can, Bennett drains a 30-foot left-to-right breaker for a birdie of his own! The 22-year-old Texan amateur moves back to -6. A huge roar as the nerve-settler drops, and a big smile plays across his face.
Brooks gives it all he can with his fairway wood. He can't reach. If Koepka can't get there in two, surely nobody can. Rahm lays up, as does the amateur sensation Sam Bennett … who for the record couldn't make his par saver on 7 and carded his third bogey of the round. He's going backwards, now at -5, but whatever happens from here on in, he's guaranteed to win the silver medal, as the only amateur to make the cut. He'll join a select list: previous low amateurs at Augusta include subsequent champions Cary Middlecoff, Jack Nicklaus, Ben Crenshaw, Phil Mickelson, Tiger Woods, Sergio Garcia and Hideki Matsuyama.
… so the gap having closed to two, it's advantage Koepka from the tee at 8. Rahm's drive finds the bunker to the right of the fairway, while Brooks splits the fairway. Exactly how much of an advantage that'll be is something we'll soon find out: while the weather is dry today, it's cold and windy, and having also had a good drink yesterday, the course is playing longer than it did on the first couple of days. In other words, Koepka still has a ways to go to reach the green if he's dreaming of a second eagle of the week on this hole.
Brooks Koepka restarts the day with a four-shot lead … but that doesn't last long! First off he trundles his ten-foot par saver on 7 four feet past the hole. He makes the one coming back, but that's a bogey five. Then Jon Rahm pours in his birdie putt, deserved reward for the glorious approach he hit into the green during the deluge last night. It's not taken long … but this is on!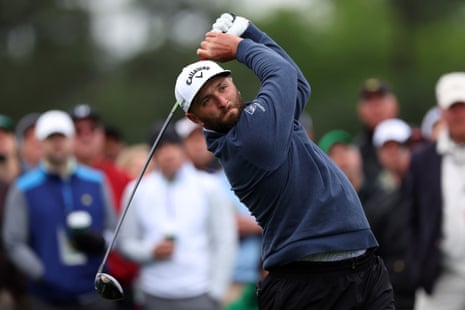 -12: Koepka (7)
-10: Rahm (7)
Here we go, then, a shotgun restart. But there's one player who won't be teeing it up again today … the five-time winner and living legend Tiger Woods. The leg's giving him too much gyp, 20-plus holes in a day 20 steps too far. He withdraws. But it's not been a wasted week for the great man: he's extended his sequence of never missing a cut at Augusta National to 23 consecutive tournaments, a record he now shares with Gary Player and Freddie Couples. Godspeed Tiger, see you here next year, we hope.
Good morning Augusta National! Yesterday the heavens opened and this happened …
… and now a Homeric, but hopefully dry, super Sunday awaits us. The third round resumes at 8.30am local time (1.30pm BST) with the final round expected to begin at 12.30pm local (5.30pm BST). We'll get going the minute the players do. In the meantime, here's how the top of the leader board looked when the hooter went last night …
-13: Koepka (6)
-9: Rahm (6)
-6: Bennett -a- (6)
-5: Cantlay (13), Fitzpatrick (11), Morikawa (7), Hovland (7)
-4: Rose (9), Henley (9), Mickelson (9), Niemann (9), Young (8), Day (7)
-3: Scheffler (12*), Fox (11), Woodland (9)
-2: Schauffele (12), Matsuyama (11), Reed (10), Lowry (9), Burns (9), Spieth (8)


Summarize this content to 100 words Key eventsShow key events onlyPlease turn on JavaScript to use this featureSo having earlier mentioned how Brooks Koepka had been taking care of business at the par-fives this week, he's subsequently only parred both of the ones on the back nine. An illustration of how much longer, and tougher, the course is playing after all that rain. He doesn't seem completely happy with his game today, and now he dumps his tee shot at 16 into the bunker to the right of the green. You'd think advantage Rahm, but he takes one hand off his club as he sends his tee shot wide of that bunker. He's left himself a downhill lie and a shot over sand. Oh, and he's short-sided too. On Sky, Sir Nick Faldo suggests anything within six feet for Rahm would be sensational.No sixth birdie in a row for Viktor Hovland. But it's a fine par at 16, after pushing his tee shot wide right of the green. A delicate up and down to scramble, and he remains at -8. Meanwhile Brooks Koepka chips close from the bank on 15 to salvage his par, while Jon Rahm needs three putts to get down from the best part of 100 feet. A par for the Spaniard as well, but it's the US star who will feel better given the way that all panned out.-12: Koepka (15)-10: Rahm (15)-8: Hovland (16)-6: Cantlay (F)-5: Matsuyama (F), Henley (F)Under normal, bone-dry conditions, that ball of Koepka's was gone. But it's clear the nerves are beginning to kick in already, with both Rahm and Koepka dicing with wobbly blue bother. And it's only the third round! Imagine the pounding their tickers are going to take when they come around again later!Heart-in-mouth time for Jon Rahm, who like Viktor Hovland before him, only just gets over the drink at 15 with his second. His ball comes to rest on the front-right corner of the wide green, and he'll have a monster eagle putt. Two putts for birdie is far from certain. Meanwhile Brooks Koepka, having found the trees down the left from the tee, lays up and wedges in. His ball lands by the flag, but spins back and for a second looks like rolling all the way down the slope and into the drink. But the wet turf saves him. The ball sticks on the bank. It's not quite Fred Couples on 12 in 1992, but it's something. A huge break for Koepka!Five birdies in a row for Viktor Hovland! His second into 15 only just gets over the water – laughing, he performs the breaststroke mime as he wanders down to the green – but from there he takes two putts to move to -8. Just the two more, and he'll be matching the record set by Steve Pate between 7 and 13 in 1999 and matched on exactly the same holes by Tiger in 2005.Viktor Hovland plays a shot on the 12th. It's five birdies in a row for the Norwegian. Photograph: Christian Petersen/Getty ImagesUpdated at 10.54 EDTThe third high-profile four-putt of the week, after Jon Rahm and Hideki Matsuyama, is made on 18 by Matt Fitzpatrick. A terrible end to an otherwise decent round by the US Open champion. Double bogey to finish, a level-par 72, and he walks off as dejected as you'd imagine. He's -2, and to borrow a phrase from Barry Keoghan's character in The Banshees of Inisherin, there goes that dream.Rahm gives his birdie putt a good whack, and it still comes up one turn short. Still, he'll take par. Koepka meanwhile bounces his chip up from the swale to the back-left of the green, and nearly holes out. His ball rolls three feet past. He's not missing the one coming back. Meanwhile the 33-year-old local lad Russell Henley steers one in from the fringe at the back of 16 to join the party.-12: Koepka (14)-10: Rahm (14)-7: Hovland (14)-6: Cantlay (F)-5: Matsuyama (F), Henley (16)Hideki Matsuyama makes it home in 70. On the face of it, a round of two-under is nothing special, but factor in a bogey-triple-bogey start that featured a four-putt, and that's a brilliant return. The 2021 champion played the last 11 holes in five under par. He goes into the final round at -5, and if he can get that putter going, is the sort of player who can go on a serious birdie spree. He's still in this, with all the depends-on-what-the-leaders-do caveats.From the centre of 14, Brooks Koepka pulls his approach into the gallery back-left of the green. That was travelling at speed, too, and would have gone a lot further had it not hit some poor patron upside the noggin. Jon Rahm responds by knocking his second pin high. He'll have a look at birdie from 15 feet. This is great matchplay-style fun.Jon Rahm rattles his long birdie putt at 13 six feet past. That'll be a tester coming back. Not only that, it informs Brooks Koepka's approach, and he makes sure of pace first, lagging up to tap in for his par. Can Rahm sink another of these crucial putts he keeps leaving himself? No he can't. Off to the right it goes, and the gap at the top is two again. That's a poor bogey for Rahm, who was wedging into the green from prime position. A gift for Brooks. Meanwhile up on 14, Viktor Hovland creams his second from 166 yards to 12 feet and steers in the birdie putt. He's far from out of this! Could he do it? The Norwegian could. [No! – Self-ed.]-12: Koepka (13)-10: Rahm (13)-7: Hovland (14)Updated at 10.26 EDTA third-round 71 for the reigning champion Scottie Scheffler. He's -2 going into the final round, and won't be joining the elite list of players to retain their Masters title: Jack, Nick, Tiger. That uncharacteristically stodgy second round of 75 so costly.Koepka and Rahm take turns to undercook their wedges into 13. Both distinctly average. On Sky, Faldo sounds distinctly unimpressed. "There's nothing fancy out of those two, is there?" Bennett becomes the third of the group to fail to get his ball over the ridge in the middle of the green and up onto the shelf near the flag. He's an amateur. He's allowed. That's surprisingly poor from the leading duo. Putting competition coming up!Brooks Koepka and Jon Rahm walk up the 12th. Photograph: Xinhua/ShutterstockUpdated at 10.34 EDTBrooks and Rahm both lay up at the par-five 13th. "In this situation, are you playing the man or the course?" That's the question Paul McGinley asks of Sir Nick Faldo on Sky Sports. What's Faldo's answer? You already know Faldo's answer. "Oh you're playing the man!" You can almost hear the six-time major winner rubbing his hands in gleeful anticipation.Updated at 10.12 EDTWords, yes, we have them. But pictures also! Immerse yourself in the beauty of Augusta National with our delightful gallery. In you pop!Patrick Cantlay shoots 68Koepka can't make his par putt. He doesn't quite give it enough, and the ball dies to the left on its final turn. He taps in, as does Rahm, and suddenly Koepka's lead – four shots as the sun came up this morning – is down to just the one. Meanwhile it's three birdies in a row for Viktor Hovland, no mean feat, and yet he'll be slightly disappointed after knocking his second at 13 from 244 yards to 20 feet, then just missing the eagle putt. Still, he's back in the mix … as is Patrick Cantlay, who pars the last to sign for a best-of-round 68.-12: Koepka (12)-11: Rahm (12)-6: Cantlay (F), Hovland (13), Bennett -a- (12)Updated at 10.06 EDTKoepka opts to putt from off the green. It's not a wise choice. He rattles a hot one 12 feet past the hole. The gallery coos in drama-on-Sunday fashion. It's still only the third round! Rahm putts as well, from the fringe at the back, and lags close despite having to deal with a mud-ball. Then the gallery groan in sympathy-on-Sunday fashion as Bennett's birdie putt shaves the right-hand lip. Just a par for the amateur. He remains at -6.Brooks Koepka is stuttering. Photograph: Christian Petersen/Getty ImagesUpdated at 10.09 EDTRAHM: Where did that wind come from?BROOKS: Oh boy! That's getting carried as well!The 12th hole, ladies and gentlemen, with a strong breeze swirling around Amen Corner. Rahm's ball pitches into the azaleas…
https://www.theguardian.com/sport/live/2023/apr/09/the-masters-2023-third-fourth-round-golf-koepka-rahm-live-updates The Masters 2023: third round resumes on marathon final day – live | The Masters