USA
Tropical Storm Hilary brings flash-floods and tornado warnings to southern California – follow live | California
Key events
In Mexico, nearly 1,900 people have been evacuated to shelters in the Baja California peninsula, according to the country's army.
Schools and other nonessential activities have been canceled through Monday, and authorities in the city of Tijuana, bordering San Diego, have urged people in high-risk zones to move to temporary shelters.
Around the coastal town of Mulege, on the eastern side of the Baja California peninsula, one person died after his family was swept away while crossing a stream on Saturday. Phone lines and electricity were cut in several of the surrounding villages after lamp-posts fell, the Mexican army added.
Mexico's Navy has also evacuated about 850 people from five islands in the path of Hilary, which was previously designated a Category 4 hurricane before it weakened.
Storm Hilary has been weakening over the last 48 hours. But it is still set to be the wettest storm ever to hit the US Southwest, according to Zack Taylor, a meteorologist with the National Weather Service (NWS), Reuters reports.
"This is a dangerous storm," said Taylor, who works for NWS's Weather Prediction Center in College Park, Maryland. "It's not just the rain totals but the intensity."
Hilary is set to dump vast amounts of water on many parts of the US Southwest that are more accustomed to dry conditions.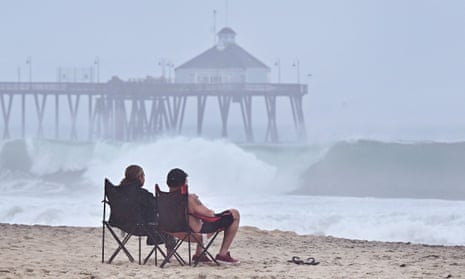 Areas such as Palm Springs, California, which typically gets about 4.6 inches of rain in an entire year, could receive 6-10 inches from this one storm. California's Death Valley area, which receives only about 2.2 inches of rain a year, could receive 3-4 inches from this event.
Storm surges – when the ocean is pushed inland – could produce coastal flooding in parts of Baja California and the storm was carrying heavy rain that could cause catastrophic flooding in some areas, the NHC added.
Rainfall of 3 to 6 inches (7.6 to 15 cm), with isolated amounts of 10 inches, is expected across the northern Baja California peninsula as well as portions of Southern California and Southern Nevada, the Miami-based agency said.
Hello and welcome to the Guardian's live coverage of the Tropical Storm Hilary with me, Helen Livingstone.
The storm made landfall in Mexico's Baja California on Sunday, causing torrential rains and flooding and killing one person; it's now on its way to southern California, packing winds of 80mph.
At least 9 million people are under flash-flood warnings as heavy rain falls across the southern part of California. Desert areas are especially susceptible along with hillsides with wildfire burn scars, forecasters have warned.
The weather service issued a tornado warning on Sunday afternoon for central San Diego county.
Southern California was also hit by an earthquake on Sunday afternoon with a preliminary magnitude of 5.1 hit near Ojai, about 80 miles (130 km) north-west of downtown Los Angeles, according to the US Geological Survey. It was felt widely and was followed by smaller aftershocks. There were no immediate reports of major damage or injury, according to a dispatcher with the Ventura county sheriff's office.
In Nevada, the governor has declared a state of emergency as videos posted to social media show rivers of water flowing down residential streets and cars struggling to navigate the deluge.
With flash floods expected to strike as far north as Idaho, we'll be bringing you all the latest developments as they happen.


Summarize this content to 100 words Key eventsShow key events onlyPlease turn on JavaScript to use this featureIn Mexico, nearly 1,900 people have been evacuated to shelters in the Baja California peninsula, according to the country's army.Schools and other nonessential activities have been canceled through Monday, and authorities in the city of Tijuana, bordering San Diego, have urged people in high-risk zones to move to temporary shelters.Around the coastal town of Mulege, on the eastern side of the Baja California peninsula, one person died after his family was swept away while crossing a stream on Saturday. Phone lines and electricity were cut in several of the surrounding villages after lamp-posts fell, the Mexican army added.Mexico's Navy has also evacuated about 850 people from five islands in the path of Hilary, which was previously designated a Category 4 hurricane before it weakened.Members of the Mexican Army assist a woman in the Baja California peninsula. Photograph: National Defence Secretary/ReutersStorm Hilary has been weakening over the last 48 hours. But it is still set to be the wettest storm ever to hit the US Southwest, according to Zack Taylor, a meteorologist with the National Weather Service (NWS), Reuters reports."This is a dangerous storm," said Taylor, who works for NWS's Weather Prediction Center in College Park, Maryland. "It's not just the rain totals but the intensity."Hilary is set to dump vast amounts of water on many parts of the US Southwest that are more accustomed to dry conditions.A couple views the increasingly large waves hitting Imperial Beach in southern California. Photograph: Frederic J Brown/AFP/Getty ImagesAreas such as Palm Springs, California, which typically gets about 4.6 inches of rain in an entire year, could receive 6-10 inches from this one storm. California's Death Valley area, which receives only about 2.2 inches of rain a year, could receive 3-4 inches from this event.Storm surges – when the ocean is pushed inland – could produce coastal flooding in parts of Baja California and the storm was carrying heavy rain that could cause catastrophic flooding in some areas, the NHC added.Rainfall of 3 to 6 inches (7.6 to 15 cm), with isolated amounts of 10 inches, is expected across the northern Baja California peninsula as well as portions of Southern California and Southern Nevada, the Miami-based agency said.Updated at 20.17 EDTOpening summaryHello and welcome to the Guardian's live coverage of the Tropical Storm Hilary with me, Helen Livingstone.The storm made landfall in Mexico's Baja California on Sunday, causing torrential rains and flooding and killing one person; it's now on its way to southern California, packing winds of 80mph.At least 9 million people are under flash-flood warnings as heavy rain falls across the southern part of California. Desert areas are especially susceptible along with hillsides with wildfire burn scars, forecasters have warned.The weather service issued a tornado warning on Sunday afternoon for central San Diego county.Southern California was also hit by an earthquake on Sunday afternoon with a preliminary magnitude of 5.1 hit near Ojai, about 80 miles (130 km) north-west of downtown Los Angeles, according to the US Geological Survey. It was felt widely and was followed by smaller aftershocks. There were no immediate reports of major damage or injury, according to a dispatcher with the Ventura county sheriff's office.In Nevada, the governor has declared a state of emergency as videos posted to social media show rivers of water flowing down residential streets and cars struggling to navigate the deluge.With flash floods expected to strike as far north as Idaho, we'll be bringing you all the latest developments as they happen.
https://www.theguardian.com/us-news/live/2023/aug/21/tropical-storm-hilary-california-flooding-tornado-warning-national-hurricane-center Tropical Storm Hilary brings flash-floods and tornado warnings to southern California – follow live | California