USA
Trump shatters laws of political physics with third indictment | Donald Trump
It was hardly the triumphant return to Washington that he and his campaign imagined. Donald Trump was back in America's capital this week, not as president but an accused criminal. "Not guilty," he pleaded in a hushed courtroom to four charges stemming from the effort to overturn his defeat in the 2020 presidential election.
But even as observers savored a sombre yet reaffirming moment for the rule of law, a follower of the former US president could be seen outside court waving a giant flag. "Trump or death," it declared, not far from the halls of Congress where lethal violence erupted on January 6,2021.
Trump is now twice impeached and thrice indicted but his support base is holding firm.
Indeed, each negative in a court of law translates into a positive in the court of public opinion. He remains the dominant figure among Republican voters who share his view that he is being unfairly targeted by a justice system bent on helping Democrat Joe Biden.
"The more the indictments, the better his poll numbers, the easier the argument that it's two standards of justice and Donald Trump is persecuted and picked on," said Bill Whalen, a policy fellow at the Hoover Institution thinktank in Palo Alto, California. "It's very funny, considering he's the pre-eminent bully in American politics, that no one plays the victim card better than Donald Trump."
A whiff of criminality or scandal used to be career ending for politician. President Richard Nixon resigned over Watergate; Vice-President Spiro Agnew quit after being charged with bribery, tax evasion and conspiracy; Gary Hart's presidential campaign collapsed due to allegations of an extramarital affair; Anthony Weiner resigned from Congress after a series of sexting scandals.
But Trump has shattered the laws of the political physics. He has made the state and federal charges – now a combined 78 across three jurisdictions – against him a central plank of his campaign platform, casting himself as a martyr. At his rallies he portrays the cases as not just an attack on him but his supporters. He told a crowd last week in Erie, Pennsylvania: "They're not indicting me, they're indicting you."
A few dissenting voices apart, Republicans have echoed and amplified these talking points with characteristic fervour. Congresswoman Marjorie Taylor Greene of Georgia wrote on X, formerly Twitter, that she "will still vote for Trump even if he's in jail".
Far from destroying his prospects, many observers believe, the latest and arguably most serious indictment for his alleged role in undermining American democracy will likely fuel a march toward the Republican party's presidential nomination in 2024.
Rick Wilson, a veteran Republican strategist and cofounder of the Lincoln Project, an anti-Trump group, said: "Every time he's indicted or under the spotlight, his numbers go up with Republican voters.
"I don't see a pathway right now where Republican base voters suddenly wake up and say, 'Wow, this is a bad guy and we're going to change our minds, we're going to to vote for Chris Christie or Ron DeSantis.' All of them have failed on a fundamental level to make a case for themselves because the base will punish them if they attack him."
Some Republicans in Congress are still willing to criticise Trump on certain issues and a few, such as Senator Mitt Romney of Utah, are outspoken in their conviction that he is unfit for office. Others, such as Congresswoman Liz Cheney of Wyoming, have either retired or been ousted.
But most party leaders have stayed silent and fallen into line, apparently terrified of alienating Trump's fervent support base in what critics describe as political cowardice. Even his main opponents in the party's presidential primary race have dodged the issue or endorsed his claim of a Democratic witch-hunt and "deep state" conspiracy.
Wilson added: "Not one of the serious candidates – there aren't many in the primary field – are making any kind of argument other than this is illegitimate, this is wrong, [special counsel] Jack Smith's the real criminal, all these crazy things. Not one of the serious ones is saying this guy should be in prison, not in the White House.
"I don't think this is a moment where Trump has been harmed in the primary; it's solidified it. He's going to be on TV every minute of every day for weeks and weeks and weeks and every time that happens the fundraising for the other Republicans dries up, their ability to communicate a messaging stops, none of it works. The whole thing is set of perverse incentives and it's an almost inescapable trap for the rest of the field."
Trump himself understands this trap and how it starves his opponents of political oxygen. Ahead of his court appearance on Thursday, he wrote on his Truth Social media platform: "I need one more indictment to ensure my election!"
He has also used the cases to raise cash, sending out a flurry of fundraising emails and raking in millions. Even so, an analysis by the Associated Press found that so far this year the former president's political operation has spent more on legal fees defending him, his staff and his allies than on travel, rallies and other campaign expenses combined.
And commentators say that while the indictments could help Trump solidify support within his base and win the Republican nomination, his ability to capitalise on them will be more limited in next year's presidential election, when he will have to win over more sceptical moderate Republicans and independents.
In a July Reuters/ Ipsos poll, 37% of independents said the criminal cases against Trump made them less likely to vote for him for president, compared to 8% who said they were more likely to do so.
However, hours before the latest indictment was unsealed, alarm bells were set off among Democrats by a New York Times/Siena opinion poll that showed him running neck and neck with Biden at 43%. Wilson's advice to Democrats is simple: "They should say over and over again: this is a choice between economic growth and steady leadership in the world and at home or backing a criminal."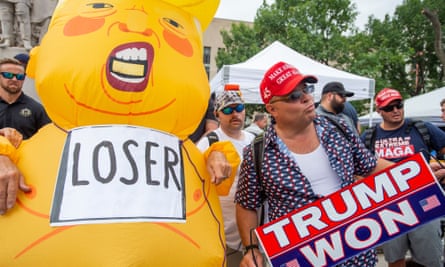 Democratic leaders in Congress welcomed this week's indictment as proof that all are equal before the law. But Biden has been circumspect about commenting on Trump's trials and tribulations.
He appointed Merrick Garland as attorney general, who in turn appointed Jack Smith as special counsel to lead the Trump investigations. The president, an institutionalist, has been careful to keep his distance from both and to avoid commenting on the cases, lest he give credence to the accusation of political meddling. On Tuesday, as the nation was digesting the latest indictment, Biden continued his holiday by going to see the blockbuster film Oppenheimer. On Thursday, asked if he would watch the court hearing, Biden replied: "No."
Donna Brazile, a former interim chair of the Democratic National Committee, said: "There's a reason the justice department is independent and Merrick Garland appointed the special counsel so there's no role whatsoever for the president to be involved in it. First of all, the separation of powers and secondly, it doesn't help him politically to become entangled in this.
"At this moment the Republican party has to sort this out, not the Democratic president, not the Democratic party, not Democratic voters. Trump is running for president not to solve America's problems; he's running to try to stay out of jail and not be held accountable."
The electoral and legal calendars are set to collide. A New York state criminal trial involving a hush money payment to adult film star Stormy Daniels is due to start on 25 March next year, and his Florida trial in a federal classified documents case is scheduled to begin on 20 May. Both would take place just months before the November election, as might a third trial in the case centred on his 2020 election lies.
But plenty of analysts agree that the White House should resist the temptation to weigh in on Trump's woes. Henry Olsen, a senior fellow at the Ethics and Public Policy Center thinktank in Washington, said: "They need to let the law speak for itself. The more they talk about it, the more it looks political.
"They want the person who didn't vote, particularly the young person who is culturally liberal and inclined to the Democratic party, to let the facts speak for themselves and not have them think, 'Oh, wait a minute, I think Trump is awful but this is awful too'. That's the question you never want to have appear in marginal voters' minds. That means let the court thing play out for itself. Don't talk about it."


Summarize this content to 100 words It was hardly the triumphant return to Washington that he and his campaign imagined. Donald Trump was back in America's capital this week, not as president but an accused criminal. "Not guilty," he pleaded in a hushed courtroom to four charges stemming from the effort to overturn his defeat in the 2020 presidential election.But even as observers savored a sombre yet reaffirming moment for the rule of law, a follower of the former US president could be seen outside court waving a giant flag. "Trump or death," it declared, not far from the halls of Congress where lethal violence erupted on January 6,2021.Trump is now twice impeached and thrice indicted but his support base is holding firm.Indeed, each negative in a court of law translates into a positive in the court of public opinion. He remains the dominant figure among Republican voters who share his view that he is being unfairly targeted by a justice system bent on helping Democrat Joe Biden."The more the indictments, the better his poll numbers, the easier the argument that it's two standards of justice and Donald Trump is persecuted and picked on," said Bill Whalen, a policy fellow at the Hoover Institution thinktank in Palo Alto, California. "It's very funny, considering he's the pre-eminent bully in American politics, that no one plays the victim card better than Donald Trump."A Trump supporter waves a flag outside the courthouse in Washignton DC on 3 August. Photograph: ShutterstockA whiff of criminality or scandal used to be career ending for politician. President Richard Nixon resigned over Watergate; Vice-President Spiro Agnew quit after being charged with bribery, tax evasion and conspiracy; Gary Hart's presidential campaign collapsed due to allegations of an extramarital affair; Anthony Weiner resigned from Congress after a series of sexting scandals.But Trump has shattered the laws of the political physics. He has made the state and federal charges – now a combined 78 across three jurisdictions – against him a central plank of his campaign platform, casting himself as a martyr. At his rallies he portrays the cases as not just an attack on him but his supporters. He told a crowd last week in Erie, Pennsylvania: "They're not indicting me, they're indicting you."A few dissenting voices apart, Republicans have echoed and amplified these talking points with characteristic fervour. Congresswoman Marjorie Taylor Greene of Georgia wrote on X, formerly Twitter, that she "will still vote for Trump even if he's in jail".Far from destroying his prospects, many observers believe, the latest and arguably most serious indictment for his alleged role in undermining American democracy will likely fuel a march toward the Republican party's presidential nomination in 2024.Rick Wilson, a veteran Republican strategist and cofounder of the Lincoln Project, an anti-Trump group, said: "Every time he's indicted or under the spotlight, his numbers go up with Republican voters."I don't see a pathway right now where Republican base voters suddenly wake up and say, 'Wow, this is a bad guy and we're going to change our minds, we're going to to vote for Chris Christie or Ron DeSantis.' All of them have failed on a fundamental level to make a case for themselves because the base will punish them if they attack him."The more the indictments, the better his poll numbersBill Whalen, the Hoover InstitutionSome Republicans in Congress are still willing to criticise Trump on certain issues and a few, such as Senator Mitt Romney of Utah, are outspoken in their conviction that he is unfit for office. Others, such as Congresswoman Liz Cheney of Wyoming, have either retired or been ousted.But most party leaders have stayed silent and fallen into line, apparently terrified of alienating Trump's fervent support base in what critics describe as political cowardice. Even his main opponents in the party's presidential primary race have dodged the issue or endorsed his claim of a Democratic witch-hunt and "deep state" conspiracy.Wilson added: "Not one of the serious candidates – there aren't many in the primary field – are making any kind of argument other than this is illegitimate, this is wrong, [special counsel] Jack Smith's the real criminal, all these crazy things. Not one of the serious ones is saying this guy should be in prison, not in the White House."I don't think this is a moment where Trump has been harmed in the primary; it's solidified it. He's going to be on TV every minute of every day for weeks and weeks and weeks and every time that happens the fundraising for the other Republicans dries up, their ability to communicate a messaging stops, none of it works. The whole thing is set of perverse incentives and it's an almost inescapable trap for the rest of the field."Trump himself understands this trap and how it starves his opponents of political oxygen. Ahead of his court appearance on Thursday, he wrote on his Truth Social media platform: "I need one more indictment to ensure my election!"skip past newsletter promotionStart the day with the top stories from the US, plus the day's must-reads from across the Guardian","newsletterId":"us-morning-newsletter","successDescription":"We'll send you First Thing every weekday"}" clientOnly>Privacy Notice: Newsletters may contain info about charities, online ads, and content funded by outside parties. For more information see our Privacy Policy. We use Google reCaptcha to protect our website and the Google Privacy Policy and Terms of Service apply.after newsletter promotionHe has also used the cases to raise cash, sending out a flurry of fundraising emails and raking in millions. Even so, an analysis by the Associated Press found that so far this year the former president's political operation has spent more on legal fees defending him, his staff and his allies than on travel, rallies and other campaign expenses combined.And commentators say that while the indictments could help Trump solidify support within his base and win the Republican nomination, his ability to capitalise on them will be more limited in next year's presidential election, when he will have to win over more sceptical moderate Republicans and independents.In a July Reuters/ Ipsos poll, 37% of independents said the criminal cases against Trump made them less likely to vote for him for president, compared to 8% who said they were more likely to do so.However, hours before the latest indictment was unsealed, alarm bells were set off among Democrats by a New York Times/Siena opinion poll that showed him running neck and neck with Biden at 43%. Wilson's advice to Democrats is simple: "They should say over and over again: this is a choice between economic growth and steady leadership in the world and at home or backing a criminal."People rally for and against Trump's indictment outside the courthouse in Washington DC on 3 August. Photograph: ShutterstockDemocratic leaders in Congress welcomed this week's indictment as proof that all are equal before the law. But Biden has been circumspect about commenting on Trump's trials and tribulations.He appointed Merrick Garland as attorney general, who in turn appointed Jack Smith as special counsel to lead the Trump investigations. The president, an institutionalist, has been careful to keep his distance from both and to avoid commenting on the cases, lest he give credence to the accusation of political meddling. On Tuesday, as the nation was digesting the latest indictment, Biden continued his holiday by going to see the blockbuster film Oppenheimer. On Thursday, asked if he would watch the court hearing, Biden replied: "No."Donna Brazile, a former interim chair of the Democratic National Committee, said: "There's a reason the justice department is independent and Merrick Garland appointed the special counsel so there's no role whatsoever for the president to be involved in it. First of all, the separation of powers and secondly, it doesn't help him politically to become entangled in this."At this moment the Republican party has to sort this out, not the Democratic president, not the Democratic party, not Democratic voters. Trump is running for president not to solve America's problems; he's running to try to stay out of jail and not be held accountable."The electoral and legal calendars are set to collide. A New York state criminal trial involving a hush money payment to adult film star Stormy Daniels is due to start on 25 March next year, and his Florida trial in a federal classified documents case is scheduled to begin on 20 May. Both would take place just months before the November election, as might a…
https://www.theguardian.com/us-news/2023/aug/05/trump-indictment-republican-voter-base Trump shatters laws of political physics with third indictment | Donald Trump