USA
Who did the Fulton County D.A. indict along with Trump? Meet the 18 co-defendants in the Georgia election case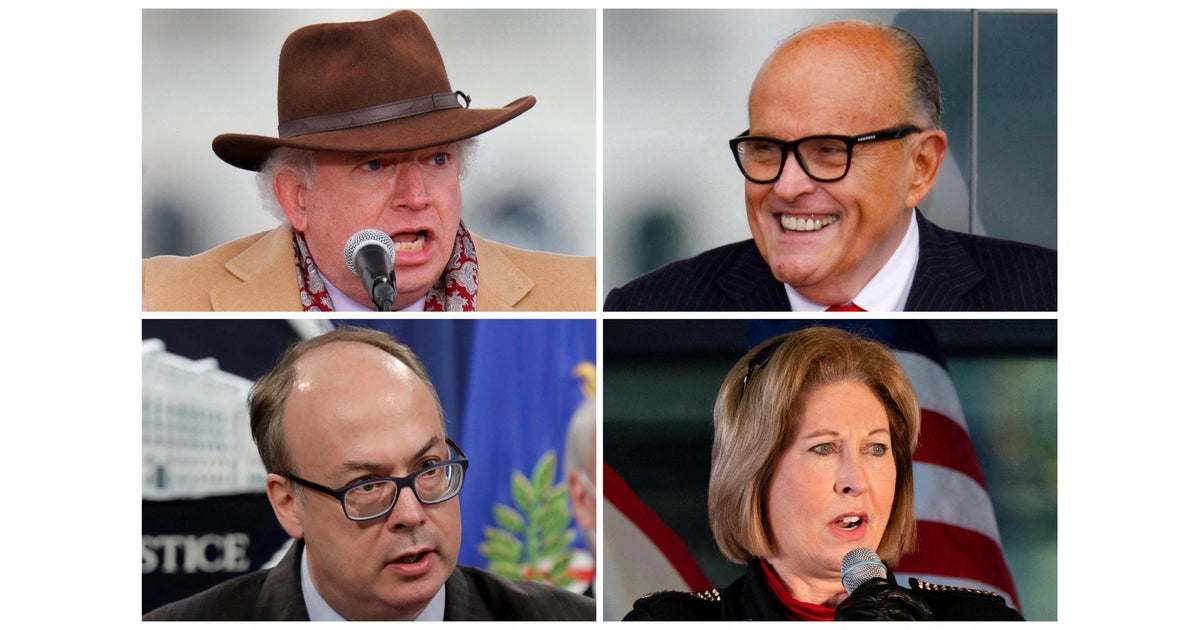 Washington — The sprawling, 98-page Fulton County, Georgia, indictment of former President Donald Trump and 18 others lists 41 counts related to alleged efforts to overturn the 2020 presidential election. All 19 defendants are charged with violating Georgia's Racketeer Influenced and Corrupt Organizations, or RICO Act, and the remaining counts relate to an alleged variety of schemes to keep Trump in office after he lost the election. 
Thirty additional unindicted alleged co-conspirators are mentioned in the indictment, but not identified.
The indictment contains charges ranging from intimidating a Fulton County election worker to submitting a fake slate of presidential electors to breaching election equipment
Some of those charged are familiar names, but others are less well-known. 
The charging document unsealed Aug. 14 says Trump, his co-defendants and 30 unindicted co-conspirators "constituted a criminal organization whose members and associates engaged in various" criminal activities with the goal of changing the election's outcome in the former president's favor.
Here's what to know about the 18 allies of the former president facing state felony charges:
Lawyers, campaign aides and administration officials
Rudy Giuliani
A former federal prosecutor who served as mayor of New York City from 1994 through 2001, Giuliani faces 13 counts in the Georgia case. He was Trump's personal attorney for more than half of his presidency and spearheaded the effort to, as he described it, find voter fraud, and as prosecutors claim, overturn the election.
The Georgia indictment alleges that Giuliani, "in furtherance of the conspiracy" to overturn the election, called the speaker of the Arizona House, and appeared before and tried to contact legislators in Arizona, Pennsylvania, Georgia, and Michigan to convince them to "unlawfully appoint" presidential electors from their states.
Giuliani is also accused in the indictment of making false statements accusing election workers in Fulton County of stealing votes.
In a July interview with CBS News, Giuliani's attorney Robert Costello described his client's role in the aftermath of the election as "he [was] like the general of this army" of lawyers and others pursuing proof of fraud in the election.
In a statement to CBS News, Giuliani said the case "is an affront to American Democracy and does permanent, irrevocable harm to our justice system." 
"The real criminals here are the people who have brought this case forward both directly and indirectly," Giuliani said.
Trump was also indicted Aug. 1 on federal charges related to his broader efforts to overturn the election. That indictment lists six unindicted co-conspirators, and Costello acknowledged to CBS News on Aug. 2 that a person identified as "Co-Conspirator 1" "appears" to be Giuliani.
Prosecutors in that case described "Co-Conspirator 1" as "an attorney who was willing to spread knowingly false claims and pursue strategies that [Trump's] 2020 re-election campaign attorneys would not," and someone Trump appointed to "spearhead his efforts going forward to challenge the election results."
Mark Meadows 
He is the former White House chief of staff, and was on the Jan. 2, 2021, call between Trump and Georgia Secretary of State Brad Raffensperger. Meadows also allegedly attempted to observe the secretary of state's audit of absentee ballots. 
Meadows is portrayed in the indictment as a go-between for Trump and others involved in coordinating his team's strategy for contesting the election and "disrupting and delaying the joint session of Congress on Jan. 6, 2021." 
He is charged with two counts, one of which relates to the call with Raffensperger. 
Meadows is seeking to have the case against him in Fulton County be moved to federal court because the conduct alleged in the indictment took place while he was chief of staff. His lawyers also indicated in a court filing on Tuesday that they plan to file a motion to dismiss the charges.
"Nothing Mr. Meadows is alleged in the indictment to have done is criminal per se: arranging Oval Office meetings, contacting state officials on the President's behalf, visiting a state government building, and setting up a phone call for the President," they wrote. "One would expect a Chief of Staff to the President of the United States to do these sorts of things."
John Eastman 
He's a former Supreme Court clerk to Justice Clarence Thomas and is a conservative attorney who was a key contributor to planning by Trump allies to contest the election. The indictment claims Eastman sent an email suggesting "that the Trump presidential elector nominees in Georgia needed to meet on December 14, 2020, sign six sets of certificates of vote, and mail them 'to the President of the Senate and to other officials.'" Eastman did not reply to a request for comment.
He faces nine counts relating to the alleged plot to send the fake slate of electors to Congress, which the indictment says were intended to "disrupt and delay the joint session of Congress" on Jan. 6, 2021, in order to alter the outcome of the 2020 election.
Eastman's attorney, Charles Burnham, criticized the indictment and said those charged were engaging in political, not criminal, activity.
"Lawyers everywhere should be sleepless over this latest stunt to criminalize their advocacy," he said in a statement. "This is a legal cluster-bomb that leaves unexploded ordinance for lawyers to navigate in perpetuity. Dr. Eastman will challenge this indictment in any and all forums available to him."
Eastman surrendered to authorities Aug. 22, according to Fulton County inmate records, and was released on a $100,000 bond. He is prohibited from communicating "in any way, directly or indirectly" about the case with any of the other defendants, except through his lawyer, according to his consent bond order.
Eastman said in a statement that the indictment "represents a crossing of the Rubicon for our country, implicating the fundamental First Amendment right to petition the government for redress of grievances." 
"Each Defendant in this indictment, no less than any other American citizen, is entitled to rely upon the advice of counsel and the benefit of past legal precedent in challenging what former Vice President Pence described as, 'serious allegations of voting irregularities and numerous instances of officials setting aside state election law' in the 2020 election," he said. 'The attempt to criminalize our rights to such redress with this indictment will have – and is already having — profound consequences for our system of justice."
Jeffrey Clark
Clark is a former Justice Department official who Trump wanted to install as acting attorney general before the threat of mass resignations by Justice Department officials led him to back down, according to the House select committee that investigated the events surrounding the Jan. 6, 2021, Capitol attack. The indictment charges Clark with two counts and claims an email he sent to then-Acting U.S. Attorney General Jeffrey Rosen seeking to send "false" information to Georgia Gov. Brian Kemp was a "substantial step" in the racketeering case. 
In a statement to CBS News, a spokesperson for Clark called him "a brilliant legal mind who has litigated cases of national significance in and out of government for decades." 
"Willis is exceeding her powers by inserting herself into the operations of the federal government to go after Jeff," said the spokesperson, Rachel Cauley, referring to Fulton County District Attorney Fani Willis.
Willis launched an investigation into the efforts to reverse the outcome of the 2020 election in Georgia in 2021, which culminated in the indictment unsealed Monday.
Jenna Ellis
Jenna Ellis is a lawyer who was affiliated with the Trump campaign, and along with Giuliani, allegedly promoted misinformation about the election during a legislative hearing. She faces two counts, one of which stems from alleged efforts to convince Georgia state senators to unlawfully appoint presidential electors supporting Trump. Ellis did not reply to a request for comment. Her bond is set for $100,000.
Sidney Powell
Powell is a conservative lawyer who was involved in planning Trump's efforts to contest the election, including in meetings at the White House. Powell allegedly coordinated with the data company SullivanStrickler to access election data from Coffee County, Georgia, and faces seven counts related to those efforts. A request for comment was not immediately returned.
Kenneth Chesebro 
He proposed, in a memorandum to Trump allies, "a bold, controversial strategy" to overturn the election: appoint alternate electors loyal to Trump in several states. That and at least one other memo he penned were referred to in the indictment as overt acts "in furtherance of the conspiracy." He is charged with seven counts stemming from the plan to submit a slate of fake electors from Georgia. 
Chesebro did not reply to a request for comment. His bond is set at $100,000.
Ray Smith III
A lawyer for the Trump campaign, Smith is accused of falsely claiming to Georgia state senators that there was widespread fraud in the 2020 election and that tens of thousands of people voted illegally.
The indictment claims Smith unlawfully requested state lawmakers appoint a different set of electors from Georgia who would cast their votes for Trump and furthered the false elector scheme, including by conspiring to make a document that purported to be the certificate of the votes of the 2020 presidential electors from Georgia.
He faces 12 charges, and Smith's bond is $50,000. An attorney for Smith did not reply to a request for comment.
Robert Cheeley
Cheeley, a longtime lawyer in Georgia, is facing 10 counts. He and Eastman allegedly communicated in early December 2020 about the plan for the fake electors to meet and cast their Electoral College votes for the former president, despite his loss.
The indictment accuses him of pushing Georgia state lawmakers to appoint an alternate slate of presidential electors and making false claims about the vote-counting taking place at the State Farm Arena in Atlanta.
Cheeley is also accused of making false statements to the Fulton County Special Purpose Grand Jury, which was convened by Willis in May 2022 to aid in her investigation. He declined to comment. Cheeley's bond is set for $50,000.
Michael Roman
Roman was director of Election Day operations for Trump's 2020 campaign and is charged with seven counts. His bond is set for $50,000.
He allegedly received documents from Chesebro in December 2020 that were to be used by Trump electors in Georgia to cast fake Electoral College votes for the former president. The charges against Roman stem from the fake electors scheme.
The "fake electors"
On Dec. 14, 2020, Georgia's members of the Electoral College gathered in the state Capitol to cast their votes for Mr. Biden, because he had won the state. That day, in a different room in the Capitol, a group of 16 alternate or "fake" electors also gathered, ostensibly to vote for Trump. The indictment notes that they later sent fake certificates to the National Archives in Washington, D.C., the U.S. Senate, and the Georgia secretary of state.
In 2022, Willis' office sent all 16 fake electors letters identifying them as targets of the investigation, but in May lawyer Kimberly Debrow revealed in a court filing that at least half had accepted immunity deals in the case. 
Three of them were charged Tuesday.
Cathy Latham 
A Republican official, she was seen on surveillance video escorting computer and data experts into the elections office in Coffee County before an apparent breach of the county's voting systems. 
Latham faces a total of 11 counts in the indictment, some of which relate to the scheme to submit a fake slate of presidential electors casting their votes in favor of Trump. The others stem from the effort to allegedly tamper with voting equipment in Coffee County. A request to her for comment was not immediately returned. 
Latham's bond was set for $75,000. She surrendered to authorities for booking overnight on Aug. 23
David Shafer
Shafer is a former state senator and chairman emeritus of the Georgia Republican Party. He has been charged with eight counts, some of which relate to the presidential elector scheme. Shafer's bond was set for $75,000, and he turned himself in to Fulton County law enforcement for booking overnight on Aug. 23, according to jail records.
According to the indictment, Shafer received an email from Chesebro on Dec. 10, 2020, that allegedly contained documents to be used by the fake electors to cast their votes for Trump. He also allegedly reserved a room in the Georgia State Capitol for a meeting of the alternate electors on Dec. 14, 2020, when presidential electors nationwide met to vote. The indictment claims Shafer falsely claimed to be the chairman of the 2020 Georgia Electoral College meeting.
An attorney for Shafer said he is "totally innocent" of the charges filed against him.
"His conduct regarding the 2020 Presidential election was lawful, appropriate and specifically authorized by the U.S. Constitution, federal and state law and long standing legal precedent," Charles Gillen, Shafer's lawyer, said in a statement.
Shawn Still 
He is a Republican member of Georgia's state Senate and is charged with seven counts. The indictment alleges Still falsely claimed to be a presidential elector from Georgia and is accused of misrepresenting himself as the secretary of the 2020 Georgia Electoral College meeting. His bond is set for $10,000.
Tom Bever, a lawyer for Still, told CBS News that "The evidence at trial will show that Sen. Still is innocent as the day is long. We look forward to our day in court to clear his good name." 
Others charged
Trevian Kutti
A former publicist for Kanye West, the rapper now known as Ye, Kutti is charged with three counts, two of which relate to a plan to pressure Ruby Freeman, a former election worker in Fulton County.
The charging document states that Kutti traveled to Freeman's house on Jan. 4, 2021, and unsuccessfully tried to speak with her. Kutti allegedly told a neighbor she was a crisis manager attempting to "help" Freeman. The two spoke on the phone later that day, according to the indictment, and Kutti claimed that Freeman was in danger. Kutti allegedly requested they meet at a Cobb County Police Department precinct, which they did for roughly one hour.
The filing claims Willie Lewis Floyd, another co-defendant, joined the meeting by telephone, and he and Kutti told Freeman "she needed protection and purported to offer her help." She, along with Lee and Floyd, allegedly aimed to influence Freeman's testimony in an official proceeding in Fulton County about the events at Atlanta's State Farm Arena on Election Day.
Stephen Lee
Lee, a pastor from Illinois, is charged with five counts that involve the attempts to influence Freeman. The indictment says Lee went to Freeman's home on consecutive days in mid-December 2020 and eventually asked Floyd, who was associated with Black Voices for Trump, for help with speaking to Freeman. 
The charging document claims Lee told Floyd that the former election worker was "afraid" to speak with him "because he was a white man." A request to him for comment was not immediately returned. Lee's bond is set for $75,000.
Willie Lewis Floyd
Floyd was the director of Black Voices for Trump and faces three criminal charges. The indictment claims he participated in the effort to pressure Freeman to make false statements about the events at the State Farm Arena. A request for comment was not immediately returned.
Scott Hall 
Hall is a Georgia bail bondsman who allegedly helped with the unlawful breach of election equipment and theft of voter data in Coffee County, the indictment states. He faces seven counts in all, six of which relate to those efforts. A request to Hall for comment was not immediately returned.
He was booked on Aug. 22, according to Fulton County inmate records, and was the first of the 19 defendants to turn himself in. Hall was released on a $10,000 bond, according to a consent bond order from the Fulton County Superior Court.
Misty Hampton
The final person listed in the indictment, Hampton is the former elections supervisor for Coffee County and faces seven charges.
She is accused of allowing two unnamed co-conspirators to enter non-public areas of the Coffee County Board of Elections and Registration office and facilitating their access to voting equipment.
Jonathan Miller, an attorney for Hampton, said in a statement she hasn't done anything illegal and predicted the prosecution will fail.
"This is a nationally concerted effort to intimidate and silence government whistleblowers and clerks when they react to witnessing election fraud, law violations, and/or vulnerabilities with the election system that contravenes the 'big lie' narrative adopted by mainstream media," Miller said. "When she is found innocent or the case is dismissed will you publish her victory? Please remember in this Country a person is innocent until proven guilty, it is not their job to prove they are innocent as the media so often intimates they must do." 
Summarize this content to 100 words Washington — The sprawling, 98-page Fulton County, Georgia, indictment of former President Donald Trump and 18 others lists 41 counts related to alleged efforts to overturn the 2020 presidential election. All 19 defendants are charged with violating Georgia's Racketeer Influenced and Corrupt Organizations, or RICO Act, and the remaining counts relate to an alleged variety of schemes to keep Trump in office after he lost the election. Thirty additional unindicted alleged co-conspirators are mentioned in the indictment, but not identified.The indictment contains charges ranging from intimidating a Fulton County election worker to submitting a fake slate of presidential electors to breaching election equipment Some of those charged are familiar names, but others are less well-known. The charging document unsealed Aug. 14 says Trump, his co-defendants and 30 unindicted co-conspirators "constituted a criminal organization whose members and associates engaged in various" criminal activities with the goal of changing the election's outcome in the former president's favor. Here's what to know about the 18 allies of the former president facing state felony charges:Lawyers, campaign aides and administration officialsRudy Giuliani Rudy Giuliani, former lawyer to former President Donald Trump, exits federal court in Washington, D.C., on May 19, 2023.  Eric Lee/Bloomberg via Getty Images A former federal prosecutor who served as mayor of New York City from 1994 through 2001, Giuliani faces 13 counts in the Georgia case. He was Trump's personal attorney for more than half of his presidency and spearheaded the effort to, as he described it, find voter fraud, and as prosecutors claim, overturn the election.The Georgia indictment alleges that Giuliani, "in furtherance of the conspiracy" to overturn the election, called the speaker of the Arizona House, and appeared before and tried to contact legislators in Arizona, Pennsylvania, Georgia, and Michigan to convince them to "unlawfully appoint" presidential electors from their states.Giuliani is also accused in the indictment of making false statements accusing election workers in Fulton County of stealing votes. In a July interview with CBS News, Giuliani's attorney Robert Costello described his client's role in the aftermath of the election as "he [was] like the general of this army" of lawyers and others pursuing proof of fraud in the election.In a statement to CBS News, Giuliani said the case "is an affront to American Democracy and does permanent, irrevocable harm to our justice system." "The real criminals here are the people who have brought this case forward both directly and indirectly," Giuliani said.Trump was also indicted Aug. 1 on federal charges related to his broader efforts to overturn the election. That indictment lists six unindicted co-conspirators, and Costello acknowledged to CBS News on Aug. 2 that a person identified as "Co-Conspirator 1" "appears" to be Giuliani.Prosecutors in that case described "Co-Conspirator 1" as "an attorney who was willing to spread knowingly false claims and pursue strategies that [Trump's] 2020 re-election campaign attorneys would not," and someone Trump appointed to "spearhead his efforts going forward to challenge the election results."Mark Meadows  Mark Meadows, then White House chief of staff, in Washington, D.C., on Oct. 21, 2020.  Chris Kleponis/Polaris/Bloomberg via Getty Images He is the former White House chief of staff, and was on the Jan. 2, 2021, call between Trump and Georgia Secretary of State Brad Raffensperger. Meadows also allegedly attempted to observe the secretary of state's audit of absentee ballots. Meadows is portrayed in the indictment as a go-between for Trump and others involved in coordinating his team's strategy for contesting the election and "disrupting and delaying the joint session of Congress on Jan. 6, 2021."  He is charged with two counts, one of which relates to the call with Raffensperger. Meadows is seeking to have the case against him in Fulton County be moved to federal court because the conduct alleged in the indictment took place while he was chief of staff. His lawyers also indicated in a court filing on Tuesday that they plan to file a motion to dismiss the charges."Nothing Mr. Meadows is alleged in the indictment to have done is criminal per se: arranging Oval Office meetings, contacting state officials on the President's behalf, visiting a state government building, and setting up a phone call for the President," they wrote. "One would expect a Chief of Staff to the President of the United States to do these sorts of things."John Eastman  John Eastman on April 29, 2021.  Andy Cross/MediaNews Group/The Denver Post via Getty Images He's a former Supreme Court clerk to Justice Clarence Thomas and is a conservative attorney who was a key contributor to planning by Trump allies to contest the election. The indictment claims Eastman sent an email suggesting "that the Trump presidential elector nominees in Georgia needed to meet on December 14, 2020, sign six sets of certificates of vote, and mail them 'to the President of the Senate and to other officials.'" Eastman did not reply to a request for comment.He faces nine counts relating to the alleged plot to send the fake slate of electors to Congress, which the indictment says were intended to "disrupt and delay the joint session of Congress" on Jan. 6, 2021, in order to alter the outcome of the 2020 election.Eastman's attorney, Charles Burnham, criticized the indictment and said those charged were engaging in political, not criminal, activity."Lawyers everywhere should be sleepless over this latest stunt to criminalize their advocacy," he said in a statement. "This is a legal cluster-bomb that leaves unexploded ordinance for lawyers to navigate in perpetuity. Dr. Eastman will challenge this indictment in any and all forums available to him." Eastman surrendered to authorities Aug. 22, according to Fulton County inmate records, and was released on a $100,000 bond. He is prohibited from communicating "in any way, directly or indirectly" about the case with any of the other defendants, except through his lawyer, according to his consent bond order.Eastman said in a statement that the indictment "represents a crossing of the Rubicon for our country, implicating the fundamental First Amendment right to petition the government for redress of grievances." "Each Defendant in this indictment, no less than any other American citizen, is entitled to rely upon the advice of counsel and the benefit of past legal precedent in challenging what former Vice President Pence described as, 'serious allegations of voting irregularities and numerous instances of officials setting aside state election law' in the 2020 election," he said. 'The attempt to criminalize our rights to such redress with this indictment will have – and is already having — profound consequences for our system of justice."Jeffrey Clark Jeffrey Clark Clark is a former Justice Department official who Trump wanted to install as acting attorney general before the threat of mass resignations by Justice Department officials led him to back down, according to the House select committee that investigated the events surrounding the Jan. 6, 2021, Capitol attack. The indictment charges Clark with two counts and claims an email he sent to then-Acting U.S. Attorney General Jeffrey Rosen seeking to send "false" information to Georgia Gov. Brian Kemp was a "substantial step" in the racketeering case. In a statement to CBS News, a spokesperson for Clark called him "a brilliant legal mind who has litigated cases of national significance in and out of government for decades." "Willis is exceeding her powers by inserting herself into the operations of the federal government to go after Jeff," said the spokesperson, Rachel Cauley, referring to Fulton County District Attorney Fani Willis.Willis launched an investigation into the efforts to reverse the outcome of the 2020 election in Georgia in 2021, which culminated in the indictment unsealed Monday. Jenna Ellis Jenna Ellis speaks at the Republican National Committee headquarters on Nov. 19, 2020, in Washington. Jacquelyn Martin / AP Jenna Ellis is a lawyer who was affiliated with the Trump campaign, and along with Giuliani, allegedly promoted misinformation about the election during a legislative hearing. She faces two counts, one of which stems from alleged efforts to convince Georgia state senators to unlawfully appoint presidential electors supporting Trump. Ellis did not reply to a request for comment. Her bond is set for $100,000.Sidney Powell  Sidney Powell speaks during a rally on Wednesday, Dec. 2, 2020, in Alpharetta, Georgia. Ben Margot / AP Powell is a conservative lawyer who was involved in planning Trump's efforts to contest the election, including in meetings at the White House. Powell allegedly coordinated with the data company SullivanStrickler to access election data from Coffee County, Georgia, and…
https://www.cbsnews.com/news/who-was-indicted-georgia-trump-18-co-conspirators-fulton-county/ Who did the Fulton County D.A. indict along with Trump? Meet the 18 co-defendants in the Georgia election case